Live or in-game sports betting has become one of the top wagering options for bettors in a U.S. state with legal sports wagering. Most bets are still made before the games start, but that is no longer your only chance to make a wager.
Even though in-game betting is different than placing a pre-game wager, it still works in the same way as placing a wager prior to the match starting. You are going to see similar wagering options, but you will just have to make decisions much quicker.
The top professional sports in the United States drive in-game betting, but this is an option for nearly every sporting event taking place around the world.
How Does Live Betting Work?
The term "live betting" sums up the type of bet that you are making but calling it an in-game wager helps explain it better. In-game betting requires placing a bet while the matchup is still in play rather than placing bets in before a contest starts.
Basically, you are given the opportunity to follow along with a sporting event and then make a bet in the middle of that contest. The lines and odds are adjusted with every single play, and any given line can move quickly.
The opening line of a matchup dictates how the odds will move in-game, but you can see a radical shift based on what is taking place on the field or court. Even though oddsmakers are usually good at making predictions, they can sometimes get things wrong and overreact to situations. Because of this, sharp gamblers sometimes wait to bet on teams (especially in fast-paced sports like basketball) while hoping for a better deal in-game.
How To Place An In-Game Bet
Placing a bet in-game is a simple process, but you will just have to do it much quicker than you normally would. All of the top wagering options will still be available to you, and you will still have to visit a sports gambling site to place that bet.
Online sports betting sites generally offer the best places to find live betting lines. The in-play bets at an online sportsbook can change every few seconds, thanks to the technology advancements of mobile sports betting apps.
Depending on the type of wager that you are placing, you might be able to get a payout almost immediately. Some of these options will ask you to predict the next play in the action, and then that bet will be settled right away.
Some bettors actually prefer placing an in-game bet, because it allows them to form an opinion after watching the action unfold. Bettors can then double up on a pregame wager or change up their focus entirely.
As long as you have a good understanding of how basic sports gambling works then you won't have any trouble with in-game sports betting. There is a process that comes with setting pregame odds, but that process is more advanced when it comes to this type of wager.
Algorithms and live data are used to develop the lines and odds that you will see based on the circumstances taking place in a game. You won't have to wait long for the odds to change either, and you are free to bet on them as soon as they are up.
Live betting markets at legal sportsbooks include moneyline, point spread, over under, player props, and many others. In some cases, you can even make a parlay bet or multiple parlay bets from live betting lines.
The Best Sportsbooks For Live Betting
When choosing the best sportsbook for live betting, there are going to be a couple of things that you want to be aware of. The most important thing though, obviously, is that the sportsbook actually has live wagering options available.
Online legal gambling sites are going to have a long list of options, but live wagering should be one of the featured options. You can usually find these real-time sports betting lines as soon as you visit the site, and they will be changing quickly.
Another thing to consider when looking for the best sportsbooks for real-time gambling is how many different wagers are available. Any sportsbook can have moneyline bets offered, but the best sportsbooks will have a wide range of options.
You should also look for sites that have bonuses or promotions for you to take advantage of. These sites want your action, and most are willing to have some sort of bonus in order to attract you to the site. For example, here are some quality sportsbook bonuses (varies by location). Take note these options all have in-game betting:
Best Live Betting Online Sportsbooks
If you have time to do this, you also want to compare odds and lines and see what sportsbooks will give you the biggest return for your bet. This isn't always easy to do in sports that move quickly, but there are other games that have enough breaks to give bettors a chance to look around and compare.
FanDuel Live Betting
Let's take a look at an example of where to find live/in-play betting options at FanDuel Sportsbook.
You can find all available live bets by clicking on the "Live Now" tab on the top left of the main lobby screen (see far left screenshot below).
Once you click that tab, you'll be redirected to all available live bets at the time. In the middle and far right screen shots below, notice how the lines on the Arkansas State vs. Coastal Carolina college basketball game have changed as the game progresses.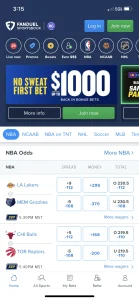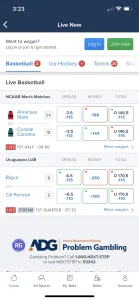 Comparing In-Game Betting Options
There are going to be plenty of options to choose from for sports bettors, but not every sportsbook is equal. Knowing how to find the best wagering site is just as important as making a sound gambling decision.
Here are the Props.com reviews of some of the best options when it comes to in-game betting, and others can be added to the mix based on your location:
How To Win At In-Game Betting
Winning at in-game betting is not easy, even though some sports bettors claim that it is a superior option. Making a winning in-game bet involves the same steps as a pregame wager and a lot of research has to be involved.
If you are going to be successful when sports wagering, then it's going to take a lot of work. Even if you don't have time to do research before making a live bet, you still need to have an idea of what you are looking at.
Stick to what you know when placing live wagers, and that will give you an advantage. You should also have a live, or "real-time" strategy in place, and some tips for that are provided below.
Live Betting Strategy
A live wagering strategy is going to look different for everyone. However, that's the case with any sports gambling strategy. The first major tip to winning with this type of bet is to actually be watching the game.
If you aren't following a game closely, then you won't understand how the contest is playing out. You will miss out on additional context. Simply looking at the score is not good enough, because it won't necessarily give you the needed information.
Another real-time betting strategy to use is to have some bets circled before the games even begin. Know what you might be interested in wagering on, and that will narrow your focus.
Finally, trust your instincts when it comes to live wagering. After all, you don't have time to second guess yourself. If you think too long about making a bet then you might miss those lines or odds for good.
Check out this article on live betting tips.
Hedging Live Bets
One of the best reasons for placing a bet in-game is to hedge on a bet that was made before a game started. Hedging provides a bit of an insurance policy as you will be wagering on the other side of the odds after the game has started.
This is done a lot with multi-leg parlays, and that bet is just one leg away from hitting. At that point, placing a bet on the other side will at least guarantee that some money will be returned at the conclusion of that game.
This doesn't have to be done with a parlay though, and people are hedging bets all of the time after the first half of a game. Here is an example of what this might look like when done correctly.
Let's assume the two teams in an NBA game are the Chicago Bulls and Los Angeles Lakers. The Bulls are a 7.5-point favorite in that matchup, and a bettor took them to cover the spread.
If the Bulls are losing at the half, then there could be a couple of different ways to hedge your position. One option would be to take the Lakers +7.5 if that was still available, or you could also take the Bulls -2.5 and hope that they at least win this game by two points.
For a comprehensive look at how NBA odds work, take a look at our guide to NBA Betting.
Best Live Betting Online Sportsbooks
Live Football Betting
If you talk to anyone that bets on sports a lot, most would agree that placing wagers on the NFL is the best option available. Throw in live wagering, and it becomes an even better opportunity.
The one thing that helps NFL in-game betting stand out from the rest is that you are going to find the most options available. Real-time odds will change after each play, and you might see a big change in the line depending on what has taken place.
The two things most people look at when wagering on the NFL are the winners and the points. Picking against the spread is the best way to bet on NFL games, but you can also look at over/under the total points in a matchup.
The score doesn't always change often in an NFL game, but there are big plays than can make or break a game. If you watch the lines closely, you can see just how important each play might be.
One of the best times to bet on the NFL is at the end of each quarter or half. That will give you some quality time to study the line and make a solid wagering decision.
Player prop options will also be available for most offensive players as a live bet as well. How many yards a quarterback will pass for would be an example, or how receptions a wide receiver will make.
If you are focusing on the action as you watch then that could give you an edge to make a savvy live wager. For example, the Kansas City Chiefs are a team known for comebacks. If they fall behind early, then that could be a line to watch for live betting opportunities.
Check out our full guide on how to bet on the NFL.
NBA Live Betting
The NBA was quick to align itself with legal sports betting and the league does a great job of providing data to sports betting sites. This data can be used to set the odds and lines, but it can also help you out when making decisions.
A line in an NBA game is going to change often as there is usually great flow to these matchups. You will still find a break in the action though, especially at the end of each quarter.
Prop bets for teams and players are popular when it comes to NBA live wagering. Each team will have a long list, and those odds will change as the game goes on.
Basketball is also a sport where teams can make wild scoring runs. This adds to the excitement of the game and also lends itself to a favorable in-game line.
Wagering against the spread and over/under wagers are both great examples of popular NBA live gambling options. If you don't like the live betting line you are currently seeing, you won't have to wait long for them to change again to back the team you are interested in.
MLB Live Betting
Because of MLB's relatively slow pace, this sport provides great opportunities to bet live during the game. There are also long breaks at the end of each half inning, and that's a time to get bets in.
Even though those matchups tend to move slower, there is still plenty of action that happens. Some claim that baseball is not fun to watch. However, you don't necessarily have to tune in to give yourself the best chance at live betting. You can check the scores or set alerts on your phone for betting opportunities.
Baseball is a game that tends to have less scoring than other sports. That doesn't affect the quality of live wagering options. If you are paying close attention to the lines, then you will find good options throughout the game.
A pitcher is a position that will come with plenty of prop betting options when placing a live bet. You can also bet on props for teams in an MLB game. These options will vary depending on the sportsbook you have chosen.
Other Sports In-Play Betting
Football, basketball, and baseball are the three most popular sports to bet on in the United States. However, they aren't the only live betting options out there. In fact, sports such as golf and hockey actually provide some good live or in-game betting opportunities.
You don't necessarily have to stray away from wagering on the most popular sports, but you have options. Sports betting continues to grow and evolve, and each sport has unique in-play betting options.
Sportsbooks need live data before live odds can be set, and that could slow things down a bit. You will never be limited to just three major sports, so explore all options before submitting a wager.
Always New Sports Coming
If you aren't seeing your favorite sport offered as a live wagering option, don't fret. Give it some time and that will likely change. This is still a relatively new betting option at online sportsbooks. Its popularity will continue to see it grow and evolve.
You can usually find at least some sort of in-game betting option for every sport that is begin played. As long as the site can get the live data then odds can be set.
Your location could also determine what sports are available as each jurisdiction will dictate what sports can be offered.
Best Live Betting Online Sportsbooks
Looking for the sportsbooks with the best prop bets and bonus offers? Check out the Props.com library of online sportsbook bonus guides:
Be sure to check out the entire library of Props.com Betting 101 guides, linked here:
Live Betting FAQ
FAQ
What does "live betting" mean?
Live sports betting allow bettors to wager on a game throughout the duration of the contest.
Unlike a traditional bet, made before a game begins, live betting odds are available after a game starts, and throughout the rest if the game. The lines on a live bet change rapidly throughout the game, based on what's happening in the contest.
Live betting is also commonly referred to as in-play wagering, in-game bets, live game betting, and several other similar terms.
Where can I place in-game wagers?
Most top online sportsbook brands offer in-game wagering. Books like PointsBet, Caesars Sportsbook, DraftKings Sportsbook, FanDuel Sportsbook, and BetMGM offer in-game odds in games across many sports.
Look for a tab labeled "Live" or "In-Game" at your mobile sports betting app of choice to filter for in-play wagers available at a given time. Live betting sites (online gambling sites) are generally the exclusive home of in-game betting, as the changing odds and computer algorithms related to live betting function much better at online sportsbooks, compared to live sportsbooks.
Why do live betting odds change throughout a game?
Pre-game bets (traditional moneyline, point spread, and over/under) set lines on a game that hasn't yet started. When a sports bettor places a pre-game bet, they do so with the score of the game at 0-0.
Live betting/in-play odds, however, change based on the score of the game. For example, let's say the pre-game point spread on the Super Bowl sees the Los Angeles Rams installed at a 4.5-point favorite over the Cincinnati Bengals.
If the Rams jump out to a 14-0 lead at the end of the first quarter, the live betting line might shift to the Rams (-10.5) at the next timeout or commercial break. As the game progresses, the point spread continues to change, based on the score and the amount of time left in the game.
Is live betting better than other bet types?
Live betting isn't inherently better than any other way to bet. In-game betting does open almost infinite betting possibilities on a single game, however, expanding the opportunity to lace more bets and make more money on a game.
The nature of in-play betting also expands into a whole new realm of live betting strategies
What sports can I live bet?
Many different sports offer live betting odds. Online betting sites include in-game wagering odds for football, basketball, baseball, hockey, soccer, and many other sports.