Simply put, the NFL Super Bowl is three hours of the best professional football available in a given year, and it's propped up by commercials, musical performances, and other ceremonial goings-on that draw hundreds of millions of viewers worldwide. This guide to Super Bowl Squares Betting and Prop Betting goes over everything you need to know about a couple of the most popular ways to participate in Super Bowl Sunday 2023.
The football squares pool is as big a part of an NFL Super Bowl party as pizza and beer. Long a tradition in home and office football game viewing parties (and in particular for the Super Bowl), "squares" is a simple pool-based betting format that probably doesn't interest serious bettors all that much. But it can garner interest in the game and trash talk around the water cooler.
For a bit of fun, novice and serious bettors alike might give Super Bowl squares pools and some silly prop bets a go. You can play a Super Bowl squares pool with friends and co-workers, or even find a website that offers Super Bowl squares online. Find a bit more about how these work and if you might favor a wager on one or the other.
Play Super Bowl Squares At BetRivers
BetRivers Sportsbook offers Super Bowl Squares contests on the NFL Conference Championship games, as well as Super Bowl LVII. You can win up to $10,000 in each contest.
You can sign up for a BetRivers account with the link below and claim an exclusive new player bonus for Props.com readers:
Playing "Super Bowl Squares"
The only real props involved in Super Bowl squares games are the actual betting sheets, which are grids with 100 individual squares. Made up of a total of ten squares on both the x and y axes. This 100-square layout is fairly standard, but some variations do exist.
The strategy and other discussions below cover the standard 100-square size, but could easily be altered to cover alternate numbers of betting spaces.
Example of a 100-square Super Bowl squares template board pulled from Google: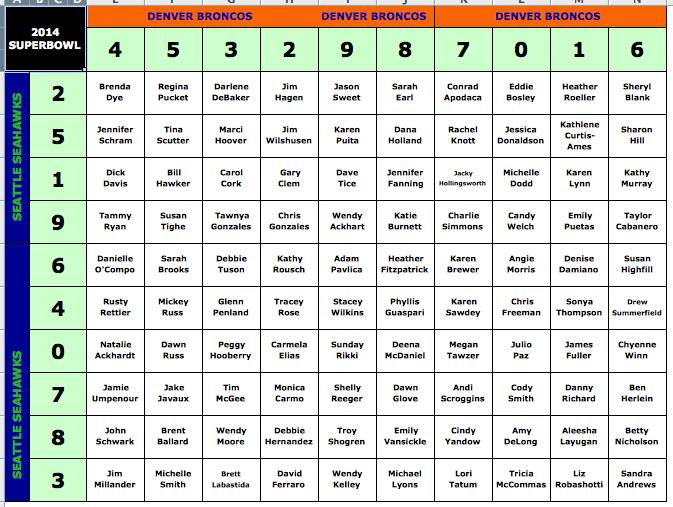 Each of the 100 squares is an available wagering space, labeled 0-9 on both sides. The price of each square is determined by the game's host, but is usually pretty low since this tends to be a friendly contest. Once all the squares are sold, the boxes are assigned, usually at random to give the bet some parity.
Alternately, a blank 10×10 grid is passed around and people write their name in random squares. Once the grid is full, numbers are pulled randomly and assigned to the x and y axes.
Some squares contests allow entrants to pick their own numbers. These are the only ones that can really be exploited with any strategy, so hopefully your next big football party will let you pick your own.
Football Squares Strategy
As discussed earlier, if the squares game you enter assigns squares randomly, there isn't much strategy beyond buying as many squares as you're allowed and hoping for the best. Strategy comes in when bettors are allowed to pick their own squares. This is true even in cases where they're allowed just one choice, with the rest left up to chance.
In the case where bettors are allowed to pick their own numbers, those of us in the know are in luck. Remember that Super Bowl parties are stuffed with total betting amateurs with no understanding of the game.
If you play squares in a $5 or $10 per square game, it doesn't make sense not to jump in and put your sports knowledge to use. Hey, it may be the one time in your life where you are a true sharp, relative to everyone else taking part in the wager. A little knowledge could be worth several hundred (or more) dollars.
Betting Past Scores and Patterns
Strategy is simple. Look back at the final scores of past football games and pick the numbers that pop up most commonly. You can and should tailor this to the specific game you're betting on.
For example, going back forty-five years, a few numbers pop up way more often than others. The most common final scores are 27-24, 24-17, 20-17, 17-14, and 13-10. Notice how often the numbers 0, 3, 4, and 7 pop up in the final digit of those scores? Make those numbers your Super Bowl square selections and you've increased the likelihood of winning considerably.
Those figures don't do much for the first three quarters of scoring, where smaller prizes are awarded. Since the final score prize is usually twice as big, that's the one you should focus on winning. It doesn't hurt that 0 and 7 are also really common numbers in early scoring totals as well.
Play Super Bowl Squares At BetRivers
BetRivers Sportsbook offers Super Bowl Squares contests on the NFL Conference Championship games, as well as Super Bowl LVII. You can win up to $10,000 in each contest.
You can sign up for a BetRivers account with the link below and claim an exclusive new player bonus for Props.com readers:
Best Prop Betting Alternative Apps
While legal sports wagering isn't yet available in all 50 U.S. states, the following apps give prop betting alternatives that are very similar to props:
These apps are available in most of the U.S.:
Winning at Squares
How does a player win on football squares? Each of the numbers of each of the squares, 0-9, corresponds to the final number in the score of the home or the away team in the game.
Whether the wager refers to the home or away team is determined by its position on the board. One axis is the home score, the other axis is the away score. Only the final number in the score is used because it's fairly common for a quarter of football to pass without a score.
An Example of a Football Squares Result
If that's a little confusing, here's an example. If the score at the end of a game is Dallas 23, Washington 20, the winner is whoever has the square that falls on the number 3 spot of the away axis and the number 0 spot of the home axis.
Football Squares Prizes
Traditionally, prizes are paid out at the end of each quarter, for a total of four prizes. The prizes are traditionally not paid evenly. Often the total prize pool is broken up into fifths. One share goes to the first quarter, second quarter, and third quarter winners, while the winner of the final score gets two shares, or two-fifths of the total prize.
How much money are we talking about here? Let's say your next Super Bowl party charges $10 per square. That makes for a $1,000 total prize pool. The first three winners would win $200 apiece, while the owner of the final score square would win a payout of $400.
What about the odds of winning? If everyone buys just one square, each participant has a 1 in 25 chance of taking home the cash. In large pools, such as office parties, this is common. However, it's often the case that people are allowed to purchase multiple squares, increasing your chances.
As a bettor, it's best to play in a game that allows you to buy more than one square. Each additional square purchase is one full percentage point increase in the chance that you'll bring a fat wallet home from your party along with a good case of acid reflux.
Play Super Bowl Squares At BetRivers
BetRivers Sportsbook offers Super Bowl Squares contests on the NFL Conference Championship games, as well as Super Bowl LVII. You can win up to $10,000 in each contest.
You can sign up for a BetRivers account with the link below and claim an exclusive new player bonus for Props.com readers:
Conclusion
It's easy to apply this same method to squares bets on NCAA championship games and other football contests. This is especially true as team parity increases in college football and the scores normalize to form trends.
Are football squares bets the most interesting way to wager on the Super Bowl? No. The number of crazy proposition or "prop" bets is far sexier, and the payouts aren't usually all that high.
But squares are easy to take advantage of. Armed with a little knowledge (and the right squares rules and game setup), it's easy to swoop in and claim a few hundred bucks with a layout of twenty bucks or so at your next football party.
Prop Bets Galore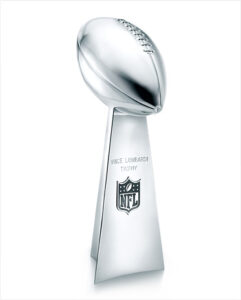 Proposition bets, known affectionately as "props" in the sports betting industry, are wagers on otherwise trivial occurrences during the course of a game. These are examples from the infamous "exotic bet" category.
Rather than wagering on point totals, point spreads, or outright wins and losses, prop bets pay out based on the outcome of questions like "Which team will score first?" and "Which team will win the coin toss?"
Here are notes on some of the most-popular (and some of the strangest) Super Bowl proposition bets available. Some are more exotic (read: financially risky), but some can actually be handicapped, so to speak. Read below for details on Super Bowl-based proposition wagers.
Best Prop Betting Alternative Apps
While sports betting isn't yet legal in all U.S. states, the following apps offer sports gaming alternatives that are nearly identical to prop betting.
These apps, handpicked by the experts at Props.com, are legal in most of the U.S.:
The Coin Toss
Some Super Bowl propositions have become a kind of annual tradition for sports gambling enthusiasts. The best-known example are bets on the outcome of the coin toss at the beginning of the game. At least four standard props based on the coin toss exist:
Outcome (heads or tails)
Winning team
Whether the team that calls the coin toss gets it right or wrong
Whether or not the team that wins the coin flip will win the game outright.
No doubt other versions of coin flip props are available, but these four are the standard bearers.
Because the outcome of these props is based entirely on a random event (the flip of a coin), there is no way for sports bettors to approach them in such a way as to gain an advantage. In other words, there's no amount of research a person can do to help them predict the likely outcome. The volatility of placing a wager or group of wagers on a coin flip is attractive to some people, to others not so much.
First to Score
Like proposition bets on the coin toss, "first to score" isn't just one wager but a short list of them. Bettors can lay bets on:
Player to be the first to score a touchdown
Team to score the first touchdown
Neither team will score a touchdown all game (long odds but a big potential payoff)
A bettor familiar with both teams can make smart bets in these categories based on a real-world understanding of how the offenses and defenses on the field work. In the case of the various "first to score" props, an educated guess is actually worth something. To use the 2014 Super Bowl as an example.
Marshawn Lynch was the first player to rack up six points early on in the second quarter, set up for the score after an interception. Lynch was the Vegas favorite for individual player to score first (5/1 at most oddsmakers around the world). This was due, in part, because he'd scored three TDs in the first two games of the 2014 playoffs. The smart money was on Lynch because everyone expected the Seahawks' workhorse to get the ball in the red zone after a Broncos turnover—which is exactly what happened.
Game MVP
File this one under the category of propositions that pertain to real in-game statistics. Wagers on who will be the game's MVP should be self-explanatory. What may not be as self-explanatory is the betting strategy involved here, and with other prop bets attached to actual Super Bowl performance.
One tip for bets on the likely Super Bowl MVP is to look at who has won the award in recent years. This will help bettors understand the league trend. Six out of the last eight game MVPs were quarterbacks. The smart money may lie with one of the dueling signal callers. Then again, the MVP in 2014 was a defensive player on a team renowned for its defense. This may be a factor if one of the teams has a monstrous D-line.
Other popular prop bets tied to real in-game activity include: First to Score, Total Rushing Attempts, Total Tackles, etc. All of these are based on real-world stats that are fairly easy to research and handicap. Look at recent performance, consider the impact of the team on the opposite side of the field, and place an informed wager.
Best Prop Betting Alternative Apps
The National Anthem
This is a perfect example of a Super Bowl proposition that has nothing to do with the game on the field. Every year bookmakers release a surprising number of odds on the performance of The Star-Spangled Banner. The National Anthem is sung by some form of singing celebrity at the beginning of every Super Bowl. Even though it may seem like a silly proposition to wager on, this is actually another type of prop bet where research can pay off.
Consider the popular "How long will it take ___ to sing the National Anthem?" prop. This wager is made available an over/under proposition. It asks the bettor to wager on whether the singer for this year's game will go over and under a certain amount of time. The over/under line varies based on the performer. For example, in 2014, a wager that Renee Fleming would fail to get the Anthem finished in under 125 seconds was listed at even odds at most books.
That number wasn't pulled out of thin air. The bookmakers knew that Ms. Fleming was choosing to sing the anthem live, as opposed to recording it live before the game, which would give room for the correction of errors. They also knew she wasn't particularly fond of cold weather, which can harm vocal cords.
Ms. Fleming's time was clocked at 122 seconds. Vegas knows how to set a line, even on some of their atypical propositions. But it's also an example of how a smart sports bettor can do some atypical research to determine if these exotic bets are worth an outlay.
In Conclusion
Super Bowl props range from the truly bizarre – "What will the halftime performer be wearing on their head?" – to the traditional.
Advantage bettors shouldn't shy away from this form of exotic wager completely, in part because many available prop bets are based on facts that can be inferred from past experience and in-game circumstances. The trick with Super Bowl proposition wagers is to find the few available bets where you have an advantage and avoid the ones that are based more on random chance.
Looking for the sportsbooks with the best prop bets and bonus offers? Check out the Props.com library of online sportsbook bonus guides:
Be sure to check out the entire library of Props.com Betting 101 guides, linked here:
Play Super Bowl Squares At BetRivers
BetRivers Sportsbook offers Super Bowl Squares contests on the NFL Conference Championship games, as well as Super Bowl LVII.
You can sign up for a BetRivers account with the link below and claim an exclusive new player bonus for Props.com readers:
Best NFL Sports Betting And DFS Apps
What are the rules for Super Bowl squares?
In Super Bowl Squares, players randomly choose two squares from a grid numbered 0-10 horizontally and vertically. The numbers correspond to the second digit of each team's score at the end of each quarter.
What is an example of how Super Bowl Squares work?
Using last year's Super Bowl as an example, a player chooses a random number between 0-9 for the Bengals and a random number between 0-9 for the Rams. Let's say you chose "3" for the Rams and "0" for the Bengals. The Rams won the game 23-20, so you would be the winner (the Rams' score ends with a "3", and the Bengals score ends with a "0".
How do payouts work for Super Bowl Squares?
Super Bowl Squared games generally pay out at the end of each quarter. The payoffs are generally smaller for the end of the first three quarters, with a bigger prize awarded to the end-of-game winner.
Where can I play Super Bowl Squares?
You won't find Super Bowl Squares on the menu at a sportsbook. The game is usually played among friends, or in an office pool.
Where can I place Super Bowl Prop bets?
You can find plenty of online sportsbooks offering Super Bowl prop bets, and sign up for the best bonus offers at those books right here at Props.com.