Top Sportsbook Picks in Virginia
Long gone are the days when the only way to place a legal sports bet was to stand in line at a physical sportsbook and wait for an available teller. Here is our complete Mobile Sports Betting Apps vs. Online Sportsbooks guide to help make the decision of desktop vs. mobile betting easier. 
Thanks to sweeping legislative reform, and 21st-century technology, sports bettors have a myriad of ways to make their wagers.
You can still, of course, visit a sportsbook. There is plenty of fun to be had by sitting with your fellow sports bettors and comparing betting slips. But because of the locations of most brick-and-mortar sportsbooks, the much better option for the majority of sports bettors is to connect to the sportsbook online.
And online betting comes via two options: sitting down at your computer and going on the sportsbook's website or using the mobile app that the sportsbook provides.
So which is right for you?
Why Some Bettors Prefer The Sportsbook App Experience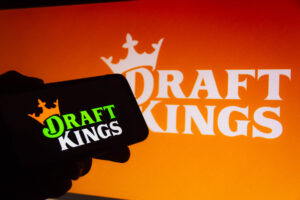 When choosing how you best enjoy the sports betting experience, it really comes down to personal preference. But there are several reasons why many bettors prefer to use a mobile sportsbook.
Availability
We spend hours and hours each day away from our home computers, but if you're like most people, your phone is never more than four feet away from you, and usually, it's in your pocket.
The immediacy in which you can respond to breaking sports news and then capitalize on it by placing a wager simply doesn't exist with betting on the web. However, through your phone and with the mobile sportsbook, you can place your bets from anywhere and at any time.
Whether you're on vacation, at the office, commuting, at a bar with friends, or sitting in the stadium of the game you want to bet, the mobile sportsbook is always available.
Performance
As good as your home Wi-Fi might be, and as fast as new your computer processes your requests, chances are that the sportsbook app and your mobile phone are faster.
For most betting needs, seconds and fractions of a second don't matter. But for the full sports betting experience, which now features a growing number of in-game betting options, every bit of speed matters. As the odds change and bets are posted, being able to have them automatically post on your sportsbook app is key to getting your wagers in.
And then, on the course, there is the way apps are designed to fit with your phone, as opposed to websites. You could access the web version of your chosen sportsbook on your mobile device, but the screen might be jumbled. Finding what you want is more complicated. In comparison, the mobile app is specifically designed to fit perfectly on your screen and make the information easy to find.
Notifications
Largely forgotten, because as our mobile apps ask us if they can send us notifications, we reflexively say no, is the fact that we can get notifications from our sportsbook apps, and it can be very helpful.
Many mobile sportsbooks allow their users to set up notifications for upcoming games and matches and when a game and match is complete. You can also set up notifications for any breaking news related to wagers you've placed, or are thinking about placing. These include injury news, weather, trades, starting lineups, and NFL inactives.
You can also get account notifications, so you're always on top of how much you have wagered and how much you have won.
Using a mobile sportsbook lets you stay on top of your sports betting, even when you aren't thinking about it. You simply will not get that same level of interaction with a desktop sportsbook.
Why Some Bettors Prefer The Sportsbook Desktop Or Laptop Experience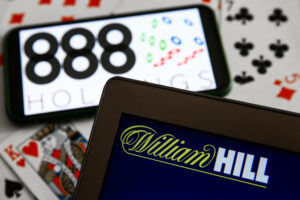 The mobile sportsbook experience has a lot to love about it, but there are also significant pros to using a desktop or laptop.
Size Matters
The obvious advantage of placing your sports bets using the sportsbook's website is the screen size on your desktop or laptop. Even the smallest of laptops is many times larger than the biggest mobile device.
A larger screen means more information directly in front of you. You don't have to scroll down the list to find the best point spreads because so many more of them are on the screen. And while a sportsbook app is trying to make things fit, a desktop sportsbook is trying to make as much information readily available as possible.
And as more and more sportsbooks begin to offer streaming services on events that you have wagered from around the world, like international basketball, soccer, golf, and cricket, watching those streams and monitoring the progress of your wagers is much easier on a large screen.
Top Sportsbook Picks in Virginia
Comfortable Setting
Since many of us spend several hours each day sitting in front of a computer for work, it's easy. We have setups with desks, comfortable chairs, easy access to phones and printers, and maybe even multiple monitors, allowing us to have multiple websites open simultaneously.
It's a familiar setting to everyone, making for a comfortable sports betting experience.
You can better compare point spreads and odds with multiple monitors and multiple websites. You can also monitor pre-game news easily while also monitoring how the sportsbook reacts to the news.
As great as our mobile devices are, there is a limit to what we can see at once. But with multiple windows and tabs and the ability to layout printed material as you research your sports wagers for the day, having a desktop or laptop makes the experience more comfortable.
Stable Connectivity
As good as hotspots around the country have become, your safest bet is always having a connection to the internet is when you are home and working on your desktop or laptop.
Public Wi-Fi connections can be slow or non-existent. When you're at a crowded sports bar, and there are multiple users on the same network, and speed is of the essence in placing your sports bets, your mobile device may fail you.
Or you may have to use your data, and if you're planning on a full Sunday of NFL betting, including live betting, you can burn through that data relatively quickly.
For that peace of mind, many people like to be at home and their computer for a long day of NFL wagering. You can't place the bets if you're not connected.
Which Experience Is Better for a New or Casual Sports Bettor?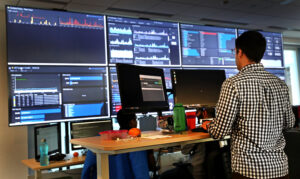 Suppose you are new to sports betting or only plan to place wagers occasionally. These are the criteria that will best guide your decision – desktop or mobile – and inevitably show you that mobile is the better way to go.
Ease Of Use
Websites are, of course, easy to use, and sportsbooks work tirelessly to make sure they are user-friendly. But our lives live on our mobile devices, and that is where the vast majority of our leisure screen time is spent.
Having your sportsbook in your pocket at all times of the day is simply better. And using a sportsbook mobile app is an intuitive experience. We bank, pay bills, watch television, and communicate with the world on a single device. Placing sports bets from that same device is easy.
Speed Of Use
Of course, you want the ease of use, but you need speed too. And again, the mobile device wins. The sportsbook's mobile app is optimized to work on your phone's screen and on your phone's software.
From automatically updated odds to updated scores and news and in-game wagering, it just works faster on your phone.
Pairs Better With Watching The Game
You can sit on your laptop and your sportsbook's website and watch the game simultaneously, but sports is supposed to be a social experience. Wagering and watching Aussie Rules football by yourself in the middle of the night is fine, but you will wager and watch the Super Bowl, and you want to do that with others.
Having your sportsbook on your mobile device makes it much easier to watch the game with friends, at a sports bar, or sitting behind the dugout.
Easier to Share And Compare With Friends
The social experience of watching sports extends to wagering on sports, and through your sportsbook's mobile app, it is much easier to compare your bets with your friends' bets. Many sportsbooks even allow you to create private sports betting pools over their mobile app that you can invite your friends to join.  
Best Online Sportsbook Bonuses
Check out the Props.com guides to online sportsbook bonuses in the U.S.:
Top Sportsbook Picks in Virginia