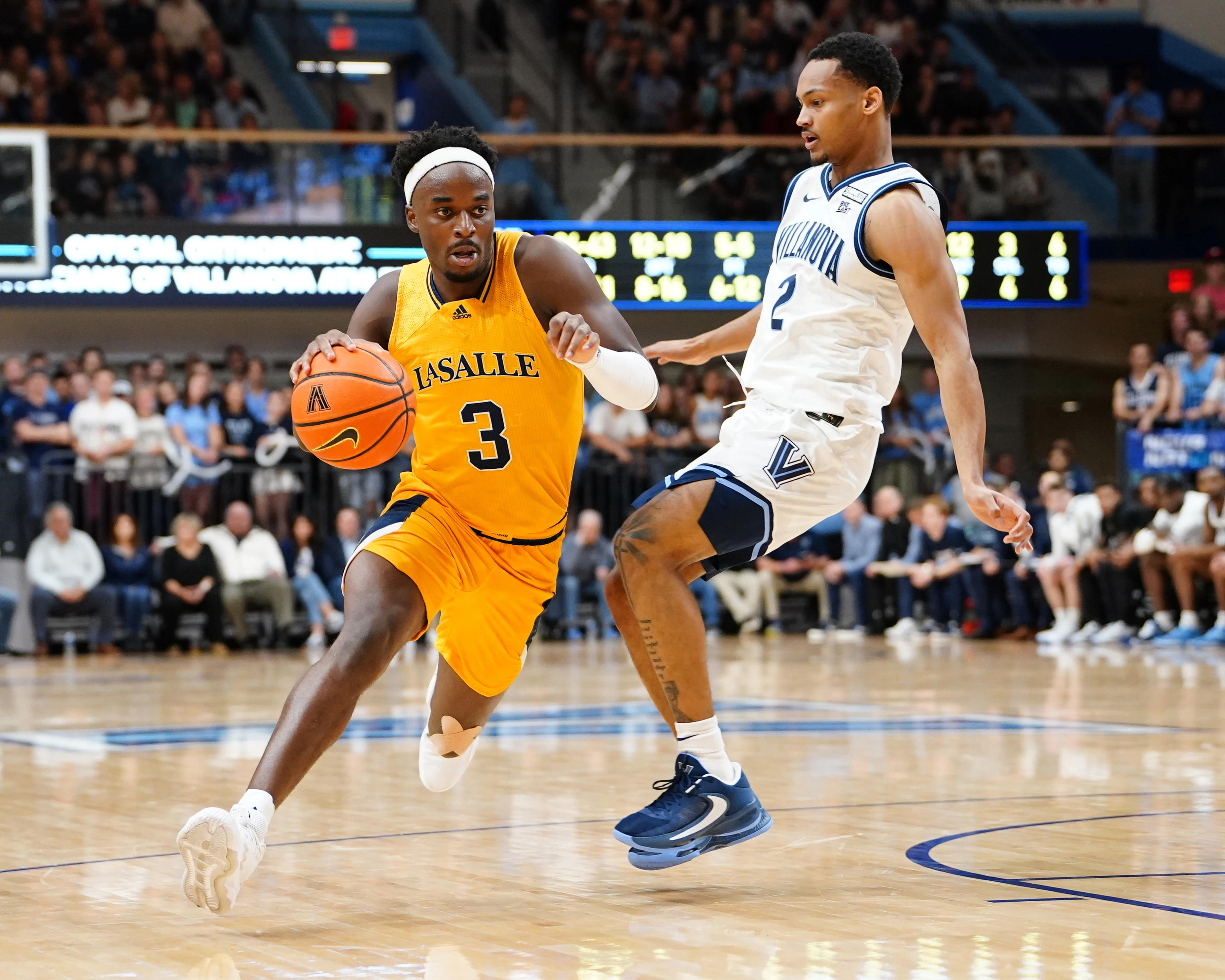 Top Sportsbooks For College Basketball Betting in Virginia
The NCAA basketball season features a ton of great action from all over the country. NCAA Men's Basketball really gets started around Thanksgiving and, of course, ends during the final days of March and first few days of April when the NCAA Championship is ultimately decided. This How to Bet on College Basketball guide gives you everything you need to know how to make college basketball bets on the 2022-23 NCAA Basketball Season.
Much like other college games (especially college football), NCAAB betting lines are far more abundant than available lines on professional sports. When you check out the upcoming games in the college basketball section at an online sportsbook, you'll often find hundreds of different contests open for betting action.
During the end of February and early March, there's rarely a moment where bettors cannot find action to wager on. With so many great rivalries and conferences, it's no wonder why this is one of the most popular seasons of the year when the college men start hooping it up in hopes of cutting down the nets for a National Title.
More than half of U.S. states offer legal online sports betting. You can find almost infinite college basketball betting lines during the college basketball season if you're in one of those states, from regular season games through the National Title game.
Let's take a look at some of the types of bets available on a college basketball game, as well as some of the best NCAA events to bet on and some helpful hints for reading college basketball betting odds.
Types Of College Basketball Odds
Point Spread Bets
Point speads are the most traditional NCAA basketball odds. A point spread betting market gives one team points and takes away points from another team. When a college basketball team is "favored" they have to win by a certain amount of points. The team that is the "underdog" has to lose by less than those points (or win the basketball game outright) to "cover the spread."
An example of an NCAA basketball point spread bet:
Syracuse -6.5 @ St. Johns
In this example, Syracuse is favored to win on the road against home team St. Johns. If you bet on Syracuse, they must win by more than 6.5 points to get a payout. Conversely, a bet for the underdog St. Johns means that they have to either win the game or lose by less than 6.5 points for a payout.
Moneyline Wagers
In moneyline betting, there is no line. This type of bet tasks college basketball bettors with simply picking which team will win the game outright. Most of the time, there's a distinct team that is the favorite, but sometimes an NCAA basketball game is so close there really is no favorite and you can get close to even money for picking the right winner. When a team is a huge favorite to win the game, the less money you win by picking them to win.
An example of a moneyline wager is:
As is the case with the point spread, the negative symbol in moneylines indicates the favorite (in this case USC at -450). The positive symbol indicates the underdog (here, Notre Dame at +200).
The (-) number indicates how much a bettor must wager to win $100. In this case, a wager of $450 on USC pays $100. The (+) number indicates how much you win if you bet $100. Bet $100 on Notre Dame and you'll win $200.
Future Bets
A future bet in college hoops is when you are wagering on something that will happen in the future. You can wager at the beginning of the season or even well before the season starts.
Typically you bet on which college basketball teams you feel will win a division/conference or the NCAA Tournament. Teams will have certain odds, and most of the time, the odds allow for bettors to receive good money if they choose correctly. As the season goes, the odds for that team may reduce or increase, depending on their performance on the court.
NCAA Men's Basketball National Champion Futures Odds
The odds on the National Champion at FanDuel Sportsbook as of March 2, 2023 are as follows:
Houston +600
Alabama +750
Kansas +850
UCLA +1000
Purdue +1200
Arizona +1200
College Basketball Parlays
When making a parlay bet, you are wagering on several teams all within one bet. You can elect to bet on several teams to win the game, or "cover the game," and have a chance to win more money. The more teams you place on a parlay, the worse your odds get. Conversely, the more teams you place on a parlay, the more money you can win. In a parlay bet, ALL your teams must win or the bet is no good.
Prop Bets
Prop bets are not always available for all NCAA basketball games. A prop bet is a wager on a certain action throughout the game. A prop bet could be: "Who will score the first basket of the game" or "Will the first possession be a score or a turnover?"
College Basketball Totals (Over/Under) Bets
Total bets have the oddsmakers place a number predicting how many points both teams will tally in the combined final score, and then bettors can decide whether they feel the two teams will score more (over) or less (under).
Game totals look something like this:
Miami                 O 199.5  (+115)
Florida State     U 199.5 (-115)
The listing of the teams tells you who is playing at home and who is away. The first team is always the road team. The next number is the actual game total. In this case, it's set at 199.5. The letter "O" indicates that this is the "over" wager, and that it offers $115 in winnings for every $100 wagered.
If the final combined total points between Miami and Florida State comes in at 200 or more, the over bet wins. Anything 199 or less means the under bet wins.
Teaser Bets
A teaser bet is a bit like a parlay bet, where sports bettors wager on several teams at once. The teaser part is where the book gives you a certain number of points to help you either way to make your bet more to your liking.
For example: a 7-point teaser on:
Illinois – 6 @ Indiana
Villanova -5 @ DePaul
Auburn + 11 @ Kentucky
You can use those seven points to lower or raise the odds of any of the three games. In a teaser bet, you must win all three games for the bet to win.
College Basketball Live Betting
Live betting (aka in-game betting or in-play betting) allows bettors to wager on a game continuously after the contest has already started.
In essence, you get the chance to watch a sporting event in real-time and then place a wager in the middle of it. Every time a play is made, the lines and odds change, and any given line may change quickly.
The starting line of a game determines the odds at the beginning of the game, but you may notice a significant change depending on what is happening on the field or court. Although oddsmakers are typically adept at pregame lines, they occasionally make mistakes and overreact to events in live betting lines.
Because of this, shrewd gamblers occasionally postpone placing team wagers in order to take advantage of improved odds during a game (especially in fast-paced sports like basketball).
You'll find many college basketball games available for live betting at the legal online sportsbooks mentioned throughout this guide. If you can read college basketball odds quickly and process the information, you stand to do well with live odds, especially with so many games available each day.
Bet On College Basketball Online
Top Sportsbooks For College Basketball Betting in Virginia
Best College Basketball Games To Bet On
NCAA Basketball Tournament
"March Madness" is the premier event of the NCAA season. It pits 65 teams over 64 games. If a team wins, it moves on. If they lose, they're done for the season. The tournament always makes for some exciting action.
Conference Tournaments
These are held right before the NCAA tournament. Most of the conferences in college basketball have tournaments. After teams meet twice during the regular season, the teams get together for a tournament with the winner getting an automatic bid to the NCAA tournament. You'll always find some thrilling games played in conference tournaments.
Big Monday Action
ESPN has some excellent Big East and Big 12 games on Big Monday nights. These can be fun to bet on, especially while watching during the winter months.
Rivalry Games
College basketball provides some awesome matchups that involve rivals during the entire season. Rivalry games such as Duke/North Carolina, Kentucky/Florida, Syracuse/Villanova are huge events and always broadcast on TV. Be sure to get some action on these games!
College Basketball Betting Tips
Know who is at home: More than anything else in the game of college basketball, the home team has the advantage. The crowd is in their favor, and they don't have to do all the traveling that the road team does. Teams are more comfortable with home court advantage.
Know who the officials are: In what started in professional basketball has trickled down to college basketball. Unfortunately, the officials in a game matter. Some officials have the tendency to call more fouls, which could benefit one team or the other.
Understand the styles of play of both teams: The game may be between a team that has a tough time scoring against a team that is very good defensively. This would be a red flag for the possibility of a low-scoring game.
Know the trends of both teams: Understand whether one of the teams is on a huge winning or losing streak. Check out who the teams have played recently, and how they've fared. Know whether either are ranked teams.
Follow the lines closely: Watch where the line starts, and where it goes leading up to the game. Keep an eye on the line and check around for why the line is moving one way or the other.
Check the injury report: Obviously before you make a bet, you need to make sure a key player from one of the teams is not hurt and unable to play. This makes a big difference in the world of college basketball.
In Conclusion
College basketball is a great game that provides tons of action on the floor. There are always great games to wager on, and it's important you bet on only the games you feel you have an advantage on. Just because there are a ton of games, doesn't mean you should make a ton of bets. Find your winners and bet on them—and you have the potential to win money betting on NCAA basketball.
Top Sportsbooks For College Basketball Betting in Virginia
Guide to March Madness Betting
It isn't called March Madness for nothing. The annual national college basketball tournament that pits teams from the top of different conferences against one another is one of the longest tournament series in sports.
The first two official days of the tournament (after the play-in games) is completely bonkers. Thirty-two games are played over the course of two whole days, including some morning games and some that stretch on late into the night.
Sure, there's a ton of hype and a lot of amateur action affecting things, not to mention the influence of the sharps, but there are still money-making opportunities that early in the tournament.
The 2022-23 Final Four takes place at NRG Stadium in Houston April 1-3. The National Championship game on April 3 wraps up the 2022-23 season.
NCAA March Madness 2023 Dates
| | | | |
| --- | --- | --- | --- |
| March 14-15 | First Four | Dayton, OH | UD Arena |
| March 16 & 18 | First/Second Rounds | Birmingham, AL | Legacy Arena |
| March 16 & 18 | First/Second Rounds | Des Moines, IA | Wells Fargo Arena |
| March 16 & 18 | First/Second Rounds | Orlando, FL | Amway Center |
| March 16 & 18 | First/Second Rounds | Sacramento, CA | Golden 1 Center |
| March 17 & 19 | First/Second Rounds | Albany, NY | MVP Arena |
| March 17 & 19 | First/Second Rounds | Columbus, OH | Nationwide Arena |
| March 17 & 19 | First/Second Rounds | Denver, CO | Ball Arena |
| March 17 & 19 | First/Second Rounds | Greensboro, NC | Greensboro Coliseum |
| March 23 & 25 | West Regional | Las Vegas, NV | T-Mobile Arena |
| March 23 & 25 | East Regional | New York, NY | Madison Square Garden |
| March 24 & 26 | Midwest Regional | Kansas City, MO | T-Mobile Center |
| March 24 & 26 | South Regional | Louisville, KY | KFC Yum! Center |
| April 1 & 3 | Final Four | Houston, TX | NRG Stadium |
March Madness Betting Trends
Thanks to changes to the tournament layout in 2011, there are now 64 games played during the NCAA Division 1 Men's Basketball Tournament every year, which means bettors face a ton of games to pick, particularly in early rounds.
This, combined with the difficulties of understanding such a diverse field of teams, makes it one of the brainiest and most challenging championships to bet on.
Here are some tips to consider when preparing your bankroll for the next onslaught of more than five dozen high-level college basketball games.
Early Round March Madness Betting
The first round is the only one in which bettors know fairly well in advance how the two competing teams will be seeded. The first seed always plays the sixteenth seed, etc. Historically, for bettors, the best chance for a return is to focus on the four fifth-versus-twelfth seed matchups. It seems too good to be true, but more than a third of all teams seeded at the twelfth position have won during the round of 64.
That means #12 seeds on days one and two make for excellent bets and often have a lot of hidden value if you do your homework. Each year at least one twelve seed will win a matchup outright. Remember, because of the relatively low value of their twelve seed, the point spreads hover around 10. You're a fool not to wager on one, if not all, of the 12th vs. 5th seed matchups on the first two days of the tournament.
The value doesn't end with the number 12. Some other low-seeded teams (we're talking about seeds 11, 12, and 13) are often safe ATS. It's the strongest underdog factor in the college game, almost a Napoleon Complex that infects mid-major champs.
Understand that the difference in talent between the teams in various NCAA conferences is shrinking. The single-elimination layout of March Madness means parity is the name of the game. Take advantage of that parity early, while point spreads are still wide.
How to Bet on the Sweet 16
Once teams make it to the third round of the NCAA tournament, they're part of what's called the "Sweet 16." At this level, it makes sense to look for lower-seeded, small-side favorites. But a major difference between earlier rounds and the Sweet 16, in terms of betting, is that bettors need to start considering the impact of a team's conference strength, giving it a bit more weight. The other side of that coin is that it becomes necessary to give that intangible thing known as "momentum" some weight, too.
Teams playing well into the third round are, in fact, likely to keep playing well, almost regardless of seeding. The opposite is also true. A traditionally strong team from a strong conference that barely squeaked into the Sweet 16 is likely to fold. In that sense, parity becomes less powerful a handicapping tool starting at the third round.
Another tip for the third round of the NCAA tournament is to look at the teams' records in terms of where/who they played. Consider what that says about their potential. It's common for major conference champs to have weak road or neutral records (either ATS or straight up) underneath what's otherwise a gleaming conference championship. The NCAA Tournament takes place pretty much anywhere BUT at home, so teams that dominate at home may look entirely different after their soft early-round opponents.
Betting Tips for the NCAA Final Four
Once March Madness gets down to just four teams (and three remaining games), fewer and fewer opportunities for advantage gambling exist. It just plain gets harder to find a soft line when there are so few to handicap. The whole market tightens up and the sportsbooks and the general public all start to agree. It's a bit of a freaky social phenomenon when viewed from a sports bettor's perspective.
That said, it's possible to find a favorable line if you have the patience and the ability to shop at a variety of sportsbooks immediately after the lines appear, when variance is most likely to exist.
But don't focus on line shopping instead of handicapping. Doing research and looking at stats is just as important in these final games as in any other sports betting contest. With the March Madness Final 4, you want to look mostly at:
How teams performed on the road (since the remaining contests will all essentially be "road games")
The difference in their total number of rebounds on both sides of the ball
Opponent's FG% numbers
Performance against any recent common opponents
Intangibles
What about intangibles? The "momentum" we talked about earlier is no doubt still at work in the later rounds, but it's less likely than in earlier rounds to involve a deep-seeded team. Some handicappers become armchair philosophers at Final 4 time. They analyze team chemistry, body language, and attitude to see what direction those intangibles indicate the teams are headed in. This is all well and good, but it's no substitute for proper handicapping and line shopping.
It's also important to understand trends at this level of collegiate play. By the time you get to the Final Four, the higher-seeded team wins (and usually covers the spread) at least 75% of the time. This is especially true for the modern tournament.
In Conclusion
Whether you choose to wager on the final three games of the NCAA's biggest basketball event, it's quite a spectacle. The NBA stars of tomorrow duking it out, often in combinations that are rarely (if ever) seen. It's an exciting time, but March Madness can also be a bankroll-draining time. Don't forget that each year, a full 64 college basketball tournament games exist for wagering. Pace yourself, pay attention to the twelve seeds early on, and do your homework. After all, this is supposed to be fun, right?
More Sports Betting Guides From Props.com
Check out our entire library of Sports Betting 101 Guides written by our experts at Props.com:
Best Online Sportsbook Bonuses
Check out the Props.com guides to online sportsbook bonuses in the U.S.:
Top Sportsbooks For College Basketball Betting in Virginia