Caesars Sportsbook
This Props.com review of Caesars Sportsbook was conducted by online gambling expert Barbara Nathan. All of the notes and ratings in this review come from Barbara's first-person perspective while testing the Caesars app.
Caesars Sportsbook Quick Facts
Whether you are brand new to online sports betting or an experienced sports bettor looking to expand your options, choosing one sportsbook over another can seem like a formidable task.
That's why your best bet might be to go with an internationally well-known, trusted brand that has stood the test of time. This Caesars Sportsbook review will tell you all about what this highly regarded online sportsbook has to offer U.S. bettors that makes it an obvious standout in a very competitive market.
Based on those criteria alone, one betting site that more than qualifies is Caesars Sportsbook. You certainly can't go wrong choosing one of the biggest, best-known, and most experienced gambling operators in the world.
Read on for information on a special Caesars Sportsbook promo for Props.com readers.
Which States Allow Caesars Sportsbook?
Caesars Sportsbook currently operates in the following 19 locations:
Arizona
Colorado
Illinois
Indiana
Iowa
Kansas
Louisiana
Maryland
Michigan
Nevada
New Jersey
New York
Ohio
Pennsylvania
Tennessee
Virginia
West Virginia
Wyoming
Four states also offer Caesars Online Casino: New Jersey, Pennsylvania, Michigan, and West Virginia.
Caesars Sportsbook Promotions
| | |
| --- | --- |
| Caesars Sportsbook Promo Code | MYPROPSFULL |
| Bonus Description | $1,250 "On Caesars" |
| Bonus Offer Last Updated | June 2023 |
| Platforms Available | iOS, Android, Desktop |
| Where is Caesars Sportsbook Legal? | AZ, CO, IL, IN, IA, KS, LA, MD, MI, NJ, NY, OH, PA, TN, VA, WV, WY |
Caesars Sportsbook Welcome Bonus September 2023
Caesars Online Sportsbook At A Glance
Caesars' history in the United States dates all the way back to 1937. At that time, its holdings consisted of just one small Harrah's casino in Reno. But from those humble beginnings, it has grown into the international conglomerate, Caesars Entertainment, whose more than 50 gambling-related businesses now span four continents.
The first Caesars land-based casino outside of Nevada opened in Atlantic City in 1979. Now Caesars Entertainment is the largest casino operator in the U.S. The company owns three casinos in Atlantic City alone, each of which also has a retail sportsbook.
The first Caesars online casino opened in New Jersey in November 2013. However, it was not until September 2018, four months after the Supreme Court's decision to repeal PASPA and give individual states the power to enact their own sports betting laws, that the first Caesars online sportsbook opened.
Caesars Sportsbook now operates legally in 18 states plus Washington D.C. Only four of those states, however, also offer Caesars Online Casino. The four states are New Jersey, Pennsylvania, Michigan, and West Virginia. Caesars Sportsbook customers in those four states can enjoy the added convenience of placing both sports bets and casino bets with the same account.
Caesars Sportsbook New Player Bonus
Most online sportsbooks offer new customers a welcome bonus as a special incentive for signing up and making their first deposit and real money bet. Online casinos traditionally offer first-time users a welcome bonus in the form of a deposit match, but this type of offer is hard to find nowadays at online sportsbooks.
Much more often, in lieu of a deposit match, the bonus is delivered as a site credit refund if the customer's first bet loses.
What is nice about these offers is that if the first bet does lose, you have a great chance to recoup without having to risk more of your own money.
The downside is that new players who win their first bet forfeit the welcome bonus and typically get nothing extra from the sportsbook. But at Caesars, nobody is shortchanged because, in addition to the bonus money, or even if you win your first bet and don't qualify for the bonus, all new customers receive bonus Caesars Rewards!
How Does The Caesars Sportsbook Welcome Bonus Work?
You can opt-in for $1,250 "On Caesars" by signing up for a new account through Props.com
This offer is open to brand new Caesars customers who are 21 years of age or older and do not have any preexisting online or mobile Caesars Sportsbook or Casino account and have not accepted any other Caesars welcome offer.
If you are eligible and wish to take advantage, the first thing you need to do is complete the registration form to open an account. Then make a single deposit and wager of at least $10.
If your first bet loses, within two business days, Caesars will issue a site credit in the same amount up to $1,250 for you to use on another bet.
Of course, the amount of your first bet cannot exceed the amount of your deposit, so if you want to bet $1,250, your first deposit will need to be at least $1,250.
Players have up to 14 days from the day they receive the bet credit to use it on one other bet. Then, if the second-chance bet wins, you will be paid the winnings from that bet but not the cost of the bet.
But what happens if your first bet wins? You won't receive a site credit for another bet, but you are still entitled to the second part of the Caesars Sportsbook new player bonus.
Regardless of whether your first cash bet wins or loses, within seven days, you automatically receive 1,000 Reward Credits (with a monetary value of $10) and 1,000 Tier Credits.
Caesars Sportsbook Welcome Bonus September 2023
Is Caesars Sportsbook A Good Online Sports Betting Platform?
Caesars Sportsbook bills itself as an app "for the people." That is an apt description because Caesars caters to all types of bettors. Here are three reasons why we think you will like what Caesars has to offer.
Caesars Rewards Loyalty Program
All of your real money play at any participating online or offline Caesars Casino or Sportsbook counts toward your grand total of both Reward Credits and Tier Credits.
In fact, as mentioned in the preceding Welcome Bonus section of this Caesars Sportsbook Review, just for joining Caesars Online Sportsbook and making one bet, which can be for as little as $10, Caesars will give you 1,000 Reward Credits and 1,000 Tier Credits.
Reward Credits can be converted into bet credits or you can use them as comp dollars toward such items as meals, rooms, shows, and gift store purchases at any participating Caesars Entertainment property of your choosing.
Players can use the 1,000 Reward Credits they receive when they make their first online sports bet immediately if they so choose. Or, they can save them for future use along with other Reward Credits they earn based on their play.
The number of Tier Credits earned in a given calendar year determines a player's tier level. There are six tier levels, which are as follows:
Caesars Rewards Tiers
Gold: 0+ Tier Credits
Platinum: 5,000+ Tier Credits
 Diamond: 15,000+ Tier Credits
Diamond Plus: 25,000+ Tier Credits
Diamond Elite: 75,00+ Tier Credits
Seven Stars: 150,000+ Tier Credits
The higher your tier level, the more special perks, privileges, and access to Caesars Sportsbook promotions you receive.
Variety Of Betting Markets
Caesars not only offers competitive odds on all of the major league sports and NCAA football and basketball but also on virtually every other sport on which betting lines are posted. Caesars also accepts many different types of bets.
In addition to moneyline, point spread, and over/under bets, Caesars offers parlays, single-game parlays (SGPs), and prop bets. Pregame bets, live bets (on games that are already in progress), and future bets are all available.
Special Promotions
Existing customers can take advantage of Caesars' many offers for profit boosts and odds boosts not only on straight bets but also on parlays and prop bets.
Christmas season and the year's biggest sporting events like the NFL playoffs, the Super Bowl, and March Madness are when these special offers are most prevalent. However, the site offers daily profit boosts and odds boosts, too.
In addition, from time to time, Caesars Sportsbook holds special giveaways and prize drawings exclusively for its registered players.
For example, players who make certain types of bets within a designated time frame might receive merchandise or bonus Caesars Rewards. Based on your play, you can also earn entries into drawings for more valuable prizes like free sporting event tickets or bet credits worth up to hundreds or thousands of dollars.
Caesars Sportsbook Promo September 2023
How Do I Start Playing at Caesars Sportsbook?
The Caesars sports betting app is one of the most widely available legal state-regulated online sportsbooks for U.S. players, currently operating in 19 states plus Washington, DC. So, if you are 21 years of age or older and not yet enrolled but would like to join, there is an excellent chance that there is a branch of Caesars Sportsbook in or near your state.
Remember that you don't necessarily have to reside in the state where you open a Caesars Sportsbook account as long as you are physically present inside that state when you place your bets.
But before you can start betting, accessing Caesars' bonuses and promotions, and hopefully, winning money, you will need to complete the registration process and be approved for an account. Here are the easy steps you need to follow to get started:
To start the sign-up process, click on the Props.com 'CLAIM OFFER" or 'BET NOW" link, and you will be taken directly to the Caesars Sportsbook homepage.
 Complete the sign-up form, entering the Caesars Sportsbook Bonus Code MYPROPSFULL.
 Complete the steps for two-factor authentication, if required. Two-factor authentication is now mandatory at all licensed online and mobile betting sites in New Jersey, Connecticut, and Pennsylvania.
 As soon as your application is approved and Caesars assigns you an account, make an initial deposit of $10 or more.
Then place a wager of $10 or more.  Regardless of the outcome of your bet, a bonus of 1,000 Reward Credits and 1,000 Tier Credits will be added to your account within 14 days. In addition, if your first bet loses, you will receive a bet credit in the same amount (capped at $1,250) within two business days.
Note that this sign-up process grants access to both the Caesars app and the Caesars website.
Caesars Sportsbook Sign-Up Promo September 2023
What Sports Can I Bet On At Caesars Sportsbook?
NFL
NBA
MLB
NHL
Soccer
College Football
College Basketball
MMA
NASCAR
Golf
Tennis
Aussie Rules Football
Boxing
Cricket
Cycling
Darts
Handball
Lacrosse
Motorsports
Rugby
Snooker
Is Caesars Sportsbook Legit?
Yes, Caesars is known throughout the world as one of the most trusted and experienced brands in the online sports betting market.
Much like Caesars was one of the first companies to offer online casino gambling, Caesars was also one of the first to offer online sports betting. However, Caesars could only open betting sites in states where it was legally permitted to do so.
Furthermore, as a condition for receiving a license to operate, each Caesars Sportsbook had to pass a thorough investigation by the state agency responsible for overseeing online gambling.
The same agency continues to monitor Caesars along with all other licensed online gambling operators under its jurisdiction to ensure continued full compliance with state regulations.
Caesars Sportsbook Bonus Offer September 2023
How Do I Deposit On The Caesars Sportsbook App?
Play+
ACH/eCheck
Online Bank Transfer
Credit Cards
Debit Cards
Caesars Sportsbook offers a wide range of fast and safe options for funding your account. Except where indicated otherwise, the same methods listed below for deposits can also be used for withdrawals.
However, the minimum deposit and withdrawal amount for all methods is $20, which is more than the minimum at some other online sportsbooks. Deposit and withdrawal maximums vary with the method. While all deposits get credited instantly, withdrawal processing times and fees, if applicable, depend on the method.
Caesars Prepaid Play+ Card
You can apply for and use this free and convenient deposit and withdrawal method online. Deposits are made by transferring $20 or more from the funds you have loaded onto your Caesars Play+ Card to your Caesars Sportsbook account.
Then, when you are ready to make a withdrawal, you transfer $20 or more back to your card, after which you can access the funds immediately from a participating ATM or wherever Discover is accepted. The maximum withdrawal per day is $5,000.
PayPal
PayPal is another popular cashier option at Caesars, as it is the most widely used e-Wallet in the world. However, two important things to keep in mind are that Caesars only accepts personal PayPal accounts, not business accounts, and you can only make a withdrawal through PayPal if you also used PayPal for your last deposit.
PayPal withdrawal requests are processed very quickly, and the maximum withdrawal is $10,000, as compared to $5,000 for most other methods. Players using PayPal have the option to use the money for purchases, transfer funds back to a linked bank account, or make a cash withdrawal at an ATM.
ACH/eCheck
Caesars Sportsbook customers can make deposits and/or withdrawals with eChecks via VIP Preferred. Simply give the sportsbook the routing number and your account number at the bank you wish to use for this purpose. Allow several business days for withdrawals with this method to be posted to your bank account.
Online Bank Transfer
Online Banking powered by PayWithMyBank is another option that many banks offer for making deposits and withdrawals. As with eChecks, you should allow several business days for withdrawals to post back to your bank account.
Credit or Debit Cards
Caesars Sportsbook accepts deposits made with major credit or debit cards, including the Caesars Rewards Visa card, but not withdrawals. However, many banks decline such transactions for gambling purposes. If the transaction goes through, the bank will treat it as a cash advance.
Other Payment Options
Caesars Sportsbook offers a few other payment options, including the following:
Deposits or Withdrawals
Skrill
An e-Wallet similar to PayPal
Cash
Deposit/withdraw at the cage of the affiliated sportsbook or casino
Deposits Only
PayNearMe
Cash deposits at a participating retail store such as 7-Eleven or CVS. The maximum deposit is $500.
Caesars Sportsbook Welcome Bonus September 2023
Bet Types at Caesars Sportsbook
Moneyline
Point Spread
Totals (Over/Under)
Parlays
Same Game Parlays
Futures
Props
Live/In-Game Betting
When you bet against the moneyline, you are betting on which team you expect will win outright or on which player you think will win the MVP or another major award.
Moneylines can vary greatly from heavy favorites considered to have a high probability of winning to heavy underdogs that are considered a longshot to win but would pay much more if they do win.
Instead of picking the outright winner, you bet on which team you think will cover the designated point spread. If you bet on the favorite, the team not only has to win the game outright for you to cash your bet but by more points than the spread.
If you bet on the underdog, even if the team loses the game outright, as long as it does not lose by more points than the spread, you win your bet. If the final score falls exactly on the number, your bet on either team is a "push" and you get your money back.
This is a bet on whether the total number of points scored either by both teams combined or by one team or a key individual player will go over or under the designated total.
For many games, you can make an over/under bet not only for the whole game but also for each quarter and half. Over/under lines are also offered on the number of games a team will win over the course of a season and as prop bets on the accomplishments of individual players.
A parlay is a single bet on two or more outcomes. At Caesars, players have the option to include different teams in their parlay or to create single-game parlays (SGPs).
An example of the latter would be a parlay that includes both the point spread and the total for the same game. Multi-leg parlays with many components offer a shot at a huge payout. However, every leg of the parlay has to win for you to cash your ticket.
A futures bet is a wager that is made far in advance that won't be decided until much later. For example, you can bet on a certain team to win the Super Bowl even before the regular season starts as well as at any time during the season.
Futures bets are very popular because the odds tend to be much more generous than if you wait until closer to game time, so even a very small wager can produce a substantial payout. But the downside is that you are privy to much less current information on which to base your bet.
A prop bet is a separate specialty wager you can make on a team or player that is unrelated to the game's final score. For example, you can bet on whether or not a team's first score in a football game will be a touchdown.
At Caesars Sportsbook, bettors who are so inclined can make prop bets to their hearts' content on many games all year long. However, no sporting event comes close to offering the hundreds of prop bets sportsbooks offer on the Super Bowl.
If a game is already in progress that you want to bet on but missed the opportunity to do so before it started, live betting gives you that option.
Of course, once the game is underway, the betting line is continually readjusted based on the action so far, so you probably won't get the same line that was available earlier. But live betting allows those who did bet on the game earlier the opportunity either to increase their wager if they really like their pick or hedge their bet if it looks like a loser.
Caesars Sportsbook Reviews
The Caesars Sportsbook app gets an average 4.5 out of 5 stars review from Android device users at the Google Play store. The Apple iOS version of the Caesars Sportsbook app get an average 4.6 out of 5 stars review at the App Store.
Caesars Sportsbook Customer Service
Caesars Sportsbook offers multiple ways to contact its customer service team.
Scroll down to the bottom of the main lobby and you'll find a menu with links to the Caesars Sportsbook Live Chat feature, as well as an option to send an email to the Caesars team.
Click the "Live Chat" link at the bottom of the lobby to access the Live Chat feature at any time. You can send an email with the "Contact Us" link.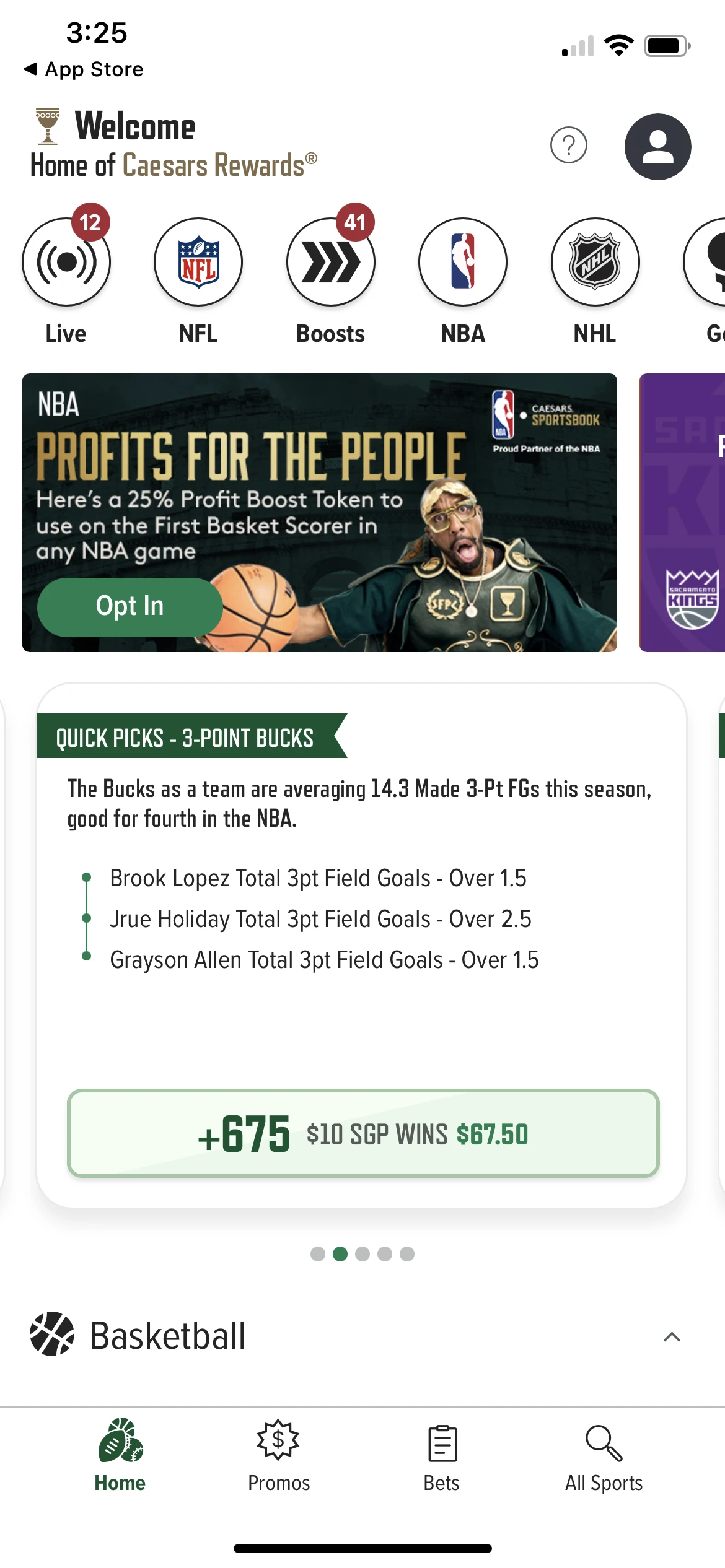 Caesars Sportsbook Features
The following are some special features that help set apart the best online sportsbooks from their competitors. This section of our Caesars Sportsbook Review will look at Caesars' performance in each of these areas.
Loyalty Program
The Caesars Rewards program described earlier in this review is one of the top player loyalty programs in the country.
Live Streaming
Caesars Sportsbook is the only US sportsbook that offers free live streaming of NFL games.
Early Cashout
Early cashout gives you the opportunity to lock in a profit on a bet you will probably win or, conversely, cut your losses on a bet you will most likely lose. Caesars Sportsbook offers this feature but not for as many betting markets as some online sportsbooks.
Referral Bonus
Existing Caesars customers can use their unique personal registration link to invite their friends to join Caesars Sportsbook, too. For each friend, up to a maximum of 10, who signs up and deposits $50 or more, Caesars will give you $100 in bet credits.
Access to Online Casino
Bettors in four states–New Jersey, Pennsylvania, Michigan, and West Virginia–have single account access to both Caesars Online Sportsbook and Caesars Online Casino.
Responsible Gaming Tools
Caesars Sportsbook supports responsible gambling. The betting site instructs players on how to recognize the signs of a gambling problem, offers the option to set deposit, spending, and time limits, and states where to get additional help.
Caesars Sportsbook New Player Promo September 2023
Verified Reviews
Tyisha Lassiter (Mays Landing, NJ)
Let me start by saying that Caesars online slot machines are the best in New Jersey! There are no other online slots as accurate and savvy as Caesar's. I get to sit home with my family and enjoy online slots, live online dealers, and much more from the comfort of my own home. It's great! I can also sports bet on Caesar's app as well. Everything is all one click away from my laptop or cellular device. I love Caesars for my online gambling needs. I recommend betting with Caesars over any other sportsbook, or online gambling games in New Jersey!
Christian Dulin (Philadelphia, PA)
Caesars Sportsbook is a great app at the start of the NFL season they had one of the best promotions I have ever seen. I was able to get a free NFL jersey just by placing 1 bet!! I was able to watch the Eagles win money and receive a jersey of my favorite player!! I think Caesars is a very fair sportsbook with a lot of odds matching up with what you would see all across the different sportbooks. I would like for Caesers to have higher maximum bet limits on their odd boost.
Tanner Witter (Wyncote, PA)
I used to bet on Caesars Sportsbook in Virginia and they offer a simple user friendly interface similar to other sportsbooks. Boosts, Live, Promos are the most used icons at the top which makes sense. I think the mobile platform visual, doesn't follow the Caesars brand, when you think Caesars, the gold color and luxury feels should be represented on the app. Its all white and pretty bland. Also, NFL continues to dominate the socialsphere and although they do offer futures on Teams (SB, AFC/NFC Champ/Division), there's a huge miss on player futures such as MVP and other fun and fan engaging props such as landing location for free agent.
CLAIM OFFER
$1,000 First Bet Insurance; Enter Promo Code: MYPROPS1000
Caesars Sportsbook vs. BetMGM
| | Caesars Sportsbook | |
| --- | --- | --- |
| Welcome Bonus | | |
| Availability | | |
| Betting Options | | |
| User Experience | | |
The Matchup
Caesars Sportsbook and BetMGM both offer world-class mobile sportsbooks for U.S. bettors.
Caesars gets the nod in the welcome bonus department, with it's $1,250 "On Caesars" offer. BetMGM welcomes new players with a losing bet rebate up to $1,000, which also applies if your first bet loses.
Both platforms offer mobile wagering in around a dozen states, and both present a top-tier selection of betting options.
BetMGM gets a slightly higher rating from Apple users at the App Store, and therefore gets the edge in the User Experience category.
FAQ
Does Caesars Sportsbook offer betting on all major sports? Yes, Caesars Sportsbook offers a wide array of betting options on all major sports.
Does Caesars Sportsbook offer parlay betting? Yes, Caesars Sportsbook offers both single game and multigame parlays, including multileg parlays with many components.
Does Caesars Sportsbook offer prop bets? Yes, Caesars sports bettors who enjoy betting on props get lots of opportunities all year long. But when the Super Bowl arrives, that's when Caesars really goes to town, offering their customers hundreds of prop bets.
Can I open multiple accounts at Caesars Sportsbook? No, each customer is allowed to have one account only. Any violations are grounds for immediate termination of betting privileges.
Can I get land-based casino comps from playing at Caesars Sportsbook? Yes, all of your betting activity at Caesars Sportsbook counts toward earning Caesars Reward Credits. The Reward Credits you earn at Caesars Sportsbook get combined with those you earn at any other participating Caesars online or offline sportsbook or casino and are redeemable for land-based casino comps.
How do I get paid when I win at Caesars Sportsbook? When users want to receive a payout of their winnings, they need to visit the cashier section of the sportsbook from within their account. They can select how much they want to withdraw and by which method (check, PayPal, debit card, etc.). The withdrawal method will determine who much can be received, but most have a $10 minimum. Alternatively, users can visit a participating casino and request a cash payout.
State-By-State Analysis
CLAIM OFFER
First Bet Insurance
$1,000
Bonus Code
Available In
AZ, CO, IA, IL, IN, KS, LA, MD, MI, NJ, NV, NY, OH, PA, TN, VA
Arizona:Caesars Sportsbook Arizona is live and legal!
Colorado:Caesars Sportsbook Colorado is live and legal!
Illinois:Caesars Sportsbook Illinois is live and legal!
Indiana:Caesars Sportsbook Indiana is live and legal!
Iowa:Caesars Sportsbook Iowa is live and legal!
Kansas:Caesars Sportsbook Kansas is live and legal!
Louisiana:Caesars Sportsbook Louisiana is live and legal!
Maryland:Caesars Sportsbook Maryland is live and legal!
Michigan:Caesars Sportsbook Michigan is live and legal!
Nevada:Caesars Sportsbook Nevada is live and legal!
New Jersey:Caesars Sportsbook New Jersey is live and legal!
New York:Caesars Sportsbook New York is live and legal!
Ohio:Caesars Sportsbook Ohio is live and legal!
Pennsylvania:Caesars Sportsbook Pennsylvania is live and legal!
Tennessee:Caesars Sportsbook Tennesee is live and legal!
Virginia:Caesars Sportsbook Virginia is live and legal!
CLAIM OFFER
$1,000 First Bet Insurance; Enter Promo Code: MYPROPS1000