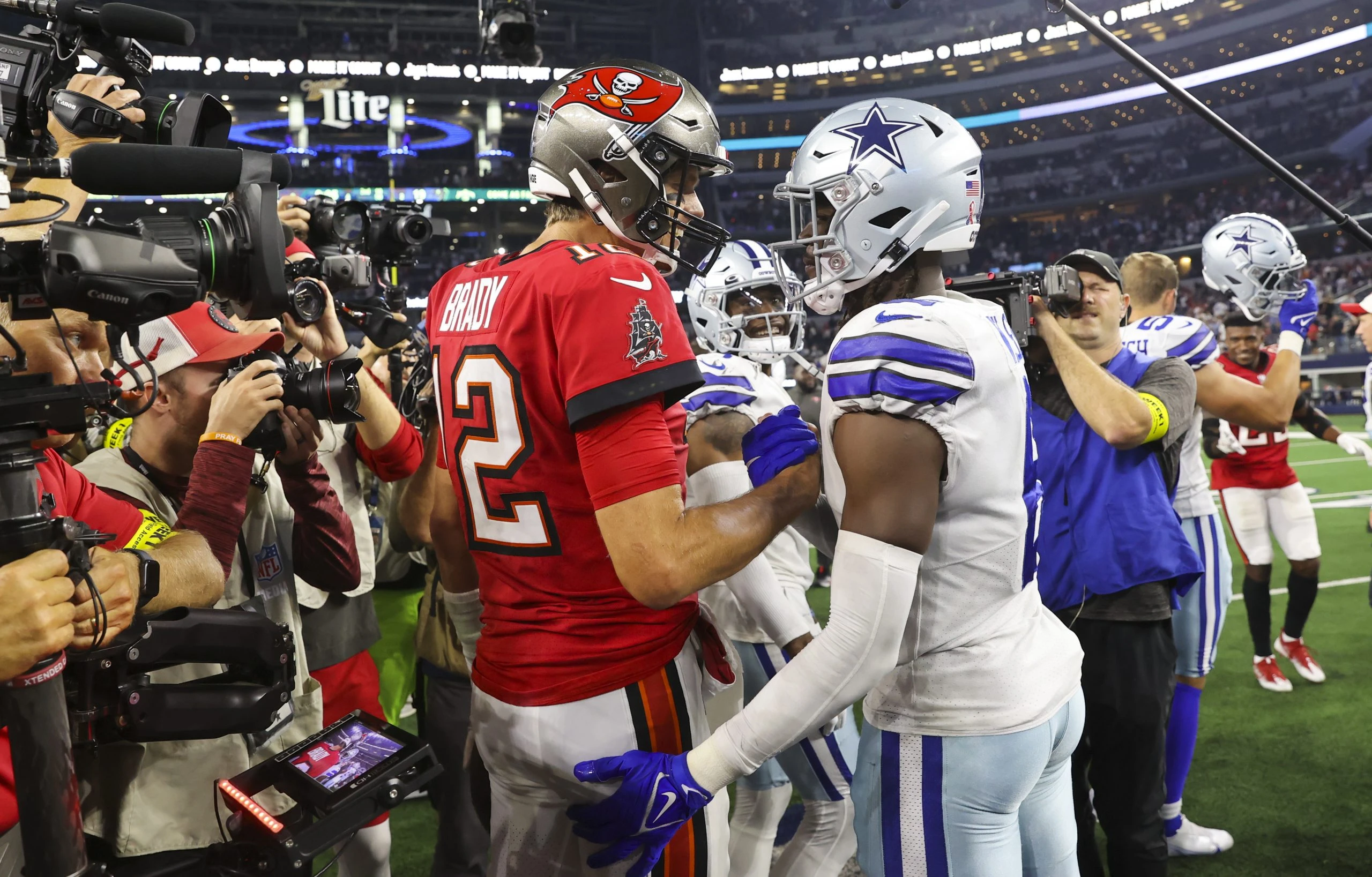 Top Sportsbook Picks in Virginia
According to the American Gaming Association, an estimated 45 million Americans placed bets on the NFL last season, and that total is expected to rise each year going forward.
NFL betting lines are exceedingly popular, and for many, it's quite profitable. If you want to join the ranks of NFL bettors, don't be intimidated.
If you are wondering where to bet and how to bet on NFL games, you've come to the right place. This Props.com complete guide to NFL betting odds breaks down how to bet at online sports betting sites, bet on NFL games online legally, and more. 
Is Betting On NFL Games Online Legal In The U.S.?
The short answer to this question is yes. Betting action on the National Football League in the United States goes back more than 70 years. In the modern area, online betting sites and retail sportsbooks take bets throughout the NFL season.
Legal sports betting began in Nevada back in 1951, but was illegal everywhere else in the country. Throughout the 1960s and 1970s, the federal government prioritized combating illegal sports gaming.
It wasn't until 2018 when sports betting and legal wagering on the NFL began to sweep across the country, as the Supreme Court overturned the federal ban on sports betting. This action allowed states the choice to make sports betting legal, and importantly for the local governments, taxable.
You can now find an online sportsbook that offers NFL odds in nearly half of U.S. states. The list of states that allow legal online sportsbooks continues to grow.
NFL Betting Sites
Do All Sportsbooks Offer NFL Betting?
If it is a legal online sports betting site operating in the United States, it will offer a wide variety of possible NFL bets. Some of the best NFL betting sites include DraftKings Sportsbook, BetMGM, FanDuel Sportsbook, BetRivers, Caesars Sportsbook, and PointsBet.
How Do I Calculate NFL Lines And Odds?
There is almost no such thing as a $10 bet that pays $10 in return. Between different odds for different teams and bets, and the sportsbook needing to get paid, there is almost always a difference between what you bet and what you make.
This sounds more complicated than it is. It's actually relatively easy to calculate your winnings when betting on the NFL online and on a mobile app.
If you see the number +150 next to the wager you are making, this means that for every $100 you wager, a winning result will pay $150. This does not mean that you have to bet $100 or in multiples of $100. You can place a $15 at +150, which means that it will pay $22.50 – or 150% of your wager.
On the flip side, if your wager pays out at -150, you will need to wager $150 to win $100. So taking that same $15 wager we placed above, a winning bet at -150 would pay us $10 if it wins.
Moneyline bets and futures bets will pay out using odds such as these.
For point spread bets, you will typically see a -110 next to the wager. This difference in what you wager ($10) vs. what you win ($9.09) is known as the vig. It is what the sportsbook takes off the top in profit for itself. Occasionally you'll see a lower number, like -105, or an online or mobile sportsbook will offer a special bet without any vig, but you almost always pay this extra fee to the sportsbook.
What Are Popular NFL Bets?
The top NFL sportsbooks offer several betting options. Beginning with preseason games, and going throughout the NFL regular season and the Super Bowl, sports bettors can find the following NFL wagering types:
Moneyline
Moneyline betting on football games offers the most straightforward way to wager at an NFL sportsbook. A moneyline wager tasks the bettor with picking which of two competing NFL teams will win a game outright.
For example, here's a look at Week 1 moneyline odds from the 2022-23 NFL season offered at Caesars Sportsbook, one of the top betting sites in the U.S. This was the line offered on the opening-week matchup between the Pittsburgh Steelers and Cincinnati Bengals:
Pittsburgh Steelers (+222)
Cincinnati Bengals (-278)
This line on the Steelers-Bengals tilt allows the bettor to pick which team they think will win the game straight up, with no point spread involved.
The team with a "-" sign in front of the odds (Cincinnati in this case) is the designated favorite in a moneyline bet. The team with a "+" in front of its odds (Pittsburgh) is the underdog.
The underdog in a moneyline bet always pays at better odds than the favorite. Winning bets on the underdog can pay off big in the case of an upset on the field.
Point Spread
Point spreads represent the most popular way to wager on an NFL betting site. For a spread bet, the sportsbook adds a number of points to the underdog's final score.
Let's look at an example from FanDuel Sportsbook's Week 1 point spread lineup:
Kansas City Chiefs (-3.5) (-110)
Arizona Cardinals (+3.5) (-110)
In this big game between potential playoff contenders, the Chiefs are installed as the favorite. If Kansas City wins by four or more points, bettors on the favored Chiefs win the spread bet.
If Kansas City wins by three points or less, or loses outright, Cardinals bettors win the spread bet.
For instance, if Kansas City wins the game 23-20, Arizona bettors win. The 3.5 point spread is added to the Cardinals score, and Arizona's spread-adjusted total of 23.5 tops the Chiefs' 23 points.
Over/Under (Totals)
Over/under bets (aka totals bets) task bettors with choosing whether the combined final score of a game will finish over or under a given total.
Let's take a look at a totals bet offered at BetMGM for Week 1:
Buffalo Bills at Los Angeles Rams
(Over 52.5) (-110)
(Under 52.5) (-110)
BetMGM sets the total at 52.5; if the Bills and Rams combine for 53 points or more, the over bet wins. If the combined final score ends at 52 points or less, the under bet wins.
Note that totals bets involve a combined score between two teams, and it doesn't matter which team wins the game or how much each team scores. A 52-0 win by the Rams is the same as a 28-24 win by the Bills in terms of the over/under.
Futures
Another type of popular bet is called a futures bet. These are bets that can be placed on events that take place months in advance, like the next Super Bowl. In fact, Caesars Sportsbook posts odds for upcoming Super Bowl winners more than a year in advance.
NFL futures can change significantly as the regular season moves along. Once the season and NFL playoffs are over, the sportsbooks get to work immediately and post NFL futures odds for the following season.
Here's a look at some of the futures odds offered on the Super Bowl LVII champion by FanDuel Sportsbook, just before the start of the 2022-23 season:
Buffalo Bills (+600)
Tampa Bay Buccaneers (+750)
Kansas City Chiefs (+1000)
Los Angeles Rams (+1100)
Green Bay Packers (+1200)
Baltimore Ravens (+2000)
Tennessee Titans (+3500)
Las Vegas Raiders (+4000)
New England Patriots (+4000)
New York Giants (+8000)
Houston Texans (+30000)
FanDuel Sportsbooks installs the Buffalo Bills as the team with the best chance of winning the Super Bowl at the end of the 2022-23 season. If you bet $100 on the Bills at (+600) odds, you would cash in for $600 profit if the Bills win the Super Bowl.
The Houston Texans, the longest shot to win the NFL championship, would pay $30,000 in profit for every $100 bet.
You can find NFL team futures and player futures at most legal NFL betting sites.
Prop Bets
Another popular type of NFL bet is called a proposition bet, or prop bet for short. These are bets on events that take place inside the main game and don't necessarily change based on the game's outcome. 
For an event like the Super Bowl, DraftKings Sportsbook offers nearly three dozen special props, like the coin toss, first offensive play, and longest field goal. But every NFL game comes with player props, which include over/under bets on yards gained and touchdowns scored.
For instance, NFL props can include wagers on whether Titans running back Derrick Henry will go over 100 yards in a game, or whether future Hall of Fame quarterback Tom Brady will throw for over 300 yards in a game.
You can also find props on the NFL draft during the offseason.
Parlays
Parlays combine multiple bets into a single ticket. Parlays can pay off big, but you must win every leg for a parlay ticket to be a winner.
Same-game parlays (SGPs) allow you to combine multiple bets from the same game on a parlay ticket. SGP lines usually reside under their own tab on an NFL game listing, so click on that tab to see which bets from a single game you can combine into an SGP.
Live Betting
Live betting, aka in-play betting, allows you to wager on a game after it's already started. Unlike traditional pre-game betting, live betting opportunities exist throughout the duration of a contest.
In-play betting options can include all of the different bet types listed here. For example, if you check out DraftKings Sportsbook just before kickoff on Week 1, you might see a line that looks like this:
Tampa Bay Buccaneers (-1.5) (-110)
Dallas Cowboys (+1.5) (-110)
The opportunity to bet on the spread between the Buccaneers and Cowboys doesn't end when the game begins, however. Live betting allows you to bet on the spread, over/under, and moneyline, along with various props, during the game.
Suppose the Buccaneers take a 14-0 lead in the second quarter. The in-play betting point spread might then look something like this:
Tampa Bay Buccaneers (-11.5) (-110)
Dallas Cowboys (+11.5) (-110)
Live betting is a specialty of online sportsbooks, and opens up almost infinite wagering possibilities at online NFL sportsbooks.
How Do I Bet On The Super Bowl?
Long before legalized sports betting became a reality for most of the United States, millions of Americans were betting on the Super Bowl. Office pools, squares pools, and friendly bets among friends and colleagues have been going on for years.
Now Super Bowl betting has exploded, and if you have a membership and an account with a legal online or mobile sportsbook, you too can place Super Bowl bets.
Game bets are still the most popular way to wager on the Super Bowl. Either with the moneyline or a point spread, picking a winner is what most Super Bowl bettors do. And picking the favorite has been the most profitable way to go. On the moneyline, Super Bowl favorites win more than two-thirds of the time, and against the spread, favorites win around 55 percent of the time.
If you want to place a bet like this on the Super Bowl, it works just like every other NFL bet.
If you want to play one of the fun proposition bets you've heard so much about, you may have to hunt around the various sportsbook apps. DraftKings offers three dozen specialty game props, like the color of Gatorade used on the winning coach. Caesars has dozens of comparison props, like which will be more: Touchdown passes thrown or three-pointers made in the first quarter of that night's NBA showcase game?
Basic Tips For Becoming A Sharper NFL Bettor
When researching each matchup to make the best possible bet, there are several factors to consider. But the basic principles of becoming a smarter and sharper NFL bettor are relatively simple.
Bet with your head, not your heart. Do not be a fan when placing your bets on an NFL game. If the facts say you shouldn't bet on your favorite team, don't do it. Why be mad that your team lost, and they lost you money? Stay away. Nothing says you have to bet on every game.
Home-field advantage in the NFL matters, but not as much as some people think. Conventional wisdom is that the home team gets three extra points for playing in their home stadium. But in the 2021 regular season, NFL home-field advantage was worth only 1.9 points, and home teams barely broke .500. If you see a line being overvalued because the home team is getting a more favorable line, they should jump on it.
Injury reports are crucial to being a good NFL bettor. Early in the week, you can start monitoring which teams have key players injured and who might not be available to play on Sunday. Study these reports before making any bets. Also, know that about 90 minutes before kickoff is when teams will announce their inactive players for that game.
Watch the lines from when they first open. Movement in one direction or the other is a sign of how the public is betting. Some people like to bet against the public or fade the public as it's called, and letting the public make its bets first is how you do that.
More Sports Betting Guides From Props.com
Check out our entire library of Betting 101 Guides:
Top Sportsbook Picks in Virginia
How To Bet On The NFL FAQ
How do I bet on the NFL?
Once football season begins, you can find almost infinite ways to bet on football online. Online sportsbooks allow you to filter by sport, making it easy to find available NFL bets.
Most online sportsbooks list an "A-Z Sports" menu on the left side of the main lobby. From that menu, click on "Football" and then "NFL" to see the available NFL bets at a given time.
Can I bet on the NFL online?
Online sports betting is currently legal in about half of all U.S. states, and you can stay up to date on which states offer legal sports betting with the resources offered here at Props.com.
You can sign up at an online sportsbook using the links in this article, and opt-in for the various welcome bonus offers at each book. You might need to input a promo code while depositing at some books.
Our team of sports betting experts picks the best new player bonuses in the industry, and presents them to you here on Props.com.
What bets are available on the NFL?
Once you've opened the NFL betting menu at at online sportsbook, it's time to browse the betting lines. Traditional "Game Lines" bets are where you'll find moneyline, point spread, and totals bets on NFL games. These three bet types are almost always grouped together in an online sportsbook's listings.
If you see the "LIVE" icon at the top left of a game line, that game is in progress, and is opem for in-play betting.
Browse around the NFL menu for various props and futures bets as well. DraftKings Sportsbook, for example, presents a horizontal sliding menu at the top of it's NFL betting menu, which includes filters for all of the different wagers you can place on the NFL.
Can I place parlay bets on the NFL?
Placing a bet an at online sportsbook takes just seconds. Simply click on a line you wish to bet, and the wager appears on your bet slip.
Enter the amount you wish to wager, and the potential payout on the bet is displayed. If everything looks good, confirm the bet and send it through to the sportsbook.
At DraftKings Sportsbook, you confirm your wager by clicking on the "Place Bet" tab that appears after you put a bet on your bet slip.
To place a parlay bet, click on the bets you want to combine into a parlay ticket before clicking "Place Bet." The bet slip will show you the adjusted potential payout every time you add or delete a bet.
Same game parlay bets are available under the "SGP" tabs on NFL game line listings. Keep in mind that SGP bets are generally limited by the sportsbooks, and only certain bets from a given game are eligible for SGP.
What does +7 mean in betting NFL?
A (+7) on an NFL betting line indicates a seven-point underdog in the point spread. For example, you might see an NFL line that looks like this:
Tampa Bay (-7) (-110)
Dallas (+7) (-110)
In this point spread, the Tampa Bay Buccaneers are playing the Dallas Cowboys. You can either pick the favored Bucs with seven points subtracted from their final score, or pick the under dog Cowboys with seven points added to their final total.
If the Buccaneers win by more than seven points, Tampa Bay bettors win on the point spread. If the Bucs win by six or less, or the Cowboys win outright, then Dallas bettors win on the poijnt spread.
If Tampa Bay wins by exactly seven points, the bet is a push, and you would get the amount of your wager returned to you. Both sides of this bet pay at (-110) odds, meaning you would have to bet $110 to win $100.