BetRivers
This comprehensive BetRivers review was conducted by Barbara Nathan, one of the resident sports betting experts at Props.com. All of the following notes and ratings for the FanDuel app come from hands-on testing.
BetRivers Sign-Up Bonus 
BetRivers Quick Facts
This comprehensive review of BetRivers Sportsbook will tell you all about what this highly regarded mobile sports betting site has to offer both new and experienced sports bettors. This information will help you decide if BetRivers is the right sportsbook for you.
BetRivers Sportsbook is owned and operated by Rush Street Interactive, the online subsidiary of Rush Street Gaming. Rush Street Interactive was founded back in 2012 based on the Department of Justice's ruling paving the way for individual states to legalize online casino gambling.
Sports betting was still illegal in most states, but in 2016, two years after the debut of legal NJ online casinos, Rush Street Interactive entered the NJ online gambling market with the launch of PlaySugarHouse Casino (named after Sugarhouse Casino, a land-based casino in Philadelphia also owned by Rush Street Gaming).
Then, in August 2018, just three months after the Supreme Court declared PASPA unconstitutional and gave individual states the power to enact sports betting legislation,  the company launched its first PlaySugarHouse Sportsbook. PlaySugarHouse was in fact the first New Jersey betting site to offer both sports betting and online casino gambling.
Nearly a year later, Rush Street Interactive opened two more online sportsbooks and casinos in Pennsylvania.
The first of these was also called PlaySugarHouse, while the second was called BetRivers because the three other land-based casinos that Rush Street Gaming also owned were all named Rivers Casino.
Subsequently, Rush Street Interactive launched BetRivers Online Sportsbook in 12 other states. In addition, so the company would have the same name for all of its gambling holdings, Sugarhouse and PlaySugarHouse sportsbooks and casinos were rebranded as Rivers and BetRivers, respectively.
These names are more appropriate since all four of the company's brick-and-mortar casinos are situated near a river.
Currently, BetRivers Online Sportsbook is available to sports betting fans in 14 states. However, only four of those states—New Jersey, Pennsylvania, Michigan, and West Virginia—also offer Bet Rivers Online Casino.
BetRivers States
BetRivers Sportsbook is currently available in the following states:
Arizona
Colorado
Connecticut
Illinois
Indiana
Iowa
Louisiana
Maryland
Michigan
New Jersey
New York
Ohio
Pennsylvania
Virginia
West Virginia
Four of these states – New Jersey, Pennsylvania, Michigan, and West Virginia – also offer BetRivers Online Casino. Players in those four states can enjoy the added convenience of single account access to both sports betting and casino games.
BetRivers Sportsbook could open in other states in the near future. So, even if BetRivers is not yet an option in your state, that could change.
BetRivers Promo  
BetRivers Welcome Bonus
| | |
| --- | --- |
| BetRivers Sportsbook Promo Code | No promo code needed if you sign up through Props.com |
| Bonus Description | 2nd Chance Bet up to $500 |
| Bonus Offer Last Updated | April 2023 |
| Platforms Available | iOS, Android, Desktop |
| Where is FanDuel Sportsbook Legal? | AZ, CO, CT, IL, IN, IA, LA, MD, MI, NJ, NY, OH, PA, VA, WV |
All of the top-rated online sportsbooks offer special incentives to first-time players. and BetRivers is no exception.
However, unlike the BetRivers casino bonus for new players which is a 100% deposit match up to $500, the BetRivers Sportsbook bonus is a second-chance bet up to $500. Here is how the bonus works and a brief description of the steps to follow to qualify.
BetRivers 2nd Chance Bet Up To $500
This BetRivers Sportsbook new player bonus offer is open to first-time users only and can only be claimed once.
First, make an initial single deposit of $10 or more using the BetRivers Sportsbook sign-up code SPORTS. The amount of your deposit must be sufficient to cover your first wager.
If your first real money bet loses, BetRivers will match it with a second chance Bonus Bet in the same amount up to $500. Then, if you win your Bonus Bet, you will be paid your winnings from the bet but not the cost of the bet.
No BetRivers promo code is needed if you join BetRivers through the links in this review.
Terms and Conditions
The initial bet can be in any sport of your choosing with no minimum odds requirement.
Players who qualify for a losing bet rebate will receive it within 24 hours of their first bet being settled and then have up to 14 days to use their rebate to make a second bet.
The Bonus Bet must be a single wager. But it can be on any sport provided the odds are -200 or longer.
If your Bonus Bet wins, you will only be paid the winnings from the bet, not the cost.
Is the BetRivers Sportsbook deposit bonus for new players a good offer?
Like all welcome offers, the Bet Rivers Sportsbook new player bonus has both pluses and minuses. A great feature is that it significantly lessens the sting of losing your first bet by giving you a chance to recoup with no further risk to your bankroll.
You also have a lot of leeway in the type of wager you make and ample time to choose. High rollers might be disappointed though that the maximum bet that the sportsbook will cover is $500. Some sportsbooks offer second-chance bets up to $1,000 or more.
Unfortunately, and this is true of all second-chance bet offers, if your first bet wins, other than getting back your bet cost and being paid your winnings, you receive nothing extra from the sportsbook.
How To Claim Your BetRivers Bonus 
Based on the information provided so far in this BetRivers Sportsbook review, you might have already decided that you would like to start wagering on the BetRivers betting app.
So, before proceeding further, this section will tell you everything you need to know about how to register, open an account, and make your first deposit. That way, assuming you are eligible, you can start playing and winning as soon as possible.
BetRivers Sportsbook is currently available in 14 states, so there is a very good chance you live in or close to one of them. Residency in the state where you open a BetRivers account is not required, However, every time you bet real money, you do need to be physically situated within that state's borders. You must also be at least 21 years of age.
If you meet these requirements and you would like to start playing at BetRivers Sportsbook, here are the simple steps you need to follow:
How Do I Claim The BetRivers Promo?
Click the "CLAIM OFFER" or "BET NOW" link in this BetRivers Sportsbook Review. As soon as you do, the BetRivers Sportsbook homepage will open.
 Click on the Join Now tab in the upper-right-hand corner of the homepage and complete the registration form provided.
Complete the additional mandatory two-factor authentication process if you are signing up in New Jersey, Pennsylvania, or any other state that requires it.
As soon as your application is approved and you are assigned an account, make a single initial deposit of $10 or more (no BetRivers bonus code needed if you sign up through Props.com).
Then place a single wager of $10 or more but not exceeding the amount of your deposit. If the bet loses, BetRivers Sportsbook will award you a second chance bet in the same amount (added to your account as bonus bets).
BetRivers Sportsbook supports all current versions of Apple iOS and Android smartphones and tablets. If you own any such device and wish to wager using the BetRivers app, you can download BetRivers Sportsbook directly onto your device.
The app for iPhone and iPad users is available from the App Store, while the app for Android devices is available from the Google Play Store.
Once you've completed the registration process, you can wager at BetRivers via mobile app or desktop. Check out our Desktop vs. Mobile sports betting guide for more information.
BetRivers Sign-Up Bonus 
Why You Will Like BetRivers Online Sportsbook
BetRivers might not be as well-known throughout the sports betting community as DraftKings, FanDuel, BetMGM, and Caesars, but even if the brand is not familiar to you, don't let that fact deter you from considering it. The following are three of the many reasons why you will like the BetRivers sports betting site.
Special Offers And Ongoing Promotions
At BetRivers Sportsbook, the special offers and promotions do not end with the new player bonus. So, even if you do not benefit from the initial offer, no worries.
As an existing player, as long as you remain active, the special offers keep coming, and you do not have to be a high roller because many of these opportunities are free or low-cost.
Some of the promotions are seasonal like BetRivers Basketball Squares, where players can win bonus money prizes ranging from $20 all the way up to $10K.
However, other promotions are ongoing and are available all year long, like daily odds boosts and the BetRivers Free 2 Play Contest. Each week, simply answer eight questions to test your sports knowledge for a chance to win prizes.
Wide Choice Of Sports Betting Markets
Whatever your individual betting preferences might be, you can count on BetRivers odds to offer competitive lines on a tremendous variety of sporting events.
So, whether you are a novice bettor testing the waters on a single sport or a seasoned player, BetRivers will not disappoint in terms of betting options and competitive odds.
Furthermore, in addition to moneyline and point spread straight bets and totals, BetRivers accepts parlays (including single game parlays with profit boosts) and prop bets. Pregame wagers, live betting, and futures bets are all available betting markets.
iRush Rewards Loyalty Program
All of your wagers on the BetRivers Sportsbook app count, just as does your casino play at the four BetRivers betting sites that offer both an online sportsbook and an online casino.
The Bonus Store Points you earn can be redeemed at the Bonus Store for merchandise, invitations, or other rewards, while your Loyalty Level Points determine your tier level and possible eligibility for additional rewards and privileges.
BetRivers Promo 
What Sports Can I Bet On At BetRivers?
NFL
NBA
MLB
NHL
Soccer
College Football
College Basketball
MMA
NASCAR
Golf
Tennis
Aussie Rules Football
Boxing
Cricket
Cycling
Darts
Handball
Lacrosse
Motorsports
Rugby
Snooker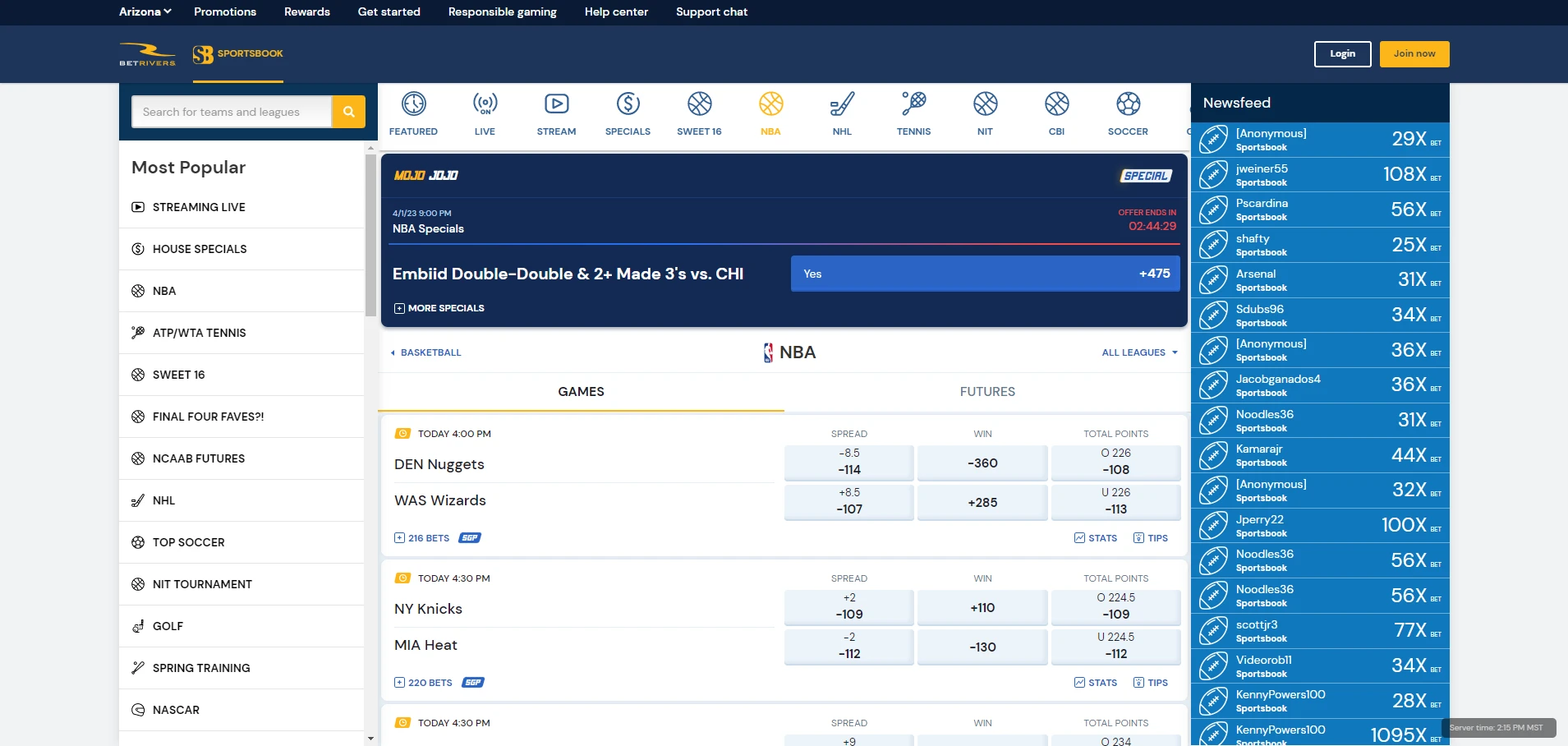 Is BetRivers Legit?
Yes, BetRivers Sportsbook is absolutely legit. Prior to the widespread legalization of online sports betting in many states, BetRivers (formerly PlaySugarHouse) existed only as an online casino in two states where that betting option was permitted, New Jersey and Pennsylvania.
Later, the owner, Rush Street Interactive expanded its operations to include online sports betting, but only in states where it could legally do so.
Before any of these betting sites could open, they had to pass a thorough investigation and receive a license to operate from the state agency responsible for licensing and regulating all online gambling within its jurisdiction. The same agency continues to monitor BetRivers closely to ensure continued compliance with state regulations and safe and fair online gambling practices.
BetRivers Welcome Promo 
Cashier Options at BetRivers Sportsbook
It is important for customers to be able to choose from a sufficient variety of fast, reliable, and safe banking methods. BetRivers meets this need. However, the BetRivers website and mobile app could be more forthcoming on the specifics of each method.
Unless otherwise indicated, you can use the same methods for both deposits and withdrawals. The minimum deposit and withdrawal amount with all methods is $10.
BetRivers Deposit Methods
Play+
PayPal
ACH/eCheck
Online Banking
Credit/Debit Cards
BetRivers Play+ Card
You can apply for and use this card online for both deposits and withdrawals at no extra cost.
First, you need to load your BetRivers Play+ card with sufficient funds. Then, when you are ready to make a deposit, simply transfer the desired amount from your card to your BetRivers Sportsbook account.
When you want to make a withdrawal, transfer the desired amount back to your card. Then go to a participating ATM or anywhere Discover is accepted, to get the cash.
PayPal
Initially, BetRivers did not accept PayPal or any other e-Wallet as a method of payment, so many players should be pleased that it was finally added.
However, only personal PayPal accounts can be used; not business accounts. In addition, you can only use PayPal as your withdrawal method if you also use it as your method of deposit.
VIP Preferred ACH / eCheck
If you have a checking account, this is another convenient way to make deposits and withdrawals. However, withdrawals are not as quick as with PayPal and typically take several business days.
Online Banking via Trustly
Most major banks offer this service. It can be used for both deposits and withdrawals. However, as with eChecks, withdrawals can take several business days.
Credit/Debit Cards
BetRivers Sportsbook accepts MasterCard and Visa credit and debit cards for deposits but not for withdrawals. However, there is no guarantee that this method will work because such transactions for gambling purposes have a high rate of decline by banks. If your bank does approve the transaction, it will probably be treated as a cash advance.
Other Payment Options
BetRivers Sportsbook offers two other payment options. Some people prefer them because no credit or debit card or bank account is necessary.
However, rather than completing the transaction online or on your mobile device, these methods entail making cash transactions in person. Another disadvantage is that deposits made by these methods might not be eligible for bonuses.
PayNearMe entails making cash deposits at a participating store such as 7-Eleven or CVS. You can only use this method for deposits, not for withdrawals.
Cash at the casino cage of the affiliated land-based casino or sportsbook can be used for both deposits and withdrawals.
BetRivers Sportsbook Welcome Bonus
What Kinds of Bets Can I Place at BetRivers Sportsbook?
Moneyline
Point Spread
Totals (Over/Under)
Parlays
Same Game Parlays
Futures
Props
Live/In-Game Betting
BetRivers Sportsbook accepts all of the most frequently used types of bets described below.
Moneyline
A moneyline bet is a wager on which team will win outright. Moneylines are offered not only on the team you think will win a particular game or a certain part of a game but also on division and conference winners and league championships.
You can also make moneyline wagers on individual players you think will win certain awards. In all instances, the odds can vary greatly. If you bet on a heavy favorite, whose probability of winning is high, the odds will be very short and the return on your investment will be low.
If you bet on a big underdog with very long odds, the payout could be much greater, but the probability of winning would be a lot lower.
Point Spread
Unlike moneyline bets, where the margin of victory does not matter, point spread bets entail picking which team, the favorite or the underdog, you think will cover the designated point spread.
If you bet on the favorite, the team not only has to win the game for you to win your bet but win by more points than the spread. If you pick the underdog, there are two ways you can win your bet.
Either the team wins the game outright or it loses by fewer points than the spread. If the favorite wins the game and the margin of victory equals the point spread exactly, a bet on either side is considered a "push" and all wagers are refunded. Most point spread bets have odds of -110 on either side.
Over/Under (Totals)
Most games also offer an over/under line. When betting on the over/under, your only concern is whether the total number of points scored will go over or under the designated total.
Over/under bets can be placed for both teams combined, just one team, or for a certain key player, as well as for the whole game and each quarter, half, period, or inning. Over/under bets are also available on the number of games you think a team will win during the entire season.
Parlays
A parlay is a single wager on two or more unrelated outcomes. BetRivers Sportsbook accepts single game parlays (SGPs) as well as parlays involving different teams. However, the components of the latter cannot have related odds.
For example, an SGP can be on a point spread and a total, but it cannot be on a point spread and a moneyline. In multigame parlays, if one game gets canceled, the parlay remains active, but the odds are adjusted based on one less component.
Parlays with many legs are very popular, especially with small casual bettors, because if the parlay hits, even a very small wager will produce a huge payout. However, the catch is that unless every leg wins, the whole parlay goes down.
Futures
BetRivers Sportsbook also accepts futures bets, which are wagers made way ahead of the date when the outcome will be decided. For example, you can bet on the team you think will win the Super Bowl or World Series even before the season starts.
Futures bets have great appeal because of the very attractive odds. However, the disadvantage is that you have much less information on which to base your bet than if you wait until you see how the season unfolds.
Prop Bets
Prop bets are separate wagers on a team or player not related to the final score of the game. For example, you can bet on which player will score the game's first touchdown or whether or not at any point in the game the score will be tied.
The game with the most prop bet options by far is the Super Bowl. However, action-loving gamblers will find no shortage of props on their favorite teams and players all year long.
Live/In-Game Betting
Live/in-game betting allows you to bet on a game that is already in progress. This option is very popular with bettors, for two reasons.
First, if you want to bet on a particular game but did not get to do so before it started, you still can. The second advantage is that you can either add to or hedge an earlier bet.
Once the game is underway, you might like your pick even more, in which case, you can try to add to your winnings with another bet. Conversely, if based on the action so far, your bet will probably lose, you can bet the opposite way in the hope of cutting your losses.
The problem you might run into, however, is that live betting lines change very fast, so you will probably have to bet into a less favorable line than what the sportsbook offered before the game started.
BetRivers Sportsbook Promo 
BetRivers Reviews
BetRivers is available in more than a dozen states. In some states, you'll find the BetRivers app under the name PlaySugarHouse.
The BetRivers Sportsbook & Casino app gets an average 3.8 out of 5 stars rating from Android device owners at the Google Play Store.
The Apple iOS version of the BetRivers app gets an average 4.5 out of 5 stars rating from reviewers in the App Store.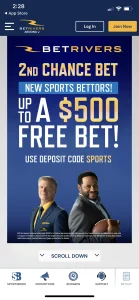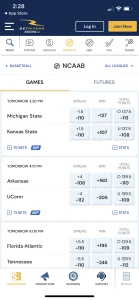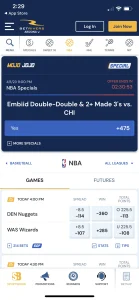 BetRivers Sportsbook Features
When you are faced with the difficult decision regarding which of the many online sportsbooks available to you to choose, the deciding factor could come down to the sportsbook's special features.
Some sportsbooks do a better job than others in this respect. This section of our BetRivers Sportsbook review will summarize how well BetRivers stacks up in offering a variety of special features that are important to bettors.
Loyalty Program
 Everyone who signs up with BetRivers Sportsbook is automatically enrolled in the BetRivers iRewards Loyalty Program. All of your play in the online sportsbook and online casino (where available) counts toward earning both Bonus Store Points and Loyalty Level Points.
Unfortunately, the iRush Rewards program is for online activity only and does not extend to BetRivers brick-and-mortar betting facilities.
Live Streaming
BetRivers Sportsbook offers live streaming on NHL games and other select games. This feature goes hand-in-hand with live betting.
Early Cashout
BetRivers offers the early cashout option. Instead of waiting for the whole game to be completed, bettors can either lock in an early profit on a bet they expect to win or cut their losses on a game that is not going their way.
Referral Bonus
This special feature is specific to BetRivers New Jersey. It might not be available to BetRivers customers in other states.
If you would like to refer a friend to BetRivers, click on the Refer A Friend tab in the My Account dropdown menu and complete the form provided. You can refer up to three people. For each friend who accepts your referral and deposits and wagers $50 or more within 30 days, you will receive a scratch card worth from $50 to $500 in bonus money.
Access to Online Casino
BetRivers players in four states–New Jersey, Pennsylvania, Michigan, and West Virginia–have single account access to BetRivers Online Casino along with the sportsbook.
Responsible Gaming Tools
The BetRivers betting site contains a comprehensive section on responsible gambling. In addition to describing the signs that a person might have a gambling problem, BetRivers gives players the option to set deposit, spending, and time limits, as well as cool-off periods. Information on where to get further help is also provided.
BetRivers Sportsbook Sign-Up Offer 
Verified Reviews
Darrin Verderame (Caldwell, NJ)
I like to wager with BetRivers because of their house specials which is basically an odds boosts. They have some of the best odds boosts compared to other sites. They also have a wide variety of sports to wager on. I like to use the Featured tab so I know some of the better games to wager on. They seem to have more favorable odds for the player than other sites offer. This site is not the easiest to navigate. They also have slow payouts. They really don't have any promotions. They also don't have many bonuses.
William Smith (Philadelphia, PA)
BetRivers has a smaller sign-up bonus of $250 compared to some of the other sites. I do appreciate a good bonus so I think that off the bat I would tend to go with another site over them if I had a specific choice, but I do enjoy this site as they do have great free bets and bonuses that come in on a weekly basis. I do enjoy the in-game play as well. They do a great job of having many options for in-game playing. I do think their home page is extremely cluttered and could use some simplicity.
Christian Dulin (Philadelphia, PA)
Betrivers is an amazing app. They have special odds boosts that are almost double what other sportbooks have on the same events! +500 normally everywhere else but +1000 on here. The interface is really simple and you can jump between the casino and sportsbook with relative ease. The rewards program is unmatched, especially if you ever go to the BetRivers casino in person with easy access to withdrawal all of your winnings in person at the cage! I have never had a problem with depositing or taking out money on my mobile device either. I would like to see same game parlays added. Hopefully they do that soon!
John Allaire (Arlington, VA)
BetRivers is solid. The software is clear, simple and easy to use. The live betting options are highly impressive. The welcome bonus is pretty good and is more attractive for those who will likely pay all of it than students or others who are just looking for free bets in the welcome. (ie. the best value is if you have all $250 to deposit. That way you will get all of that matched.) The parlay building tool was fun to use. It was tough to find the bets I wanted and maneuver through the site seamlessly. The news feed was kind of an obstruction—but not really a huge deal. And not many great regular/weekly promos. Placing a bet was very easy and it was fast, so the usability factor weighed heavily in its favor. The one thing I did find was that the odds weren't spectacular. I would be inclined to keep using it.
Click Here to Join BetRivers and Get a 2nd Chance Bet up to $500!
BetRivers vs. BetMGM
| | BetRivers | |
| --- | --- | --- |
| Welcome Bonus | | |
| Selection of Sports | | |
| Mobile App | | |
| Availability | | |
The Matchup
BetRivers and BetMGM both offer top-tier online sports betting platforms for U.S. bettors. The comparison between the two yields an even matchup, with each brand standing out in particular categories.
BetRivers' 2nd Chance Bet up to $500 comes with a smaller cap than what BetMGM offers (losing bet rebate up to $1,000).
Both BetRivers and BetMGM offer mobile sports betting services in more than ten states. The wide reach of both apps makes the Availability category a deadlock.
BetMGM gets the checkmark in the Mobile App category. BetRivers doesn't yet offer an Apple iOS app in all of its operating states.
State-By-State Analysis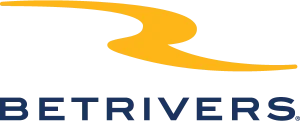 CLAIM OFFER
Available In
AZ, CO, CT, IA, IL, IN, LA, MD, MI, NJ, NY, OH, PA, VA
Arizona:BetRivers Arizona is live and legal.
Colorado:BetRivers Colorado is live and legal
Connecticut:BetRivers Connecticut (known as SugarHouse) is live.
Illinois:BetRivers Illinois is live and legal.
Indiana:BetRivers Indiana Sportsbook is live and legal.
Iowa:BetRivers Iowa is live and legal.
Louisiana:BetRivers Louisiana is live and legal.
Maryland:BetRivers Maryland is live and legal.
Michigan:BetRivers Michigan is live and legal.
New Jersey:BetRivers New Jersey is live and legal.
New York:BetRivers New York is live and legal.
Ohio:BetRivers Ohio is live and legal.
Pennsylvania:BetRivers PA is live and legal.
Virginia:BetRivers Virginia is live and legal.
Click Here to Join BetRivers and Get a 2nd Chance Bet up to $500!