Boom Fantasy
This review of Boom Fantasy was conducted by Props.com resident fantasy sports expert Jeremy Olson. All ratings, notes, and insights come from Jeremy's first-person experience with the Boom Fantasy app.
Boom Fantasy Welcome Bonus September 2023
You can sign up for Boom Fantasy through the link below and get a risk-free entry up to $100. Props.com readers automatically qualify for the bonus, with no Boom Fantasy promo code needed.
Boom Fantasy Sports Quick Facts
Boom Fantasy is a daily fantasy sports app that launched in 2015. It brings a unique perspective to the DFS industry and avoids the traditional salary cap approach. Boom requires you to choose which players will perform certain feats. For example, you might pick between Saquon Barkley or Miles Sanders for the most rushing yards.
Boom Fantasy deserves credit for blazing their own trail in an industry dominated by DraftKings and FanDuel. After all, most DFS sites have had trouble gaining market share versus the latter two giants. But is Boom ultimately worth your time and deposit funds?
You can find out in the following Boom Fantasy Sports review, which discusses this site's notable qualities, licensing, trustworthiness, and backing. This review also covers FAQs about legalities, deposits, and more.
Boom Fantasy Review
Boom immediately gains attention for its interesting gameplay style versus other daily fantasy sports sites. As covered below, it also has a few other notable aspects that make it unique compared to competitors.
You can play fantasy baseball contests, fantasy football, NBA game contests, and many other contests revolving around major sports with the Boom app. Let's take a look at how Boom Fantasy works:
Boom Fantasy Game Modes
Typical daily fantasy sites require you to fit 10 players under a salary cap. You must be strategic with this setup and balance your lineup between value picks and expensive, high-profile players. Boom differs, though, by featuring a pick'em style of gameplay. It divides pick'em options into three different game modes:
Keep in mind that each of the categories below offers the following types of picks:
Matchup – You choose between two players regarding which will perform better in a certain stat (e.g., most three-pointers).
Over/Under – You select if a player will go over or under a specific stat (e.g., 300.5 passing yards).
Boom Fantasy Pick'em Toss-Ups
Toss-ups allow you to select either side of a matchup or over/under (e.g. Patrick Mahomes or Josh Allen for most touchdowns).
Let's take a look at some of the Toss-Ups available on Boom Fantasy during the 2023 NBA playoffs: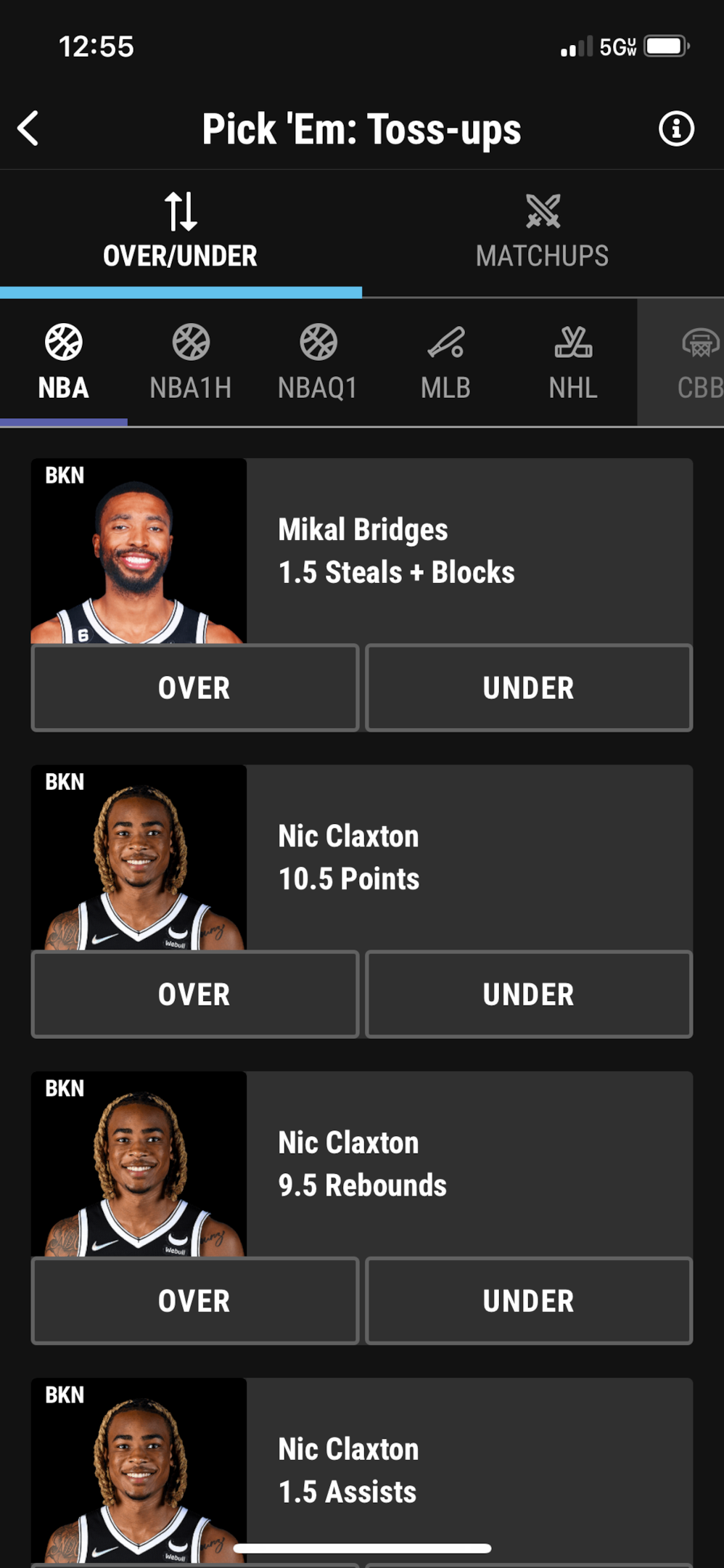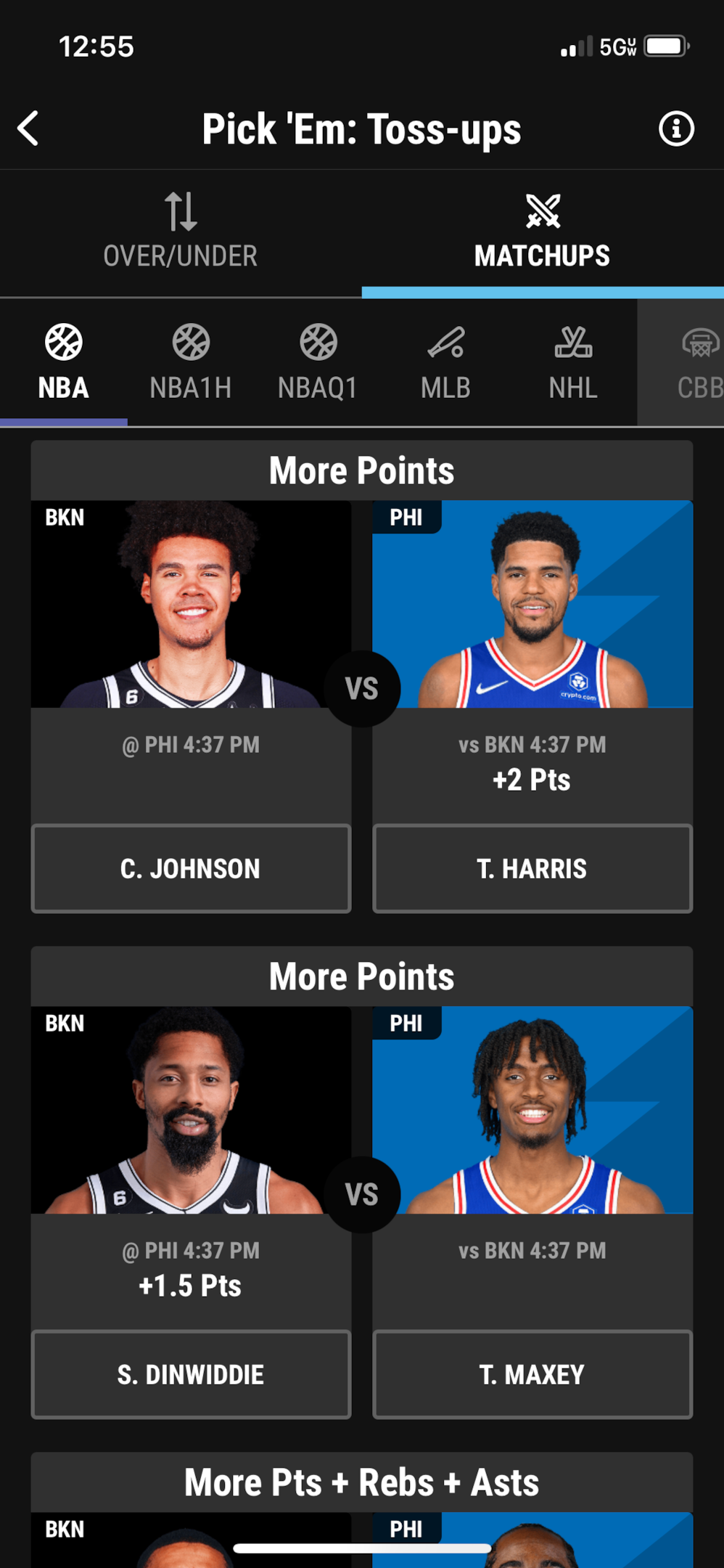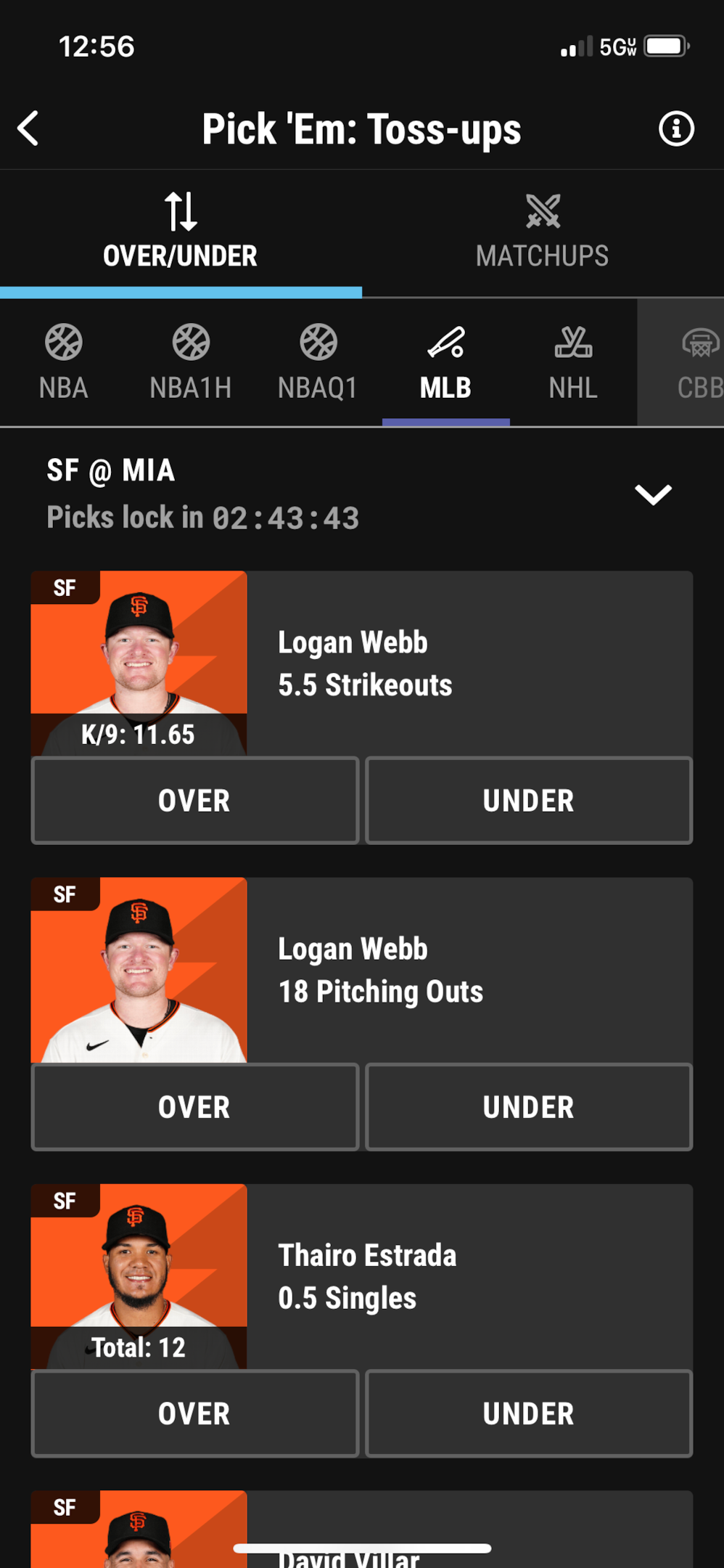 The Pick'em Toss Ups Over/Under contests function very much like totals props bets at an online sportsbook. The screenshot on the far left shows just a small sample of the Toss Ups available on a particular day.
Note that Over/Under games include fantasy props for single stat categories (like Nic Claxton over or under 10.5 points in a game), as well as combined states (i.e. Mikail Bridges over or under 1.5 combines blocks and steals.)
Clicking over to the Matchups tab in the Toss Ups menu, you'll see the menu of Matchup fantasy props available on a given day.
For example, you can pick whether the Nets' Cameron Johnson or the 76ers' Tobias Harris will score more points in an upcoming came between Brooklyn and Philadelphia. Harris gets +2 added to his total in this contest, which adds an element of point-spread-style gaming to the contest.
Boom Fantasy also offers Toss Ups games on MLB, NFL, NHL, and college sports. For example, you could pick whether San Francisco Giants pitcher Logan Webb will finish over or under 5.5 strikeouts in his next game.
Favorites
In Boom Fantasy Favorites games, only one side of a matchup or over/under is available (e.g. Aaron Judge over 1.5 hits).
Let's take a closer look at how the Favorites contests work: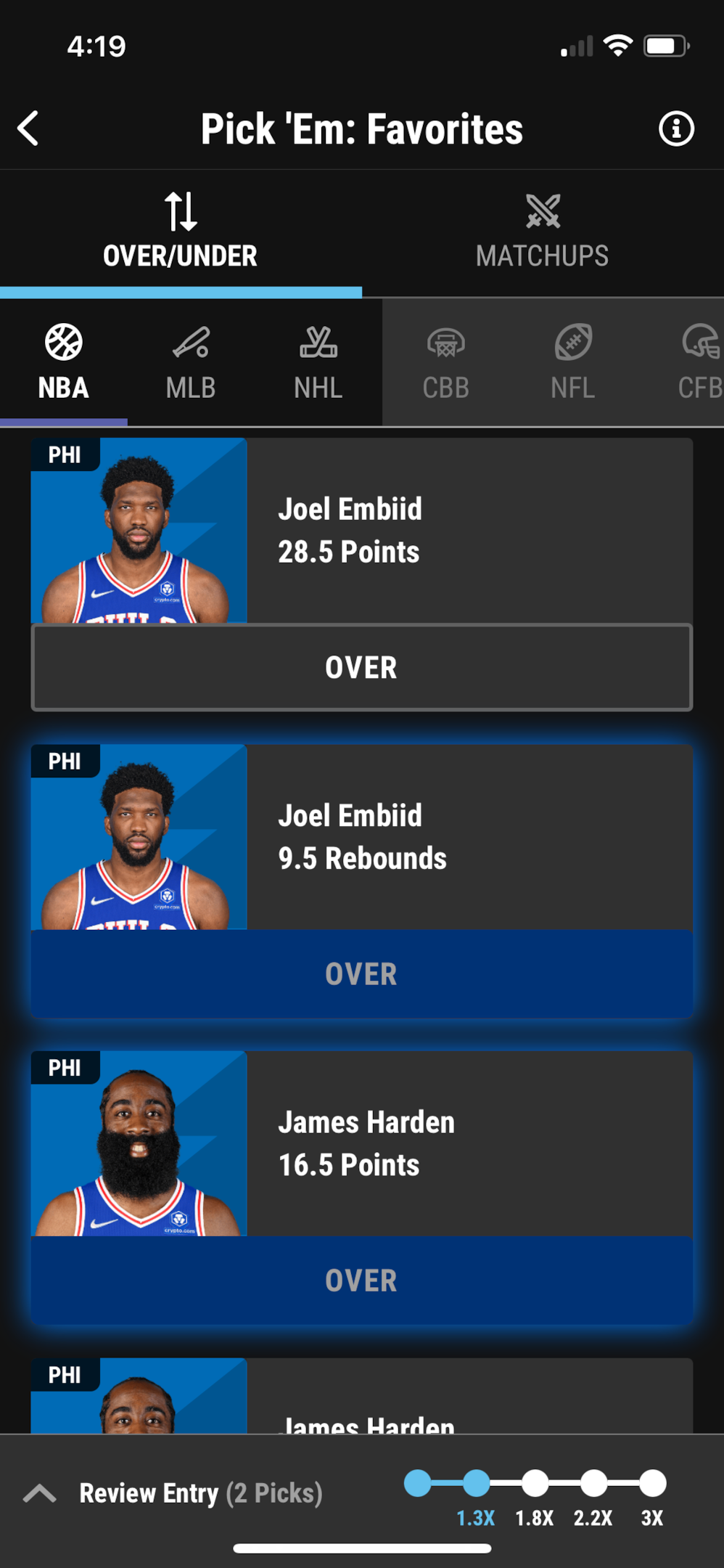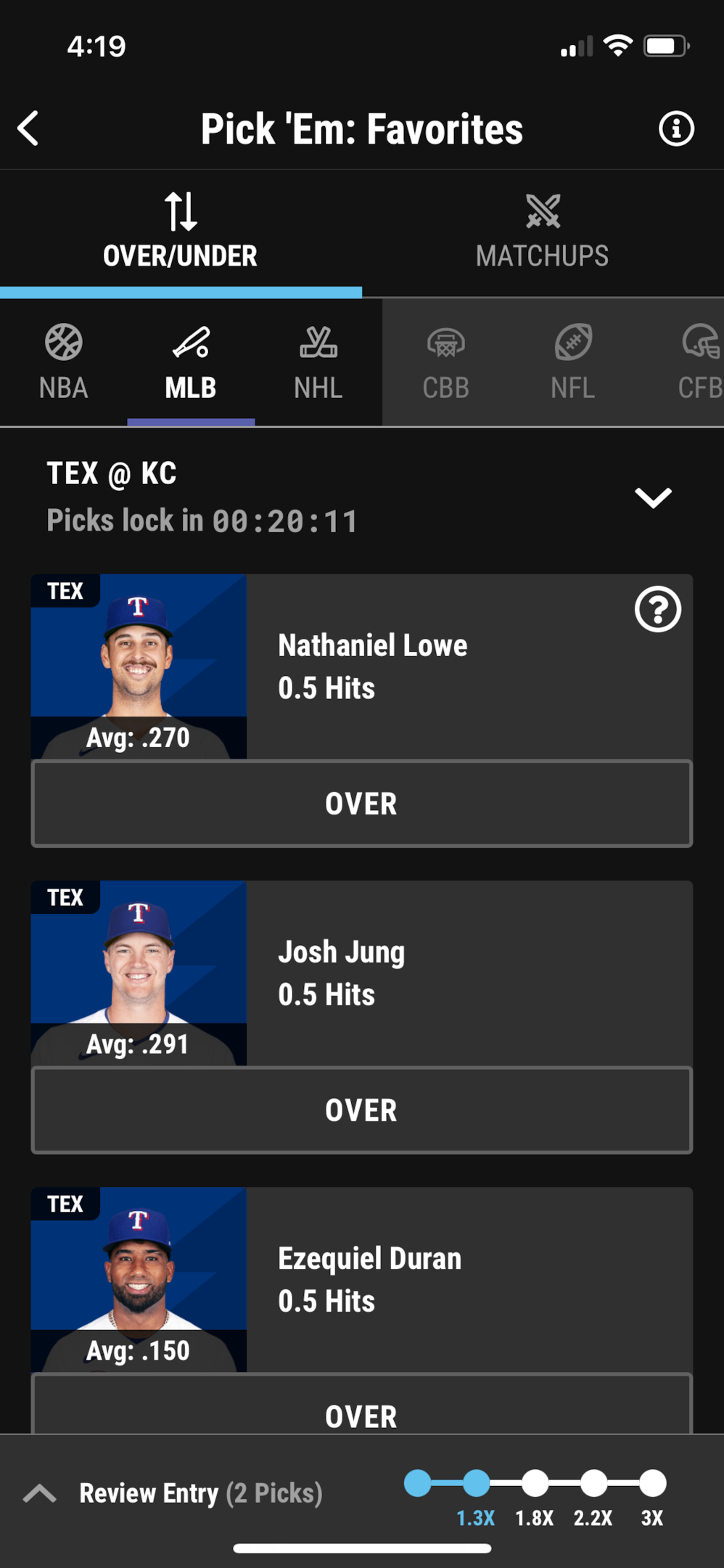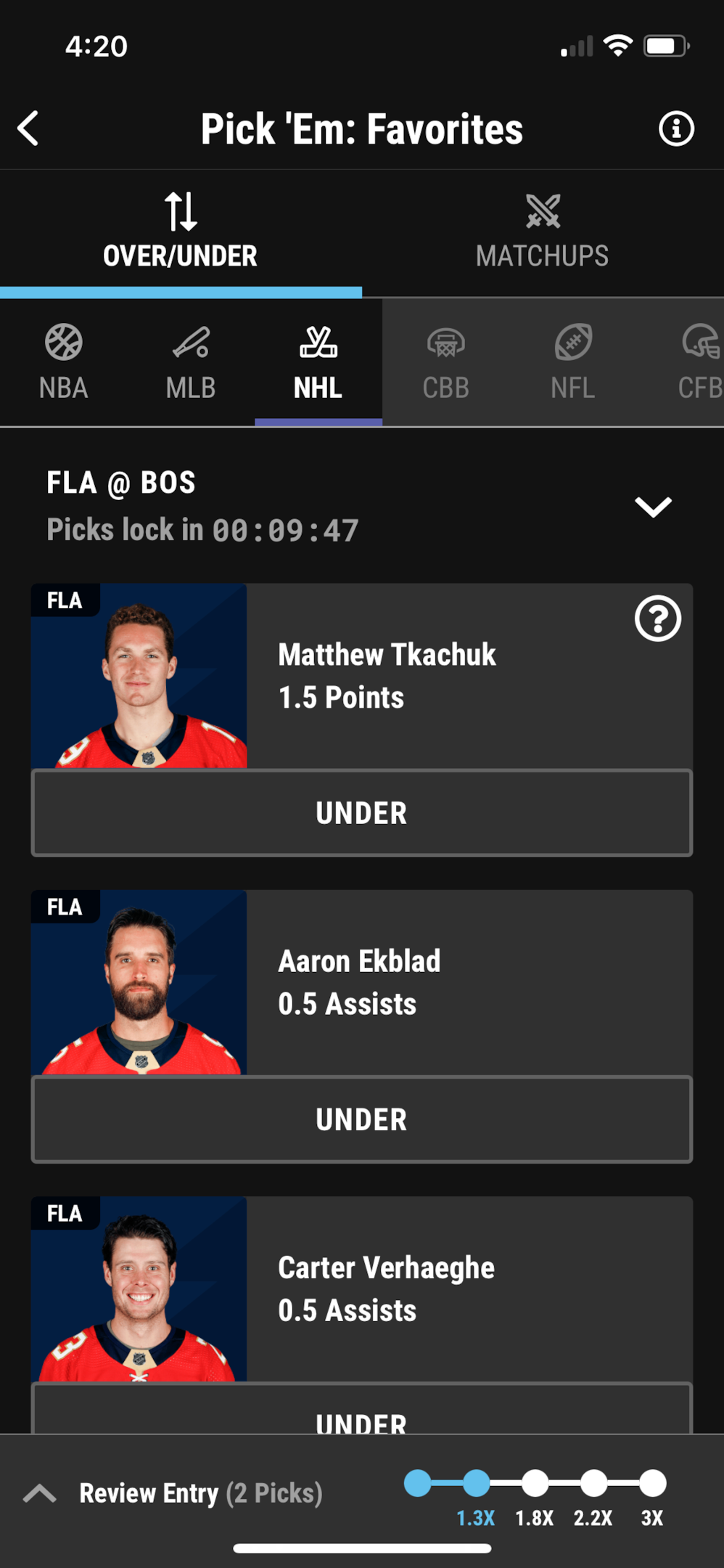 Notice that you don't get the option to pick between the over and the under in Favorites contests. Boom puts out a stat line and one side of the over/under, and you choose whether to play the contest or not.
In the example above, Boom Fantasy makes you choose whether Joel Embiid will go over 28.5 points. There isn't an option to play the under on Embiid at 28.5 points, however.
Favorites pay less for a win than the other game formats at Boom Fantasy, but could be considered easier to win than Toss Ups or Long Shots.
Long Shots
Long Shots round out the lineup of Boom Fantasy pick games. You decide if a player will significantly overperform or underperform based on their typical stats.
As the name suggests, Long Shots are tougher to win than the other contests on Boom Fantasy, but you'll win more money if you put together a winning ticket. Here's a quick look at some examples of Long Shots at Boom: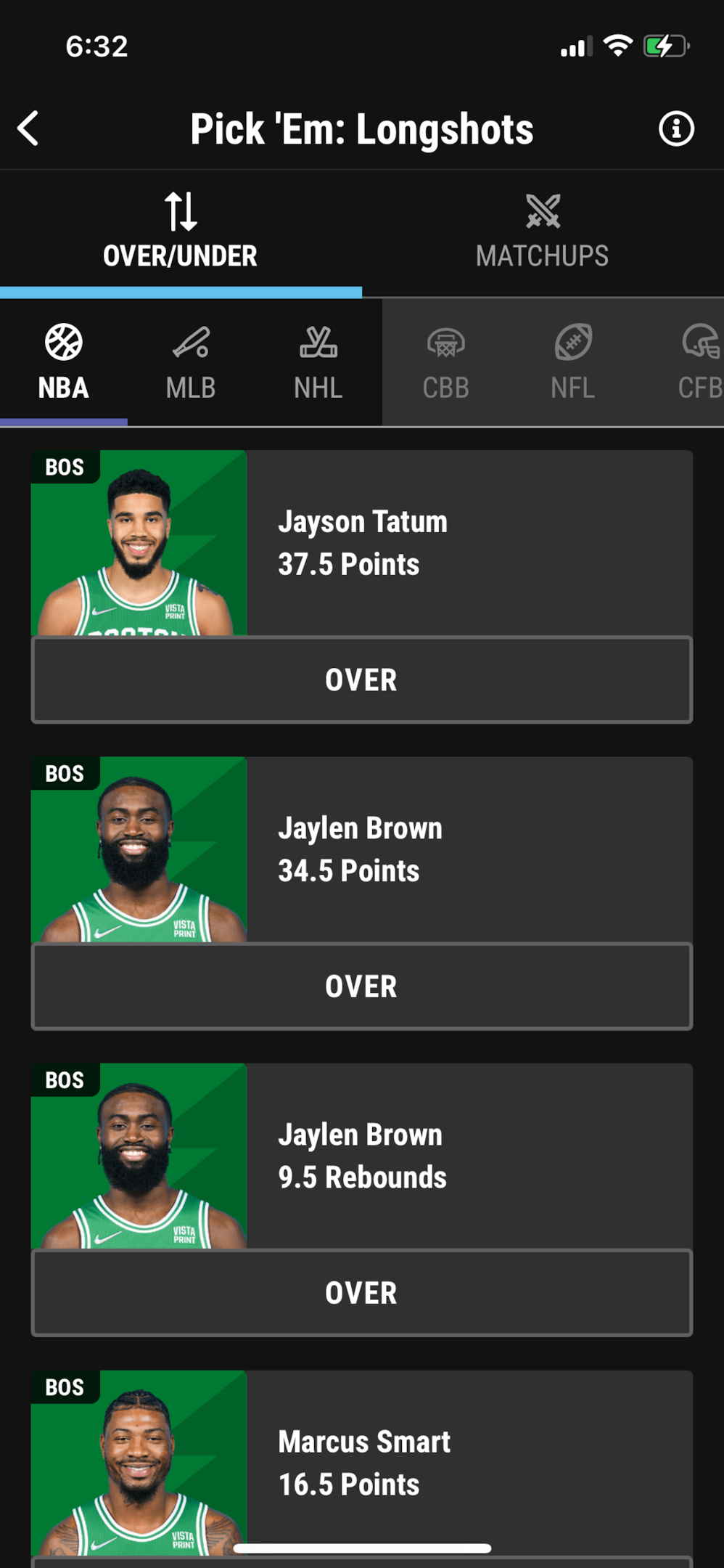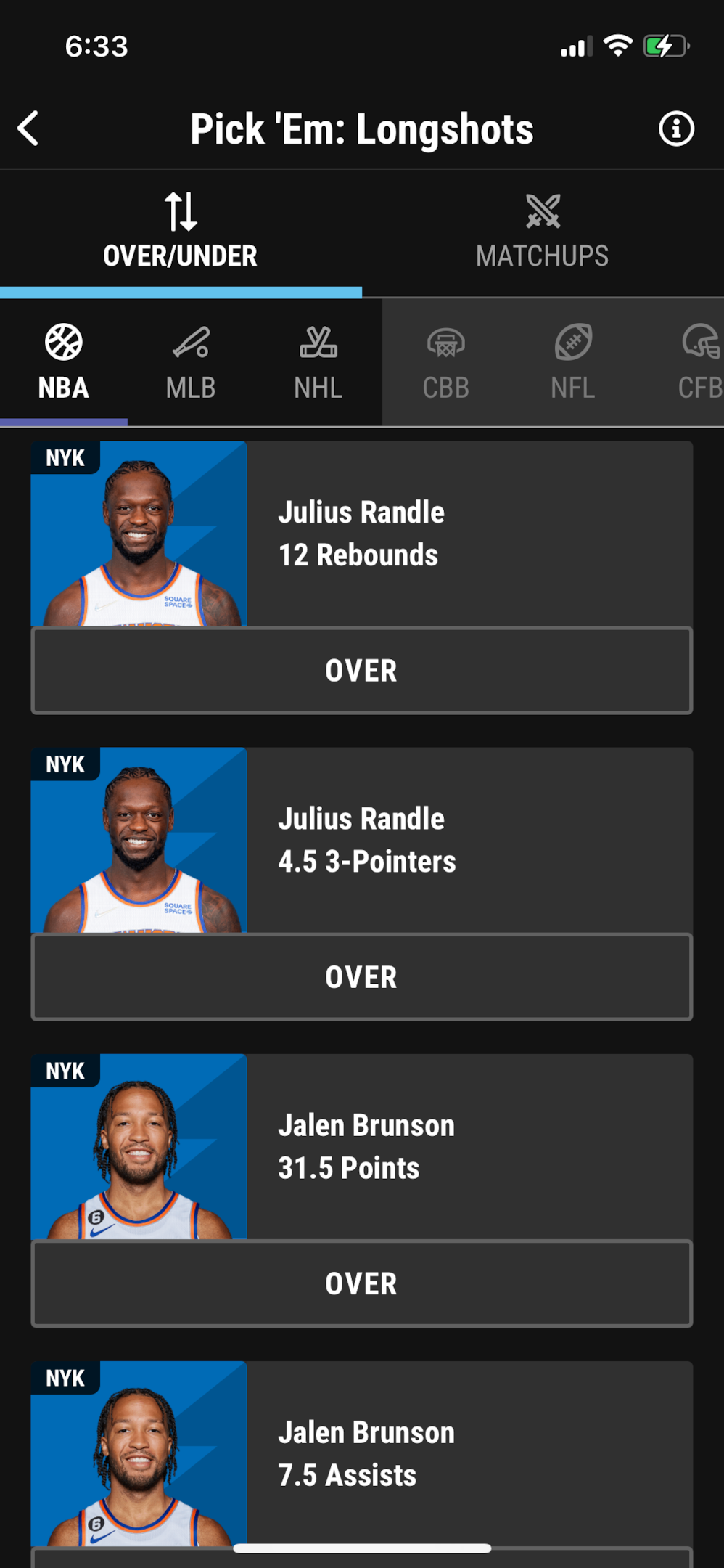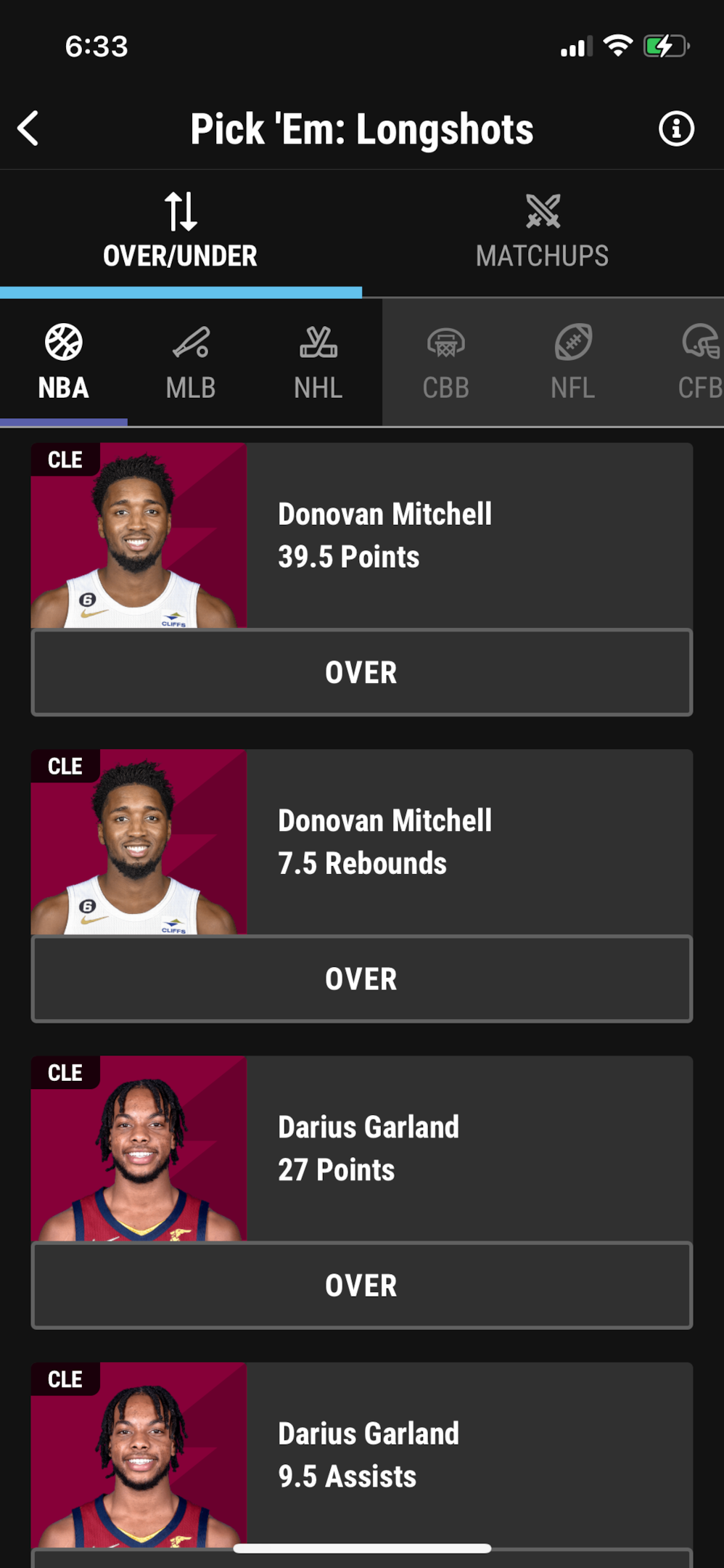 Like the Favorites games, Long Shots offer one side of an over/under, with stat lines that go a bit beyond a player's average performance in that category.
In one of the examples above, you can take the over on Donovan Mitchell finishing over 39.5 points. While the Cleveland Cavaliers star can certainly have a night like that, the 39.5 line goes well beyond his 2022-23 regular season average of 28.3 points per game.
Longshots can pay off big, as you'll 40x your entry free if you go 3-for-3 on a ticket. Let's take a look at the payout system for all Boom Fantasy contests:
Boom Fantasy Payout System
Normal daily fantasy site contests offer prize pools based on the number of entrants. If 200 players enter a $5 game, for example, they'll create a $1,000 prize pool.
Unlike traditional DFS games, the fantasy prop contests at Boom Fantasy resemble prop parlays. The scoring and payout system differs by offering prizes based on the contest type and answered questions. Here's the pay table:
Favorites – 1.3x to 3x your entry fee based on the number of correct picks.
Toss-ups – 3x to 20x the entry fee based on the number of correct selections.
Long Shots – 10x with two correct picks; 40x with three correct picks.
Fast Gameplay
If you're like most DFS players, you probably spend at least 10–20 minutes researching and putting lineups together. Traditional salary cap DFS can take a long time, especially when you're committed to winning.
On the other hand, the games available usually don't require much time to play. You can breeze through any of the games within a few minutes. Of course, you might need more time to thoroughly research answers. But you probably still won't require as much time as with salary cap contests.
Available In 20+ States
Boom Fantasy isn't available in as many states as DraftKings or FanDuel. In fact, it operates in 25 markets at the time of this review. Obviously, this limited availability isn't a good thing, but sports fans can still access Boom Fantasy in about half of U.S. states and Washington DC. Boom Fantasy players can enjoy the app in the following jurisdictions:
Boom Fantasy States
Alaska, minimum DFS age is 18+
Arkansas, 21+
California, 18+
District of Columbia, 18+
Florida, 18+
Georgia, 18+
Illinois, 18+
Kansas, 18+
Kentucky, 18+
Massachusetts, 21+
Michigan, 18+
Minnesota, 18+
Nebraska, 19+
New Mexico, 18+
North Carolina, 18+
North Dakota, 18+
Oklahoma, 18+
Oregon, 18+
Rhode Island, 18+
South Carolina, 18+
South Dakota, 18+
Texas, 18+
Utah, 18+
Wisconsin, 18+
Wyoming, 18+
Looking for the best DFS sites in California? Check our our guide to California daily fantasy sports sites.
Boom Fantasy Bonus Code September 2023
How Do I Get Started at Boom Fantasy?
Boom Fantasy forgoes a desktop version and only offers an app. Therefore, Boom Fantasy users will need to download the app on a smartphone or tablet. We'll go through this download process below, along with other necessary steps to opening a new Boom Fantasy account.
Step 1: Download The Boom Fantasy App on an iOS Device
You can start the Boom Fantasy sign-up process by clicking on the "CLAIM OFFER" or "PLAY NOW" links included throughout the Props.com review. That link will take you to a page where you can download the Boom Fantasy app for Apple iOS devices. No Android app is available, but Boom notes that the Android version is "coming soon" at the Google Play store.
The Boom Fantasy website only contains information about the app. You can only play Boom Fantasy contests on the mobile app.
Step 2: Sign Up for an Account
You can either browse the lobby or proceed to join Boom Fantasy right away. In the latter case, you select the signup option and fill out the required fields. You'll need to enter your email, date of birth, password, and username. The final step involves agreeing to the site's general terms and conditions.
Step 3: Make a Deposit
After completing registration, you can select the Deposit and head to the cashier. Boom's available deposit methods include:
Visa
MasterCard
Discover
PayPal
You can make deposits as low as $1 per transaction. However, you'll have to deposit at least $10 to qualify for the Boom Fantasy Sports $100 risk-free entry.
Step 4: Start Playing DFS Games
Once your account is funded, you can proceed to playing games at Boom Fantasy. As explained before, this site offers unique contests in the Favorites, Longshots, and Toss-ups sections.
Boom Fantasy Deposit Bonus September 2023
Is Boom Fantasy Legit?
It's best to exercise caution when depositing money at any new online sports gaming site. That said, why should you trust Boom with your funds? The following points explain why Boom is a trusted name in the daily fantasy industry.
Boom Fantasy Is A Legal DFS Site
Many states have moved to regulated DFS markets in recent years. Boom Fantasy only operates in states where it obtains approval and licensing.
In being legal and licensed, Boom Fantasy must adhere to the rules of each respective state's gaming body. Here are a few examples of licensing bodies that oversee Boom:
Is Boom Fantasy Safe?
This site launched at the height of daily fantasy sports mania in 2015. It has been through the highs, lows, and more-recent regulation era. Through it all, Boom has remained a reputable operator in terms of payouts and customer service.
The iOS app has generally earned favorable reviews at the App Store. It holds a 4.6/5.0 rating, which far exceeds the 3.35 rating for the average app.
Boom Fantasy Withdrawal Time
Boom builds further trust by offering an easy withdrawal process. You'll immediately see the Boom Fantasy withdrawal options whenever visiting your account. Upon selecting the withdrawal section, you'll proceed to the available cash-out methods.
The app lets withdrawals process directly back to your chosen deposit method. If you deposit via PayPal, for example, you'll automatically withdraw via this eWallet too. You must have at least $10 before withdrawing via any of the Boom Fantasy cash-out options.
While on the banking subject, remember that your first deposit qualifies for the Boom Fantasy new player bonus. No Boom Fantasy free bets are available, but you will get a 100% match bonus up to $100.
Who Runs Boom Fantasy?
Boom Shakalaka Inc. launched Boom Fantasy in 2015. This private company has rebranded into Boom Entertainment and now provides services beyond daily fantasy sports.
As explained on Boom's LinkedIn page, it also offers online gaming and sports betting services. Boom Entertainment serves casino operators, pro sports leagues, and media companies, including the following clients:
8AM Golf
Barstool Sports
MSG Networks
NASCAR
NBC Sports
Penn National Gaming
Yes Network
Based in New York, New York, Boom Entertainment is an award-winning company. It collected 2022 Employer of the Year honors at EGR North America and SBC's 2022 Rising Star Award.
The People Behind Boom Entertainment
Stephen A. Murphy, Med Nadooshan, and Zack Messer lead Boom Entertainment's team. As covered below, each has extensive experience in the iGaming industry:
CEO Stephen A. Murphy – Murphy started his gambling career as a high-stakes poker player, before transitioning to editor at Card Player Media. He has since served as VP of High 5 Games and an online gaming consultant for MGM Resorts.
President & CTO Med Nadooshan – A key player in scaling gaming companies, Nadooshan has over 15 years of industry experience. His previous roles include CTO of High 5 Games, CTO of Amaya, and CEO of Emerj.
CFO Zach Messer – Messer has worked in the financial side of gaming for more than 15 years. He has previously worked as head of finance for IGT, Pinnacle Entertainment, and Scientific Games.
Boom Fantasy Is Legal In 25+ States
Again, Boom Fantasy is legal in about half of U.S. states. You can refer to the previous list on this page to learn where Boom is available. This company only operates in legal and licensed gaming markets, thus waiting until gaining licensing before launching in a state.
That said, you aren't going to find Boom available in every jurisdiction. But you can be certain that if Boom is available in your state, then you're perfectly fine to play there.
Boom Fantasy Reviews
Let's take a quick glance at how users rate the Boom Fantasy app. Keep in mind that the only way to play on this DFS app is to download Boom Fantasy for iOS devices from the Apple App Store.
Apple iPhone/iPad device owners rate the Boom Fantasy app at 4.6 out of 5 stars, on average over more than 3,000 reviews.
Props.com gives Boom Fantasy an overall rating of 8.0 out of a possible 10.0.
Boom Fantasy Promo September 2023
Click Here to Join Boom Fantasy and Get a No Sweat Entry up to $100!
Boom Fantasy FAQs
Is there a Boom Fantasy Android app? No Android app is available at the time of this review of Boom Fantasy. Currently, you can only download Boom Fantasy on iOS devices (iPhone and iPad). However, the Boom website does note that an Android app is "coming soon." Players can likely expect an Android version within the near future.
How do I get paid when I win at Boom Fantasy? Boom offers four banking options, including PayPal, Discover, MasterCard, and Visa. Your deposit method determines your Boom Fantasy cash-out option. If you deposit via Mastercard, for example, then a withdrawal will go back on your Mastercard. You'll see the withdrawal option whenever logging into Boom Fantasy. Boom requires you to have at least $10 in your account before cashing out.
How old do you have to be to play at Boom Fantasy? The minimum playing age at Boom Fantasy varies based on the state. Most states only require DFS players to be 18 or older, but a few exceptions exist. Nebraska requires daily fantasy players to be 19+ years old, while Massachusetts sets the limit at 21. The other states where Boom Fantasy is available only require daily fantasy players to be 18+ years old.
Can I get Boom Fantasy free entries? The Boom Fantasy new player bonus offers a risk-free entry up to $100.
Does Boom Fantasy offer online casino games? No online casino games are available at Boom Fantasy. Instead, this site focuses strictly on offering daily fantasy sports in a unique format. Boom Entertainment—the parent company to Boom Fantasy—offers online gaming and sports betting services to companies. However, Boom Entertainment has yet to apply these same services to its DFS site.
State-By-State Analysis
CLAIM OFFER
Available In
AK, AR, CA, DC, FL, GA, IL, KS, KY, MA, MI, MN, NC, ND, NE, NM, OK, OR, RI, SC, SD, TX, UT, WI, WY
Alaska:Legal
Arkansas:Legal
California:Legal
District of Columbia:Legal
Florida:Legal
Georgia:Legal
Illinois:Legal
Kansas:Legal
Kentucky:Legal
Massachusetts:Legal
Michigan:Legal
Minnesota:Legal
Nebraska:Legal
New Mexico:Legal
North Carolina:Legal
North Dakota:Legal
Oklahoma:Legal
Oregon:Legal
Rhode Island:Legal
South Carolina:Legal
South Dakota:Legal
Texas:Legal
Utah:Legal
Wisconsin:Legal
Wyoming:Legal
Click Here to Join Boom Fantasy and Get a No Sweat Entry up to $100!