Underdog Fantasy
This Underdog Fantasy Review was compiled by Props.com DFS expert Jeremy Olson. All insights and ratings in this review are derived from Jeremy's extensive first-hand testing of the product.
Get A 100% Deposit Match Up To $500 At Underdog Fantasy
Underdog Sports Quick Facts
Underdog Sports launched in 2020 with an All-Star lineup of high-profile investors, including Mark Cuban, Kevin Durant, Adam Schefter, and BlackRock. So what do these big names see in an upstart that must compete against the industry-dominant DraftKings and FanDuel in the DFS space?
Part of Underdog Fantasy's appeal is that it's not competing directly against these giants of the DFS industry. It offers unique daily fantasy sports (DFS) contests that go beyond salary-cap cash games and tournaments. Available in 41 states, this platform features Best Ball, Battle Royale, and Pick'em contests. That combination gives Underdog a variety of games that you can't really find on other apps.
If you're looking to play fantasy sports and seek something different than traditional DFS, then you can check out the following Underdog Fantasy review. We'll cover Underdog's unique traits, signup/deposit process, trustworthiness, company info, and legalities. This review of Underdog Fantasy provides our honest take—both good and bad—so you can make an informed choice.
How Does Underdog Fantasy Work?
We briefly touched on Underdog Fantasy's different contests in the introduction. The following sections provide an in-depth review on these interesting games offered, along with Underdog's other unique aspects.
Underdog Fantasy Contests
If you've played at DraftKings or FanDuel, you're probably used to setting up fantasy football, basketball, or baseball teams based on salary caps. Underdog Fantasy sports takes a different approach because it doesn't offer any salary cap games or tournaments. Instead, it provides the following three formats:
Best Ball Contests
Season-long leagues with no trades, free agent pickups, or waiver wire acquisitions. After paying a an entry fee, you participate in a Best Ball draft at the beginning of the season (or a league's postseason) and let fate do the rest.
For example, let's take a look at what Best Ball drafts were available just before the start of the NBA and NHL postseasons in 2023: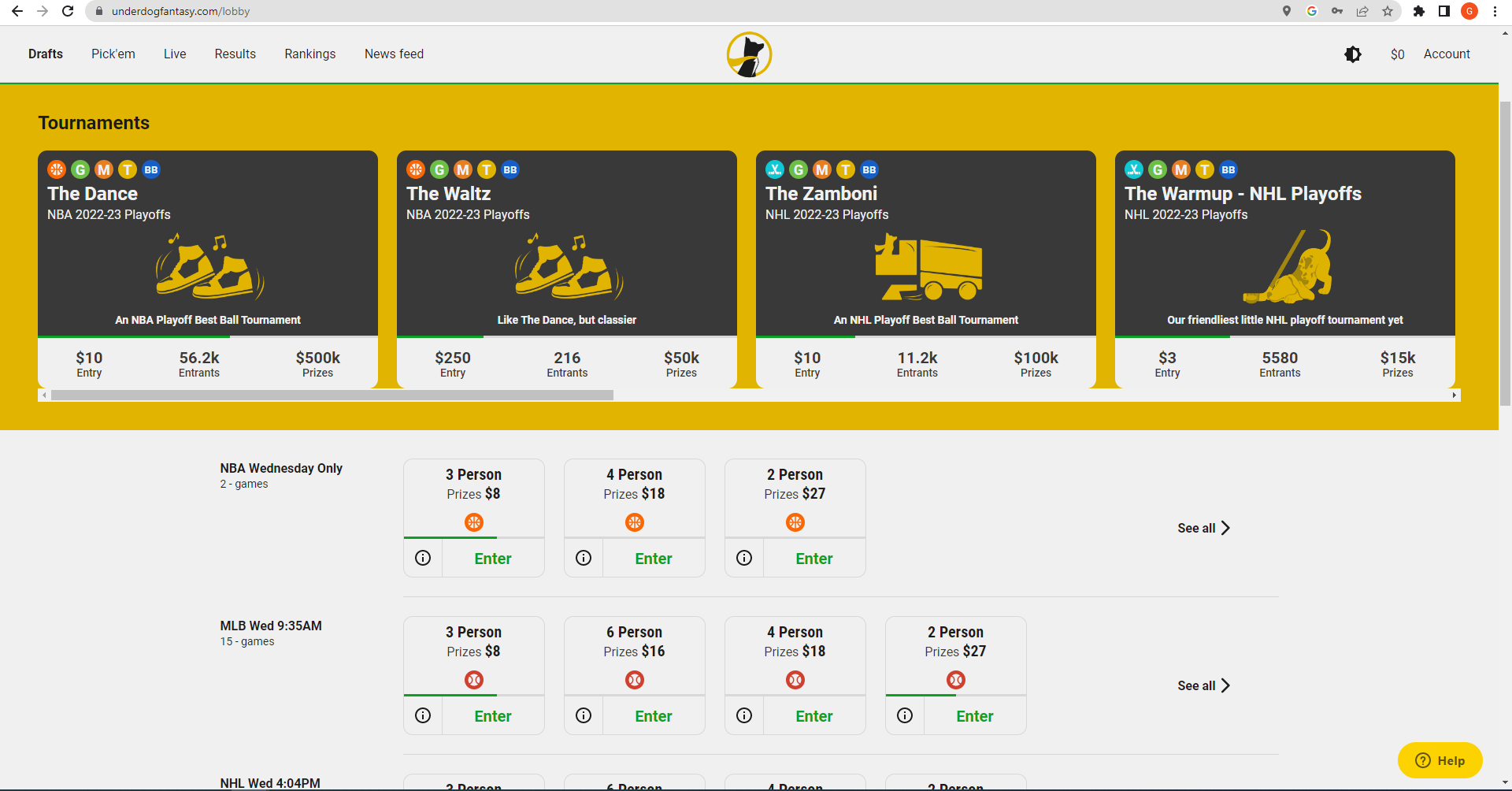 The "Drafts" tab opens a menu with all available Best Ball (season-long) and Battle Royale (single-day) tournaments at a given time.
You can find the "Drafts" tab at the top left of the lobby if you're using the Underdog Fantasy desktop client. If you're playing on the Underdog mobile app, you'll see the "Drafts" tab at the bottom left of the lobby.
You'll see a "BB" icon in the description of a tournament if it's a Best Ball contest. For example, note the blue "BB" sticker in the row of icons above the names of "The Dance," "The Waltz," "The Zamboni," and "The Warmup – NHL Playoffs."
The Best Ball format generally requires you to pick 10 players for our starting lineup in a snake draft format. At the end of each round of the tournament, only your top five players' fantasy points count toward your total.
If your squad is among the highest-scoring teams in the tournament at the end of a round, you advance to the next round. The top finishers at the end of a Best Ball tournament win a portion of the contest's prize pool.
Battle Royale
These daily contests use daily drafts and end when the day's games are over. Battle Royale contests vary by featuring $3–$300 entry fees and teams with 3–12 players.
You'll find many more Battle Royale contests available throughout the year as compared to Best Ball contests. While Best Ball tournaments cover an entire league season or playoffs, new Battle Royale contests appear daily on Underdog Fantasy.
Pick'em Games
Pick'em games involve making prop-style predictions and break down into two camps: Higher/Lower and Rivals.
You can find Pick'em games by clicking the "Pick'em" tab at the top right of the desktop lobby, or the bottom left of the lobby in the Underdog app.
Higher/Lower Pick'em Contests
Higher/Lower sees you decide if a player will go over or under a stat total (e.g., over/under 2.5 touchdowns). These games very much resemble player props at online sportsbooks.
Let's take a look at what the Higher/Lower menu looks like: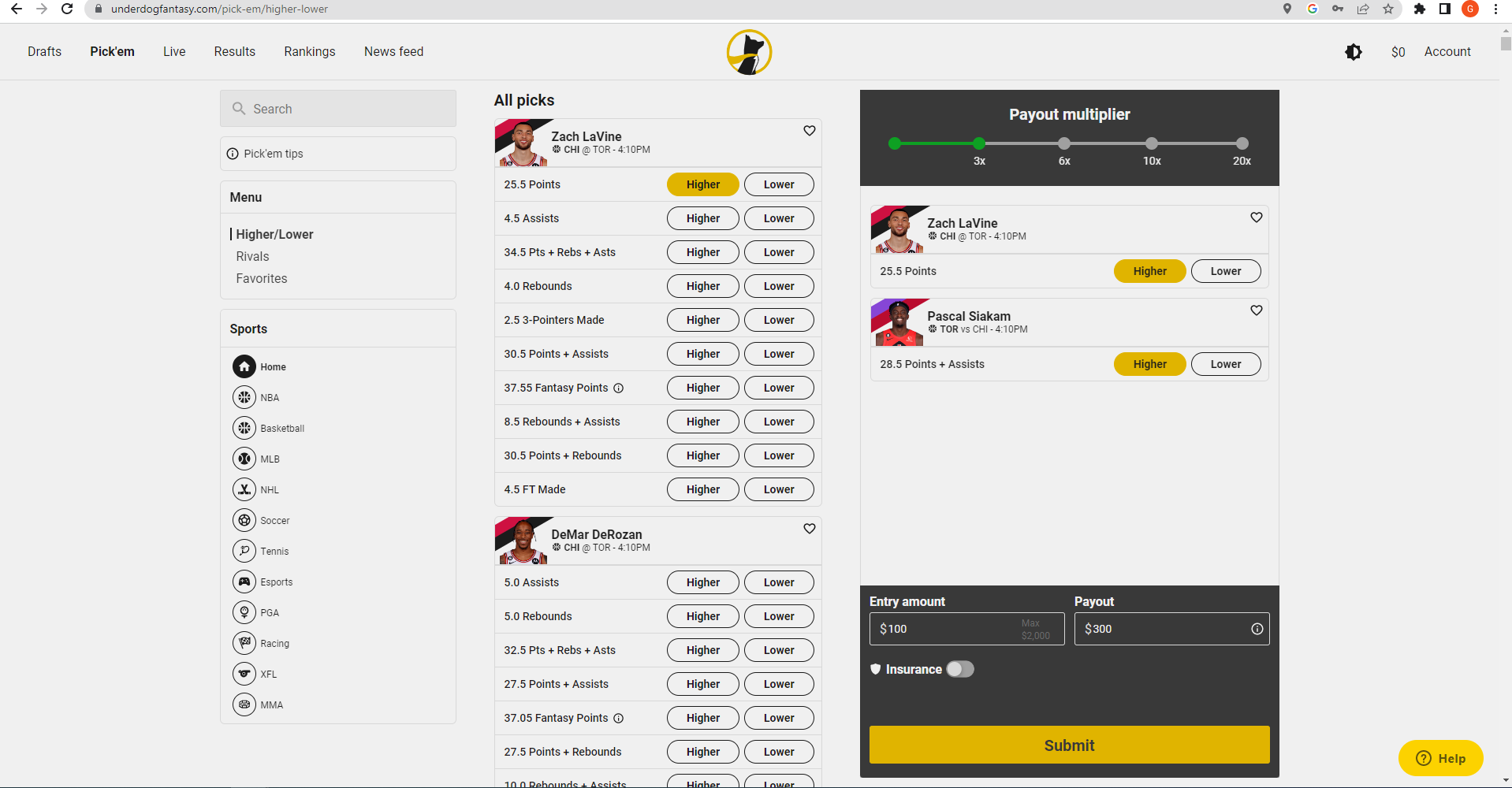 You can scroll through the Higher/Lower menu and find numerous lines you can choose from for most of the players in action on a given day for the leagues that Underdog covers.
You can choose to make single-entry picks, which pay 1x the entry amount. For example, if you place a $100 entry on Zach LaVine to go higher than 25.5 points, and he scores 27 points, you win $100 in profit.
You can also combine picks into a parlay-style ticket, and the potential payout is multiplied. For instance, as pictured above, you could combine picks for LaVine and Pascal Siakam into one $100 entry, and that unlocks the 3x multiplier. Your entry would pay $300 in profit if both picks are winners.
The more picks you put into a single entry, the higher the payout multiplier. Higher/Lower Pick'em games function much like player props at online sportsbooks, but with a DFS-style twist.
Rivals Pick'em Contests
A Rivals game involves picking one player to outperform another player in a given stat. Let's take a look at some of the Rivals games available on an April day in the 2023 MLB season: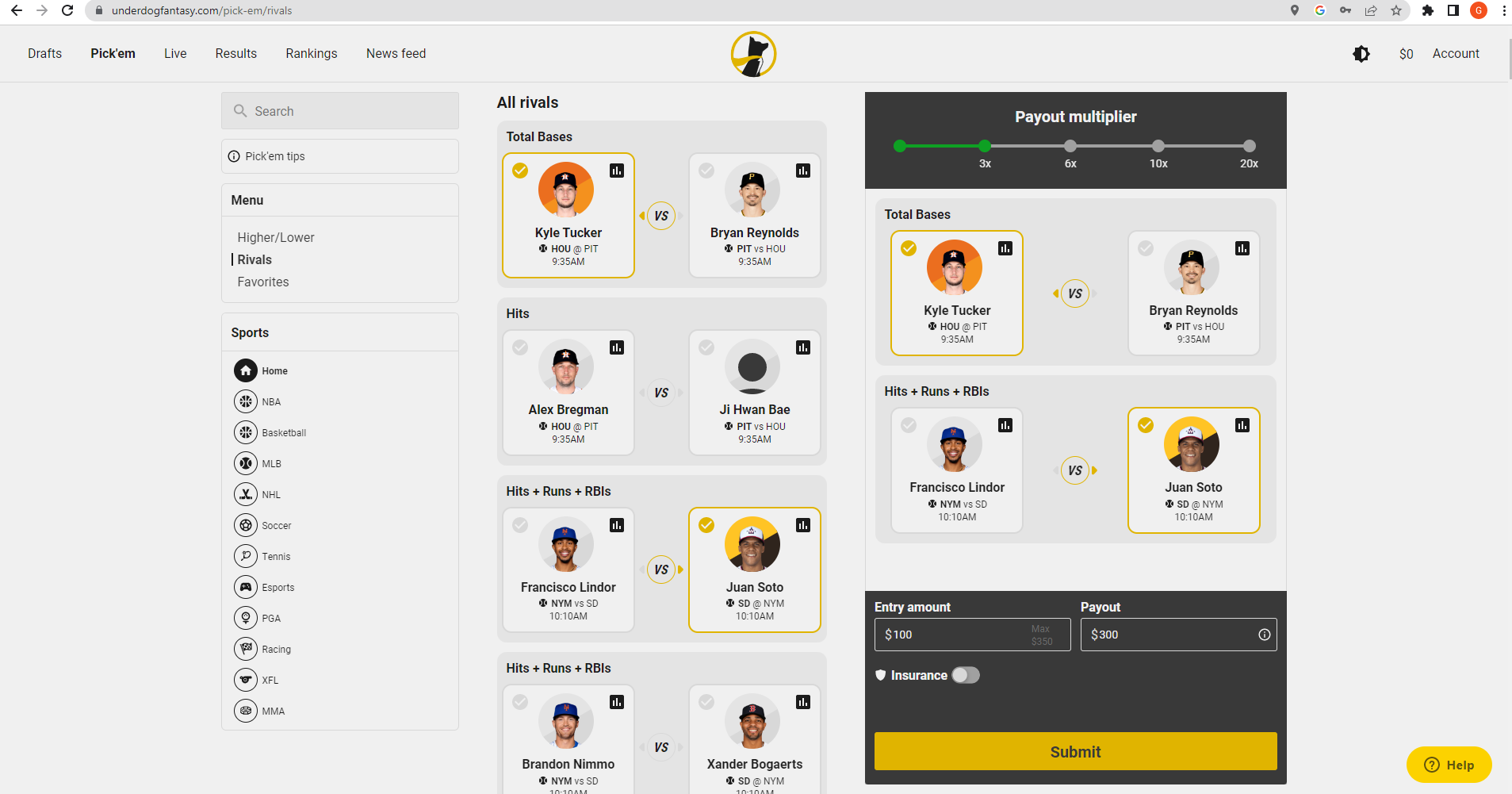 You can scroll down the list of available Rivals contests and see the various matchups offered on a particular day.
For example, you can choose whether the Houston Astros' Kyle Tucker will take more total bases than Bryan Reynolds of the Pittsburgh Pirates in that night's Astros-Pirates tilt. As with Higher/Lower games, you can combine Rivals picks and try to score big on the Payout Multiplier.
Underdog isn't the only daily fantasy sports site that's offering these styles of contests. However, among the DFS apps we've reviewed, only Underdog has season-long Best Ball tournaments, Pick'em, and snake drafts under one cyber roof.
Note that Pick'em games aren't available in all states. See the Underdog Fantasy Legal States list below for more information.
Check out our guide to Underdog Fantasy Pick'em strategy.
Underdog Fantasy Sign-Up Bonus September 2023
Huge Potential Prize Pools
Again, Underdog Fantasy isn't the lone DFS site in the Pick'em or Best Ball market. But it outdoes most competitors in these niches thanks to bigger prize pools and payouts. For example, the Best Ball Mania III event featured a $10 million prize pool and $2 million top payout. The NBA-based "Double Dribble" Best Ball tournament offers a $200,000 prize pool with only a $5 entry fee.
Along with the Best Ball Mania tournament and other special events, even the regular fantasy tournaments can feature decent-sized payouts under the right circumstances. For example, Pick'ems offer variable prizes worth up to 20x the entry.
Underdog Fantasy Promotions
The Underdog Fantasy new player bonus matches your first deposit by 100% up to $100. Of course, $100 doesn't seem like much if you're coming from the online casino or sports betting world. It's a significant amount in DFS, though, because some sites don't offer much for new players.
You can get the Underdog Fantasy deposit bonus by following the steps below:
How To Claim The Underdog Fantasy Welcome Bonus
Click one of the "CLAIM OFFER" or "PLAY NOW" links in this review. These links will redirect so you can visit Underdog and begin the signup process.
Enter the Underdog Fantasy signup code "PROPS" during registration.
Deposit at least $10.
You'll receive a 100% deposit match Underdog Fantasy DFS bonus.
This deal comes with 1x rollover on both the deposit and bonus. If you deposit $25, for example, you'll need to wager $50 total to meet rollover. Only winnings are cashable—not the actual Underdog Fantasy deposit bonus itself. And don't forget: use the PROPS Underdog Fantasy signup code to make sure you qualify.
Underdog Fantasy Sign-Up Bonus September 2023
How Do I Get Started at Underdog Fantasy?
This daily fantasy site is available through an Android app, iOS app, or you can play online directly on the Underdog Fantasy site. You can see how to get going with Underdog through the following steps.
Step 1: Click the "CLAIM OFFER" or "PLAY NOW" links in this review
These links are exclusive to Props.com com readers, and will redirect you to the Underdog Fantasy app. You'll automatically be eligible for the Underdog Fantasy deposit bonus.
Step 2: Download the Underdog Fantasy App
Again, the Underdog Fantasy DFS hub is available through either desktop play or the Underdog app. Chances are, you're among the majority who play daily fantasy games on a phone. In this case, you'll need to visit Google Play (Android) or the App Store (iOS) and download Underdog Fantasy. Alternatively, you can visit Underdog's website on your phone/tablet and select the Android or iOS icon.
Step 3: Sign Up for an Account
Once on the website or app homepage, you can select the "Sign Up" option to begin creating your account. This process calls for the following information:
Username
Email
Password
Date of birth
Underdog Fantasy signup code (PROPS)
After completing registration, you'll need to agree to the terms of service before continuing. These terms lay out the general rules for playing at Underdog.
Step 4: Make a Deposit
You must make a $10 minimum deposit to both play at Underdog Fantasy and qualify for the bonus. Unfortunately, Underdog only offers two deposit methods, but these options are common and easy to use:
PayPal – Enter your PayPal login details and fund your account.
Credit or debit card – Use PayPal to place a credit/debit card guest deposit. You don't actually need to have a personal PayPal account to use this method.
Step 5: Play Underdog Fantasy Games
Once your deposit goes through, you'll be able to begin playing at Underdog. Entry fees range from $5 to $25, which is affordable for most bankrolls. The three types of contests include Best Ball, Battle Royale (daily snake drafts), and Pick'em (player props). You can play contests across the following sports and leagues:
Underdog Fantasy Sports Categories
MLB
NBA
NFL
NHL
Boxing
College sports (football & basketball)
Esports
Golf
MMA
Soccer
September 2023 Underdog Fantasy Bonus Offer
Is Underdog Fantasy Legit?
How do you know that you can actually trust depositing at Underdog? The following points explain why Underdog Fantasy is a safe place for enjoying DFS.
Big League Investors
Underdog has had no trouble attracting A-list investors since going live in 2020. Its series B round netted $35 million in funding, leading to an evaluation of nearly half a billion dollars. Some of the individuals and companies contributing to this enormous sum include:
BlackRock
DJ Steve Aoki
Dallas Mavericks owner Mark Cuban
Brooklyn Nets forward Kevin Durant
Eilers & Krejcik
Fantasy Labs
Future (rapper)
Detroit Lions QB Jared Goff
Gunna (rapper)
Harris Blitzer Sports Entertaining (owns Philadelphia 76s & New Jersey Devils)
Nas (rapper)
Roto Grinders
ESPN's Adam Schefter
This list includes some of the most influential figures in sports, entertainment, and the legal gambling industry. This is not a group that would invest millions of dollars into an illegitimate enterprise.
Available and Regulated in Many States
Underdog operates in 41 states, thus making it one of the most-widely available DFS sites. Some of these states require operators to obtain licensing, and they have a regulatory body overseeing the sites. In these cases, you can be extra comfortable with Underdog because it must abide by strict regulations.
Here are examples of state licensing bodies that oversee Underdog:
Is Underdog Fantasy Legal?
Yes. Underdog Fantasy operates as a daily fantasy sports site and is legal in all states in which it operates. You can play at Underdog Fantasy in more than 40 U.S. states, as well as in most of Canada (minus Ontario).
If you're playing at Underdog Fantasy, you can count on the fact that you're playing on a legal DFS site in whatever state you're in.
Underdog Fantasy has a reputation to uphold due to its licenses in many states and 100+ employees. Therefore, it makes sure to follow the laws in every jurisdiction where it operates. Underdog requires all players to be at least 18 years old—the minimum DFS age in most states. It also obtains licensing and pays the necessary fees in any state that makes such requirements.
Will I Get Paid if I Win?
This site isn't bursting with payment options, but it does offer a couple of withdrawal methods. You can make an Underdog Fantasy cash-out using PayPal or ACH (eCheck). PayPal is the fastest of these two methods, typically delivering winnings within 0–2 business days. ACH, meanwhile, takes 2–4 business days to provide your winnings.
Because Underdog is a legal daily fantasy sports site, and regulated by government gaming agencies, you can be assured that you'll get paid when you win.
Who Owns Underdog Fantasy?
Looking to know more about the Underdog Fantasy team before signing up? The following info covers Underdog's founders and where the company can legally operate.
The Founders of Underdog Fantasy
Entrepreneur and investor Jeremy Levine is the co-founder of Underdog Fantasy. Levine launched the company in Brooklyn, New York in 2020 and has kept his homebase there ever since. Levine's other ventures in the sports betting space include opening DRAFT in 2017 and sold the company to Betfair (now Flutter) in 2019 for $48 million.
Co-founder and CEO Brandon Stakenborg is also worth mentioning as a key player. Stakenborg was the VP of Mobile Development at DRAFT before helping Levine launch Underdog.
Here's a look at the rest of the Underdog Fantasy team:
Dustin Cooper – CFO
Elizabeth Keevil – CMO
Trevor John – Co-founder & Chief Technology Officer
Bertrand Moulard – VP of Engineering
Stacie Stern – VP of Government Affairs & Partnerships
David Gamboa – Creative Director & Marketing Director
John Schloman – Director of Engineering
Michael Maghsoudi – Director of Product
Underdog Fantasy Sign-Up Bonus September 2023
Underdog Fantasy Reviews
Let's take a quick look at user reviews for Underdog Fantasy.
Android device owners give an average rating of 4.3 out of 5 stars over more than 3,000 reviews of Underdog Fantasy at the Google Play Store.
Apple iOS device users give an average rating of 4.7 out of 5 stars from just about 10,000 total reviews of Underdog Fantasy at the App Store.
Props.com DFS expert Jeremy Olson rated Underdog at 8.4 out of 10 overall.
Underdog Fantasy Legal States
Underdog legally operates in Canada (minus Ontario) and 41 states across the U.S. Below, you can see all of the states where Underdog is legal.
Note that not all of these states are Underdog Fantasy Pick'em states, i.e. states where Pick'em contests are available. You can still play Underdog's season-long fantasy leagues and best ball games, but you can't play the Pick'em games in those states.
Underdog Fantasy States
Alaska
Alabama
Arizona
Arkansas
California
Colorado (Pick'em games unavailable)
Florida
Georgia
Illinois
Indiana
Kansas
Kentucky
Maine
Maryland (Pick'em games unavailable)
Massachusetts
Minnesota
Mississippi
Missouri (Pick'em games unavailable)
Nebraska
New Hampshire (Pick'em games unavailable)
New Jersey (Pick'em games unavailable)
New Mexico
New York
North Carolina
North Dakota
Ohio (Pick'em games unavailable)
Oklahoma
Oregon
Pennsylvania (Pick'em games unavailable)
Rhode Island
South Carolina
South Dakota
Tennessee (Pick'em games unavailable)
Texas
Utah
Vermont
Virginia
Washington D.C.
West Virginia (Pick'em games unavailable)
Wisconsin
Wyoming
September 2023 Underdog Fantasy Code: PROPS
CLAIM OFFER
Join Underdog Fantasy and Get a 100% Deposit Match up to $100!
State-By-State Analysis
CLAIM OFFER
Bonus Code
Available In
AK, AL, AR, AZ, CA, CO, DC, FL, GA, IL, IN, KS, KY, MA, MD, ME, MN, MO, MS, NC, ND, NE, NH, NJ, NM, NY, OH, OK, OR, PA, RI, SC, SD, TN, TX, UT, VA, VT, WI, WV, WY
Alabama:Legal
Alaska:Legal
Arizona:Legal
Arkansas:Legal
California:Legal
Colorado:Legal, Pick'em contests unavailable
District of Columbia:Legal
Florida:Legal
Georgia:Legal
Illinois:Legal
Indiana:Legal
Kansas:Legal
Kentucky:Legal
Maine:Legal
Maryland:Legal
Massachusetts:Legal
Minnesota:Legal
Mississippi:Legal
Missouri:Legal
Nebraska:Legal; Pick'em contests unavailable
New Hampshire:Legal; Pick'em contests unavailable
New Jersey:Legal; Pick'em contests unavailable
New Mexico:Legal
New York:Legal
North Carolina:Legal
North Dakota:Legal
Ohio:Legal; Pick'em contests unavailable
Oklahoma:Legal
Oregon:Legal
Pennsylvania:Legal; Pick'em contests unavailable
Rhode Island:Legal
South Carolina:Legal
South Dakota:Legal
Tennessee:Legal; Pick'em contests unavailable
Texas:Legal
Utah:Legal
Vermont:Legal
Virginia:Legal
West Virginia:Legal; Pick'em contests unavailable
Wisconsin:Legal
Wyoming:Legal
CLAIM OFFER
Join Underdog Fantasy and Get a 100% Deposit Match up to $100!