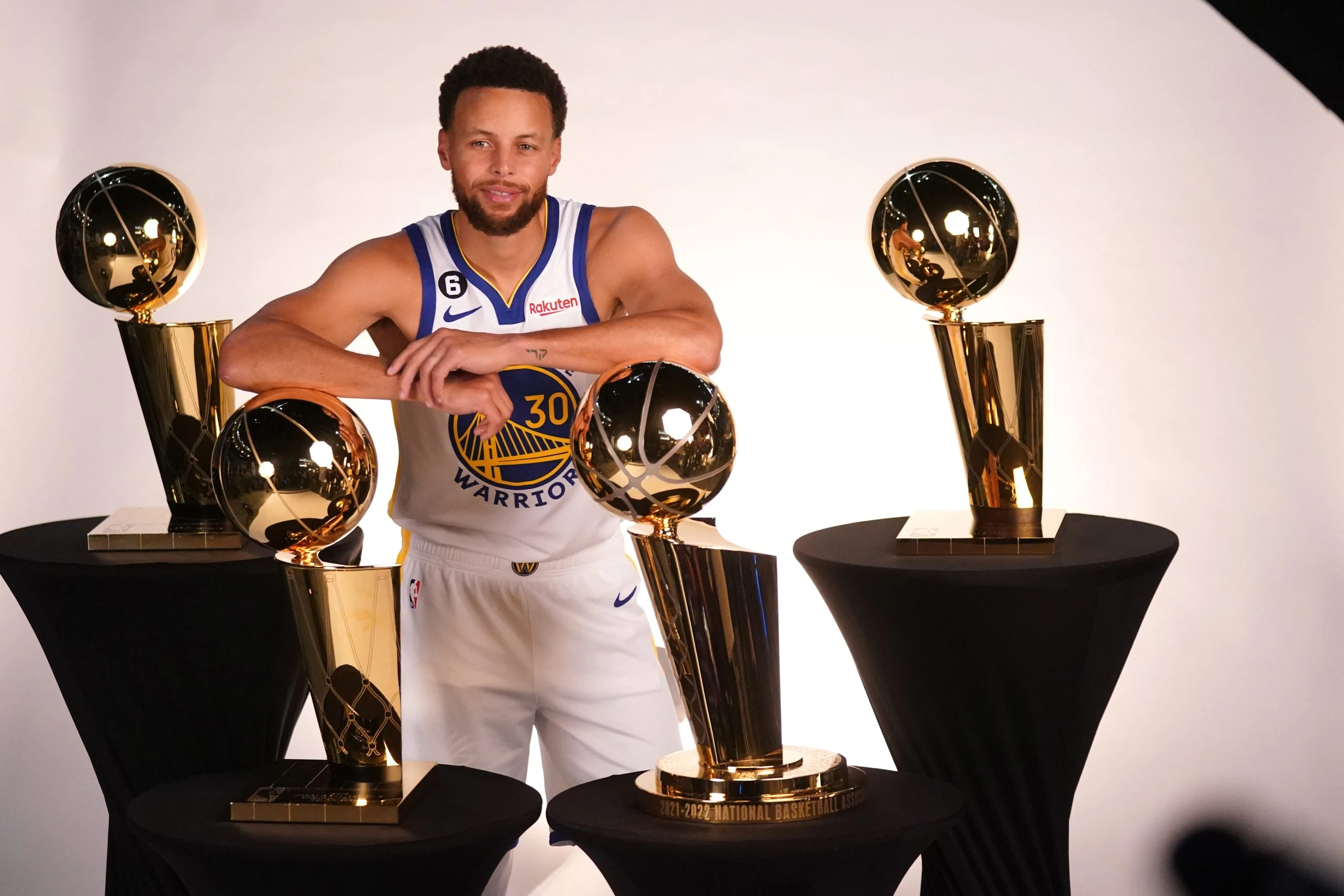 Top Sportsbook Picks in Virginia
With an 82-game regular season and nearly two months of postseason games, the NBA offers robust betting opportunities for sports bettors. This NBA Betting Guide 2023 from Props.com takes a look at everything you need to know to start betting on the world's premier professional basketball league.
The 2022-23 NBA season tipped off on Oct. 18, with the NBA Finals slated to wrap up in mid-June. Basketball enthusiasts get eight months per year to watch, wager upon, and enjoy NBA basketball games.
The latest addition to the Props.com Sports Betting 101 series takes a look at how bet on NBA games, and where you can place legal NBA bets. Check back with this NBA odds page often for the latest welcome bonus promo codes for the best online sportsbooks in the U.S., as well as NBA betting strategy tips.
How To Read NBA Betting Odds
NBA betting markets include many of the most popular betting odds in the sports betting world.
A standard NBA betting line revolves around a game between two NBA teams. On any one game, a typical sportsbook will include moneyline, point spread, and over/under (totals) lines for virtually every game during the NBA season.
Online sportsbooks offer an extensive menu of ways to bet, however, that go beyond the traditional moneyline/spread/totals menu. You'll find live betting, futures, props, and more at the best betting sites in the U.S.
Basketball Betting Lines Explained
From the preseason all the way through to the NBA championship, basketball bettors can find almost infinite ways to bet on one of the most popular sports leagues on the planet. Some of the bet types you'll find at an NBA betting site include:
NBA Moneyline Odds
The moneyline, in any sport, represents the most straightforward way to bet. A moneyline wager (sometimes stylized "money line" is a bet on which team will win outright, with no point spread involved.
Here's a look at how typical NBA betting lines look at an online sportsbook when it comes to moneyline bets:
This NBA preseason game line from DraftKings Sportsbook displays the standard betting lines from a game between the Memphis Grizzlies and the Detroit Pistons. The "Moneyline" column in this table displays the payouts DraftKings is offering on each team to win this NBA game straight up.
How To Read American Odds
The payout odds at U.S.-facing online sportsbooks are presented in American odds format. American odds always include a "+" or "-" sign in front of the odds number.
On a moneyline bet, a "-" in front of the payout odds indicates the favored team in terms of the moneyline. In this NBA tilt, the Grizzlies are the favorite on the moneyline.
The (-260) moneyline odds on the Grizzles means you would have to bet $260 to win $100 in profit. A $260 bet on Golden State would return $360 total to the bettor if the Grizzlies won ($100 profit plus the original $260 bet).
A "+" in front of a team's moneyline odds indicated the underdog in terms of the betting line. For this game, the Pistons are the underdog team at (+220) odds.
The (+220) means you would win $220 in profit for every $100 wagered on Detroit. A winning $100 bet on the Pistons would return $320 total money ($220 profit plus the original $100 wager).
At DraftKings or any legal online sportsbook, you can click on any line to make that wager appear on your bet slip. You can then input the amount you wish to wager, and the bet slip will display the potential payout.
You can look at the potential payout for any wager on your bet slip before you send the bet through to the sportsbook. For more on how to calculate American odds, check out the Props.com guide on How to Read Sports Betting Odds.
Top Sportsbook Picks in Virginia
NBA Point Spread Betting
Point spread betting tasks bettors with essentially picking how many points a team will win by in an NBA game.
The "Point Spread" column of this NBA preseason bet sees the Grizzlies as the favorite, installed with a (-7) point spread. To bet this NBA line, you can either take Memphis with seven points subtracted from its final score, or Detroit with seven points added to its final score.
NBA spreads generally pay out at close to even odds on each side of the bet. Both teams are listed at (-110) on the spread, meaning you would make $110 in profit for every $100 wagered if your team wins.
If the Grizzlies win the game by eight points or more (e.g. 108-100), the Memphis side of the bet wins. If Memphis wins by six points or less, or Detroit wins the game outright, then the Detroit side of this point spread bet wins.
If the Grizzlies win by exactly seven points, the bet is a push, and all bettors get a refund on the amount of their original wager.
For another example, let's say the Los Angeles Lakers are favored by three points (-3) over the Phoenix Suns, and the Lakers win the game 108-106. In that case, Lakers bettors would lose on the point spread, as the Lakers winning margin didn't meet or exceed the number of points laid on the point spread.
Note that games in which the point spread number includes a half-point can't end in a push. As with many other sports, point spreads represent one of the most popular NBA betting options.
NBA Over/Under (Totals)
Totals bets (aka over/under bets) are the only wagers on a standard game line that doesn't pay off based on which team wins the game. A totals bet asks the bettor to wager on whether the final combined score of the game will finish over or under the line given by the sportsbook.
In our example above, the totals line is set at 211. If the combined final score ends up over 211 (e.g. 111-103, total 214), the over side of the bet wins. Any total under 211 results in a win for under bettors.
A total of exactly 211 results in a push. NBA totals generally pay close to even money on either side of the bet.
NBA Props
Proposition bets (aka prop bets or simply "props") allow you to bet on statistical outputs, rather than on which team will win or lose a game. Prop bets generally fall into two categories – player props and team props.
Betting on NBA player props presents the opportunity, for example, to wager on whether Golden State Warriors' superstar Stephen Curry will finish a particular game with over or under 30 points.
NBA team props function the same way, tasking the bettor with choosing whether a team will finish over or under a given number in various statistical categories. Here's an example of the team props offered by DraftKings Sportsbook on a game between the Philadelphia 76ers and the Boston Celtics:
At DraftKings and most other online sportsbooks, you can click on a game line to open up the menu of all available prop bets on that game.
Top Sportsbook Picks in Virginia
NBA Futures
An NBA futures bet is a wager on an event that spans longer than a single game. As the name suggests, you're betting on the likelihood of a particular statistic or accomplishment happening in the future of a set time period.
In general, futures bets come in two forms – team futures and player futures.
NBA Player Futures
A player future bet can involve betting on whether a particular player will win the NBA regular season MVP, or if a given rookie will win the rookie of the year award.
For example, let's take a look at FanDuel Sportsbook's preseason futures odds on which player will end the 2022-23 regular season as the league leader in points per game:
PRESEASON Futures Odds On The NBA Scoring Champion (2022-23 Season)

NBA Team Futures
NBA team futures odds present lines on which team will win a division, conference, the NBA Championship, and other benchmarks.
Let's take a look at how FanDuel's futures odds on the conference champions looked for the upcoming NBA Playoffs as of March 1, 2023:
March 2023 Futures Odds On The NBA Eastern Conference Champion
Boston Celtics (+115)
Milwaukee Bucks (+185)
Philadelphia 76ers (+650)
Cleveland Cavaliers (+1100)
Miami Heat (+2500)
March 2023 Futures Odds On The NBA Western Conference Champion
Phoenix Suns (+230)
Denver Nuggets (+300)
Los Angeles Clippers (+500)
Memphis Grizzlies (+800)
Golden State Warriors (+800)
NBA Parlays
Parlay bets allow you to combine multiple wagers into a single bet. For a parlay to win, every wager on the parlay ticket has to win.
For example, you could look at the NBA game times for a particular day and find four different over/under bets that you want to combine into a parlay.
Take a look at what your bet slip would look like if you looked at a day of upcoming games and created this parlay ticket at BetMGM:
Each individual bet could pay (-110) odds, but as a four-team parlay those payout odds could go up to (+1228). Remember, all four totals bets have to win in order for that (+1228) payout to happen.
A $100 bet would yield $1,228 in profit if this parlay wins. Keep in mind, however, that parlays are very tough to win. Even if you hit three out of four legs, this entire ticket loses.
NBA Same Game Parlays
A same-game parlay allows you to build a parlay with wagers from the same game. Only some bets from a given game are eligible to combine into a parlay ticket, however.
At BetMGM, for example, you can see the menu of eligible same-game parlay bets by clicking on the "BUILD PARLAY" tab at the bottom left of each game line:
After clicking on the "BUILD PARLAY" link, you can then choose from the available bets that come up on the menu. The link to build a same-game parlay is sometimes labeled as "Same-Game Parlay" or "SGP" at other online sportsbooks.
For more NBA betting tips for Same Game Parlays, check out the Props.com guide to SGPs.
NBA Live Betting
Live betting, aka in-game or in-play betting, allows you to wager on a game while it's in progress. While traditional pregame lines must be confirmed before a game begins, live betting allows you to wager on a game throughout the duration of the contest.
Look for the "Live" or "In-Play" indicator on a game at an online sportsbooks to see which games are in progress, and what live betting options are available on that game.
For example, let's say the pregame over/under on a game between the Lakers and Warriors is O/U 220. If both teams score a lot of points in the first quarter, the live O/U line might move up to 230 at the start of the second quarter.
For more on NBA betting strategies for live betting, check out the Props.com Guide To Live Betting.
NBA Fantasy (DFS)
Potnetial NBA bettors can find plenty of picks contests to play on daily fantasy sports sites. DFS sites offer Player Stat Pick'em games, Best Ball games, traditional salary cap games, season-long draft tournaments, and more.
DFA apps present a great option for playing NBA sports picks games in states that don't yet off legal sports betting. Check out our list of recommended daily fantasy sports apps and bonus offers below:
Our DFS App Recommendations
Where Can I Bet On The NBA?
NBA betting isn't just limited to in-person wagering at Las Vegas sportsbooks and other casinos.
Nearly half of U.S. states offer legal online sports betting. Even more states allow you to access legal daily fantasy sports sites.
Legal sports betting sites are regulated by gaming enforcement agencies in each state, which guarantees you'll always play on a fair, legal, and regulated site.
You'll find some of the best NBA odds available at the following online sportsbooks:
Best NBA Betting Sites
FanDuel Sportsbook
DraftKings Sportsbook
BetMGM
Caesars Sportsbook
BetRivers
Best NBA Daily Fantasy Sites
Here's a look at the best online sports betting/DFS options in your state:
Top Sportsbook Picks in Virginia
Highlights From The National Basketball Association 2022-23 Season
March 6, 2023 – With less than 20 regular season games remaining for each team, the Milwaukee Bucks (46-18), Boston Celtics (45-20) and Philadelphia 76ers (41-22) lead the Eastern Conference. The Western Conference's top three seeds at the moment are the Denver Nuggets (45-19), Memphis Grizzlies (38-25) and Sacramento Kings (37-26).
February 26, 2023 – Portland Trail Blazers star guard Damian Lillard scores 71 points in a 131-114 victory over the Houston Rockets. The 71 points are a season-high for any player on any team this season.
February 21, 2023 – The Boston Celtics (42-17), Milwaukee Bucks (41-27), and Denver Nuggets (41-18) enter the home stretch of the NBA season as the teams with the top records.
February 19, 2023 – Team Giannis defeats Team LeBron 184-175 in the 2023 NBA All-Star Game. Boston Celtics forward Jason Tatum wins the game's MVP award after breaking the NBA All-Star Game scoring record with 55 points.
February 9, 2023 – The Los Angeles Lakers acquire D'Angelo Russell in a three-team trade that sends former Lakers guard Russell Westbrook to the Utah Jazz. Westbrook never plays a minute for the Jazz and eventually signs with the Los Angeles Clippers.
February 8, 2023 – Brooklyn Nets superstar forward Kevin Durant gets traded to the Phoenix Suns, the biggest move yet in a wild period before the trading deadline.
February 5, 2023 – Brooklyn Nets star guard Kyrie Irving gets traded to the Dallas Mavericks, changing the landscape of the NBA.
Best Online Sportsbook Bonuses
Before you place an NBA bet, check out the Props.com guides to online sportsbook bonuses in the U.S.:
For more on betting basics, be sure to check out the entire library of Props.com Betting 101 guides, listed below:
NBA Betting Guide FAQ
FAQ
Is NBA betting legal in the U.S.?
Yes. You can find NBA betting lines at legal online sportsbooks like DraftKings Sportsbook, FanDuel Sportsbook, BetMGM, Caesars Sportsbook, and many others.
All of the sports betting sites listed above operate legally in the U.S. Beware of offshore/illegal online gambling sites, which aren't regulated and don't offer a safe platform on which to bet and store your betting bankroll.
Props.com offers a comprehensive database of which sportsbooks are legal, and in which states those sites operate.
Where can I find the best odds on NBA games?
Different sportsbooks can offer different odds on NBA games. The odds you might find on a game at DraftKings Sportsbook might be different at FanDuel Sportsbook, and Las Vegas odds might be different across different casinos as well.
Astute bettors shop for the best odds across multiple sportsbooks, and you would do well to do the same if possible.
How much should I bet on NBA games?
Betting on the NBA, or any sports, should be done for entertainment purposes only. You should never bet more than you're comfortable losing.
Legal online sportsbooks offer gambling problem resources like preset betting limits, problem gambling hotlines, and much more.
What is a (+1.5) spread in the NBA?
A (+1.5) point spread indicates that the underdog team will get 1.5 points added to its final score in terms of the point spread for betting purposes.
For example, let's say you see a line that reads Atlanta Hawks (+1.5) vs. Milwaukee Bucks. That bet gives you the option to take the Hawks with 1.5 points added to their final score, or the Bucks with 1.5 points subtracted from their final score.
What does (+200) on the moneyline mean?
A (+200) moneyline means you win $200 in profit for every $100 wagered, For example, if you saw Atlanta (+200) against Milwaukee, you could bet $100 on the Hawks and make $200 in profit if the Hawks win.
A "+" in front of a team's odds on the moneyline always indicates the underdog team in that game.
What does (-150) on the moneyline mean?
A (-150) moneyline means you have to bet $150 to win $100 in profit. For example, if you saw Milwaukee (-150) against Atlanta, you could bet $150 on the Bucks and make $100 in profit if the Bucks win.
A "-" in front of a team's odds on the moneyline always indicates the favored team in that game.