ParlayPlay
Props.com DFS expert Jeremy Olson tested the ParplayPlay app, and the following review comes from his hands-on experience with the product.
ParlayPlay Quick Facts
Daily fantasy sports (DFS) sites are nothing new and have been around since 2007. That said, ParlayPlay's founders wanted to differentiate their site from the pack. The result: a unique DFS hub that combines parlays and fantasy props, offering the opportunity to win cash prizes.
Launched in 2021 and available in 27 states, ParlayPlay sees you make predictions on two or more player props. Just like a parlay bet, you need to get every prediction right to win money. This concept sounds interesting, but is it worth your attention when higher-profile DFS sites are available?
We'll answer this question in the following ParlayPlay review, which covers its unique aspects, signup process, and company info. This review also discusses the platform's new player bonus and required ParlayPlay bonus code. free to play games
ParlayPlay Promo September 2023
What Makes ParlayPlay Unique from Other DFS Sites?
ParlayPlay contests offer an interesting style of gameplay compared to most daily fantasy sites. As covered below, it also stands out for its variable payout system, no deposit bonus, and loyalty program.
Combination of Props and Parlays
The typical DFS site sees you pick a lineup and enter it into a cash game or tournament. Although entertaining, traditional DFS play can pit you against skilled pros, who win the vast majority of the time.
ParlayPlay offers a refreshing break from the norm by seeing you compete against the operator and your own knowledge. You play here by choosing 2–4 player props in a parlay-style format. You'll receive a variable payout (discussed next) based on the number of correct picks.
Contests are available for the following sports and leagues:
Baseball (MLB)
Basketball (NBA & college)
Football (NFL & college)
Hockey (NHL)
MMA (UFC)
Soccer (Champions League, EPL, LaLiga & MLS)
You can play two types of games for any of these sports, including "More/Less" and "Hit It." With More/Less, you decide if a player will have more or less on a certain stat. For example, you might pick Josh Allen to have more than 275 passing yards.
Hit It involves choosing two players and deciding what stat range they'll end up with. For instance, ParlayPlay could offer the following scoring ranges for Steph Curry:
0-20 points
21-25
26-29
30-33
34-37
38+
Payouts Vary Based on Multiple Factors
You essentially decide what kind of payouts you'll chase at ParlayPlay. Available prizes vary based on the contest and/or how many picks you make.
More/Less pays more when you're able to correctly predict more player props. Of course, extra picks add more risk because you have to get every prediction right to win. Nevertheless, you may feel like the risk is worthwhile based on the increased payouts for three or four correct guesses. Here are the prizes for More/Less contests:
Two correct picks = 3x payout
Three picks = 5x
Four picks = 10x
Hit It doesn't have as much win potential as More/Less, but it also offers more leeway. You can still win money even if you only get one out of two point ranges right. Here's the Hit It contests payout structure:
Two correct point ranges = 6x payout
One correct point range = 2x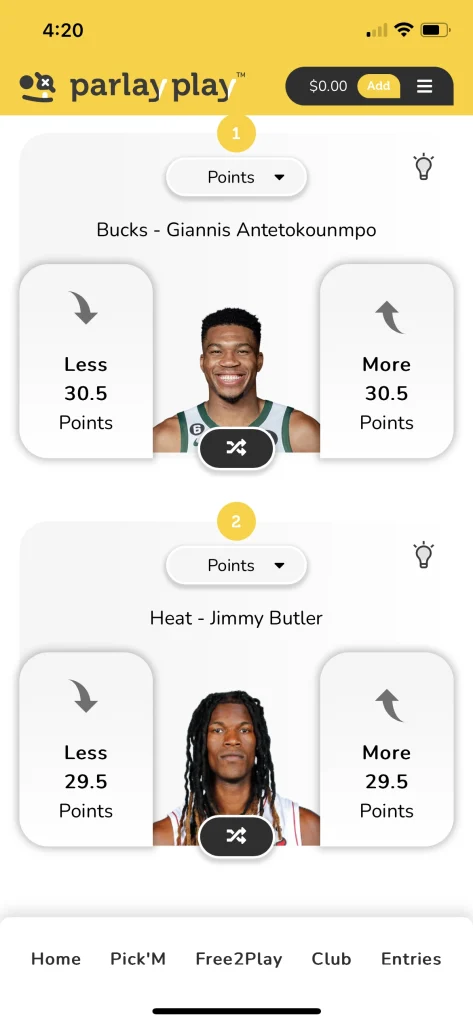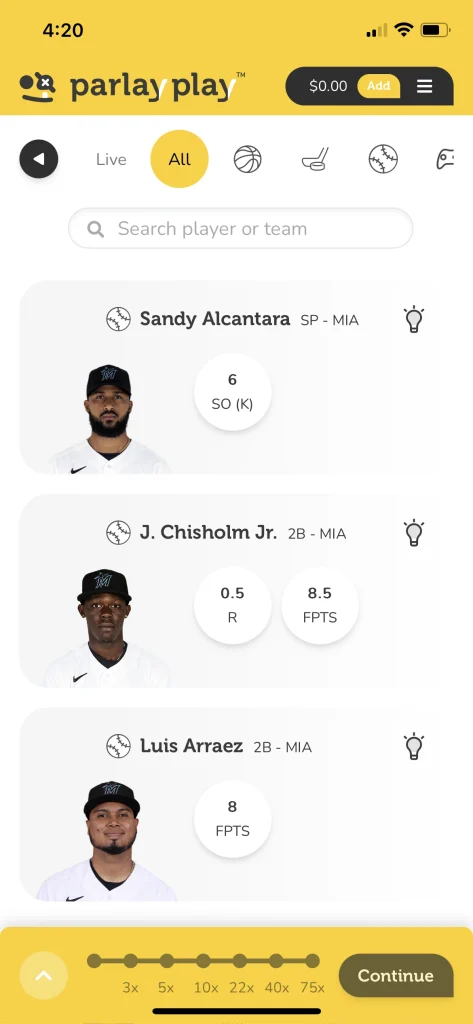 ParlayPlay No Deposit Bonus
Most DFS sites offer some kind of signup bonus to new players. ParlayPlay is no different because it also features a new player bonus. The ParlayPlay deposit bonus matches your first deposit by 100% up to $100.
This site is unique because it also offers a no deposit bonus (a.k.a. risk-free entry). You'll receive a $5 ParlayPlay no deposit bonus just for registering and using the ParlayPlay promo code PROPS. The no-deposit deal gives you $5 in risk-free entries and a chance at winning without risking anything.
As for the ParlayPlay deposit bonus, you need to roll the bonus funds over 1x before cashing them out. 1x rollover is as light as wagering requirements get in the DFS industry. Once again, remember to use the ParlayPlay signup code PROPS to qualify. The ParlayPlay new player bonus includes both a $5 risk-free entry and a 100% match deal up to $100.
Parlay Club
The Parlay Club is a loyalty program that gives you rewards for completing challenges. You'll receive a different reward for every completed mission. You start by verifying your email, using the $5 no deposit bonus, and referring a friend. You'll then open up Level 1, where you can refer more friends for cash prizes.
Subsequent levels offer prizes like a free t-shirt or entry into a signed jersey giveaway. You'll also gain new abilities with higher statuses, such as being able to create friend groups.
August 2023 ParlayPlay Welcome Bonus
How to Get Started at ParlayPlay
You can start playing at this DFS site by completing the following steps:
Click one of the "CLAIM OFFER" or "PLAY NOW" links in this review.
Select the "Join Now" option on the homepage.
Ensure that you're of your state's minimum age (read the print underneath "Create Account").
Select the Create Account option.
Choose a username and password.
Enter the "PROPS" signup code for the ParlayPlay new player bonus.
Fill in your name, birth date, email, and phone number.
ParlayPlay will text you a code; enter this code on the signup sheet.
Collect your $5 no-deposit bonus and start playing on your ParlayPlay account.
Can You Download a ParlayPlay Mobile App?
ParlayPlay currently offers an iOS app, but not an Android app. You can download the ParlayPlay app through one of two ways:
Visit ParlayPlay's homepage and hit the App Store button at the bottom. This step will take you to the ParlayPlay download at the App Store.
Open the App Store and run a search for ParlayPlay.
Of these two options, we like the first route for convenience sake. Our staff found this method just a little faster for locating and downloading the app.
On another note, we'd like to see a ParlayPlay Android app come out soon. The site announced that they'd be releasing an Android version, but we don't see it at the time of this ParlayPlay review.
Is ParlayPlay Legit?
Having only been around since 2021, this daily fantasy site is still relatively new. Therefore, you may wonder what trust factors this operator offers and if it's safe to deposit here. We'll go through why you can, or possibly can't, trust ParlayPlay with your money.
Licensed In U.S. States
ParlayPlay is available in 27 states (covered later) and holds licenses in some of these jurisdictions. It passed vetting and application processes to obtain licenses where needed. Additionally, it must abide by the rules set forth by each jurisdiction. For example, the Colorado Division of Gaming and Illinois Gaming Board are a couple of licensing authorities that oversee ParlayPlay.
Why Should I Trust ParlayPlay?
Again, ParlayPlay is relatively young and doesn't have much history. The history it does have, though, has mostly been good so far. ParlayPlay currently maintains a 4.7/5 App Store rating thanks to favorable reviews. A quick look at these reviews of ParlayPaly suggest fast payouts, a smooth-running app, and good customer support.
How Do I Get Paid When I Win?
Only one ParlayPlay cash-out method is available right now. You can withdraw money via ACH (eCheck) for amounts ranging from $30 to $500. The typical wait time on a ParlayPlay cash-out is 3–5 business days. As for deposits, you can fund your account using Visa, MasterCard, or Discover.
ParlayPlay Bonuses September 2023
Who Runs ParlayPlay?
It's always good to know the company and individuals behind a DFS site before depositing. That said, we'll go through ParlayPlay's parent company, key executives, and legal status below.
Who Founded ParlayPlay?
The trio of Florens Roell, William Pullen, and Olivier Go launched ParlayPlay. None of the three had experience in the gaming and betting industry prior to launching their DFS venture. You can see a quick synopsis of their most-recent professional experiences below:
Florens Roell – 5 years at Aircall, including as a Director of Sales for North America.
William Pullen – 8 years at Olo as a software engineer.
Olivier Go – 4 years at KPMG as a data analytics scientist.
ParlayPlay States
This DFS site currently operates in 27 states, including the following:
Alabama
Alaska
Arkansas
California
Colorado
Florida
Georgia
Illinois
Kansas
Kentucky
Massachusetts
New England
New Mexico
North Carolina
North Dakota
Oklahoma
Oregon
Rhode Island
South Carolina
South Dakota
Texas
Utah
West Virginia
Wisconsin
Wyoming
Canada (minus Ontario)
ParlayPlay mainly operates in markets that allow DFS but don't have licensing requirements. This model allows the company to save money on licensing fees and associated costs. However, it does operate in some jurisdictions that require a license.
September 2023 ParlayPlay Sign-Up Promo
Click Here to Join ParlayPlay and Get a 100% Deposit Match up to $100!
State-By-State Analysis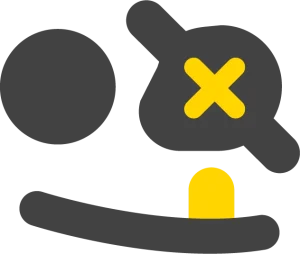 CLAIM OFFER
Bonus Code
Available In
AK, AL, AR, CA, CO, FL, GA, IL, KS, KY, MA, NC, ND, NE, NM, OK, OR, RI, SC, SD, TX, UT, WI, WY
Alabama:Legal
Alaska:Legal
Arkansas:Legal
California:Legal
Colorado:Legal
Florida:Legal
Georgia:Legal
Illinois:Legal
Kansas:Legal
Kentucky:Legal
Massachusetts:Legal
Nebraska:Legal
New Mexico:Legal
North Carolina:Legal
North Dakota:Legal
Oklahoma:Legal
Oregon:Legal
Rhode Island:Legal
South Carolina:Legal
South Dakota:Legal
Texas:Legal
Utah:Legal
Wisconsin:Legal
Wyoming:Legal
Click Here to Join ParlayPlay and Get a 100% Deposit Match up to $100!