Looking for the best World Cup bets today? You're in luck! In this article, the Props crew will outline their top World Cup picks for every day of the event.
Below are our best World Cup bets today. These top picks could be anything from the moneyline, total, double chance, or props. Be sure to check our World Cup 2022 predictions article to view our futures bets and overall predictions for the event.
Best World Cup Bets Today: Saturday, Dec. 3
RISK-FREE BET: USA To Advance vs. Netherlands (+200)
FanDuel did this on Tuesday, and they are doing it again for the USA match on Saturday. Honestly, this is a no-brainer. Choose the USA to advance for +200 odds. If that happens, then you'll double your money. If it doesn't happen, then you'll get your stake back in the form of a risk free bet.
Details below:
If you do not have a FanDuel account, you can sign-up through our exclusive link here or in the banner below.
If the United States doesn't pull it out, then we will use the free bet credits on our best World Cup bet for Sunday.
The Pick: USA to advance vs. Netherlands | +200 at FanDuel Sportsbook
More World Cup Bets & Predictions
United States vs. Netherlands Predictions, Odds & Picks – Saturday, Dec. 3
Top 5 World Cup 2022 Predictions: Will England Find Its Form?
Where To Place World Cup Bets
The following sportsbooks have more than enough options to satisfy your NBA betting needs. As outlined before, always shop around for the best price when it comes to NBA bets.
On top of that, our team found the best available bonus offers at each listed sportsbook. If you are new to any of these betting apps, be sure to use our exclusive links and promo codes to claim your free bets:
---
Best World Cup Bets Today: Friday, Dec. 2
Switzerland-Serbia Draw (+230)
We cashed 2.2 units on the Belgium-Croatia draw on Thursday, and we are looking at a similar angle on Friday.
The Group G standings play a big role here, so let's take a look at the current standings:
1st: Brazil – 6 points (won group)
2nd: Switzerland – 3 points (win or draw and advance)
3rd: Cameroon – 1 point (-1 goal differential)
4th: Serbia – 1 point (-2 goal differential)
Switzerland can control its own destiny, advancing with a win or draw. This was the same situation for Croatia on Thursday, and we noticed the Croatian side playing for a draw throughout the match (which ended 0-0). It wouldn't be surprising for the Swiss to enact a similar strategy. After all, they have the defense to pull it off.
Switzerland shut out Cameroon in its first World Cup match, and they nearly did the same against an aggressive Brazil side. The Swiss gave up a goal in the 83rd minute of that contest, but they did a great job of absorbing pressure throughout.
Look for Switzerland to sit back and defend while advancing on a draw.
The Pick: Switzerland-Serbia draw | +230 at BetMGM Sportsbook
Best World Cup Bets Today: Thursday, Dec. 1
Belgium-Croatia Draw (+220)
Group F is wide open for the taking, except for Canada — which has been eliminated. Here are the standings:
1st: Croatia – 4 points
2nd: Morocco – 4 points
3rd: Belgium – 3 points
4th: Canada – 0 points
As far as this match goes, Croatia needs a win or draw to advance while Belgium needs an outright win. The Belgian squad entered this tournament as the second-best team according to the FIFA rankings. However, they haven't looked great in two matches, squeaking past Canada before losing to Morocco. There are also rumors of discontent and bickering among Belgian players. Will that be a motivating factor or cause them to deconstruct?
Regardless, there's value in the draw here. Even though Croatia has shown better form in two World Cup matches, these are two evenly matched sides. Belgium still has playmakers up front even though it has had trouble scoring so far. Croatia will defend, defend, defend…especially if this match is tied in the second half. Remember, Croatia is content with a draw here, so it could play into that if there's no separation after 60-70 minutes of play.
The Pick: Belgium-Croatia draw | +220 at BetMGM Sportsbook
Best World Cup Bets Today: Wednesday, Nov. 30
Saudi Arabia +0.5 vs. Mexico (+115)
We are heading back to BetMGM for this wager. Click on this game then select "handicaps" from the menu bar. Scroll down to "2 way handicaps" and you'll see Saudi Arabia +0.5 with +115 odds.
Some people think Saudi Arabia's 2-1 victory over Argentina was a fluke. Yes, the Argentinians had several goals called back, but Saudi Arabia played with them every step of the way to close that game out. Granted, Saudi Arabia took a step back in a 2-0 defeat against Poland, but the Green Falcons are capable of getting results in the World Cup.
In fact, the Saudi Pro League shut down in mid-October to get its players ready for the World Cup. That's an entire month earlier than the English Premier League's final match prior to the tournament. That seemed to pay dividends for Saudi Arabia in the first match against Argentina, but the Green Falcons need to take it to the finish line against Mexico to give themselves a chance.
Mexico can technically still advance in the Knockout Stage, but El Tri will need some longshot scenarios to play out in order for that to happen. Saudi Arabia would be guaranteed through to the next round with a victory. A draw would still give the Green Falcons a chance, but Poland would need to beat Argentina outright for the Saudis to move on.
Motivation seems to be on Saudi Arabia's side here. Getting plus-money on the +0.5 spread seems like a solid wager.
The Pick: Saudi Arabia +0.5 | +115 at BetMGM Sportsbook
Best World Cup Bets Today: Tuesday, Nov. 29
RISK-FREE BET: USA moneyline (-105) vs. Iran
This is a fantastic bet, as FanDuel is running a risk-free promotion if you bet on the USA moneyline. See below: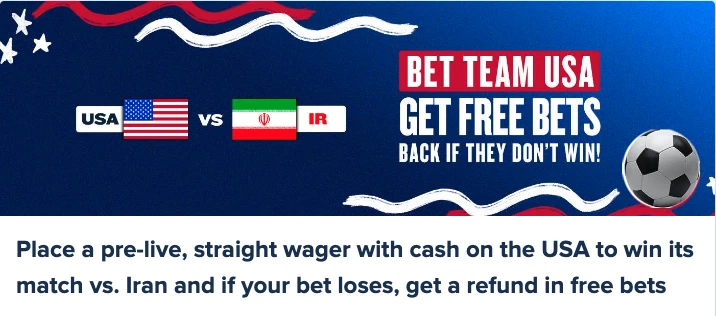 You can bet anywhere from $5 minimum to $100 maximum and get refunded in risk-free bets if USA loses or ties. This is a no-brainer, and we are taking full advantage of this bonus offer.
If you do not have a FanDuel account, you can sign-up through our exclusive link here or in the banner below.
The United States needs a win to get into the next stage of the World Cup. A draw won't cut it, so you know these guys will be pushing to the bitter end to secure victory.
Even though USA only has one goal to its name in two World Cup appearances so far, this squad stands out as the more talented side.
This is a combination of talent, motivation, and well…a risk-free bet at FanDuel!
The Pick: USA moneyline (risk-free) | -105 at FanDuel Sportsbook
Best World Cup Bets Today: Monday, Nov. 28
Brazil ST Richarlison Anytime Goalscorer (+125)
Richarlison scored two goals for Brazil in the opening match against Serbia. As it turns out, that's kind of his thing, posting a goal in each of his last three starts with the national team. Richarlison has five total goals over that span.
There's a good chance Richarlison finds the back of the net once again while facing Switzerland on Monday. Brazil will continue to play very aggressively, and Richarlison will be the direct beneficiary of that style.
Neymar will not play in this match. He has served as the penalty taker for Brazil, and that role could easily slide over to Richarlison, which enhances his already high goalscoring potential.
Let's grab our first World Cup prop bet of this tournament and take Richarlison anytime goalscorer for +125 odds at BetMGM.
The Pick: Richarlison Anytime Goalscorer | +125 at BetMGM Sportsbook
Best World Cup Bets Today: Sunday, Nov. 27
Spain-Germany: Draw (+275)
Spain crushed Costa Rica in its first match of World Cup 2022. Let's not overreact to that. Spain is a very good team, but that runaway win probably shouldn't factor into our handicapping too much. That's especially true with the Spanish side stepping up in class against Germany on Sunday.
If you recall, we correctly picked against Germany in its first match against Japan (lost 2-1). Now the German squad will fight for its life in the World Cup in this tricky matchup with Spain.
We mentioned that Germany could be somewhat overrated heading into this event, but this is a nice buyback opportunity after a poor showing. You better believe Germany will give everything it has to stay alive in this tournament. While Spain is the better overall side, it's definitely close, as Germany ranks 9th in FIFA standings and Spain is 7th.
I believe Germany will grind out a point here and get the draw, which checks in at strong value with +275 odds at BetMGM.
The Pick: Spain-Germany Draw | +275 at BetMGM Sportsbook
Best World Cup Bets Today: Friday, Nov. 25
USA to score a goal vs. England (+100)
This is the "Lion's Boost" at BetMGM, and it's too good to pass up. Make sure you sign-up for a BetMGM account to take advantage of this offer by using our exclusive world cup "bet $10 to win $200" banners above and below this section!
To be honest, we were going to take both USA and England to score in this match. The odds for that were hovering around -165 at BetMGM. It's a good thing we waiting until matchday to post our best bet, as there's so much value in this boost.
This bet had -159 odds, and it's boosted to +100 on BetMGM.
England won its first game in dominant fashion but still allowed two goals. We should see a revised USA plan of attack (maybe Gio Reyna on the pitch) this time around. In short, it feels like this young USMNT squad will get better (on offense at least) as they go in this tournament and mesh together.
Let's bank on the red, white, and blue to put one in the back of the net!
The Pick: USA to score a goal | +100 at BetMGM Sportsbook
Best World Cup Bets Today: Thursday, Nov. 24
Portugal -1.5 (vs. Ghana)
Happy Thanksgiving! We are coming off a nice win on Wednesday, taking Japan +1.5 against Germany. With a gutsy performance, Japan pulled out a 2-1 lead. That gives us a 2-1 record on World Cup bets while up 1.15 units.
We are not expecting an upset in this Portugal-Ghana match on Thursday. In fact, this one could play out similarly to France's 4-1 drubbing of Australia on Tuesday.
As you can read in our World Cup Odds & Rankings preview piece, we are extremely high on Portugal. This side is so much more than Cristiano Ronaldo, although it doesn't hurt to have a player of that caliber on your side. Portugal ranks 9th in the FIFA rankings and fifth in transfer value heading into the World Cup. Their players are valued higher than Argentina and Spain.
Ghana, on the other hand, is 61st in the FIFA rankings. That's the worst mark of any World Cup side. Ghana hasn't been great against World Cup sides this year either, losing to Morocco (0-1), Japan (1-4), and Brazil (0-3). As you can see, Ghana has gotten routed whenever they step up in competition. That could be the case on Thursday.
So here's how to take Portugal -1.5 on BetMGM. Essentially, Portugal needs to win by two or more goals for this bet to cash:
Make sure you have a BetMGM account.
If you are new to BetMGM, redeem the World Cup bonus offer below: bet $10 to win $200.
Click the "Soccer" tab and then click on Portugal-Ghana match.
On the match page, click the "handicaps" tab.
From here, you can scroll down to 2-way handicap to find Portugal -1.5 for +115 odds.
Let's pick up another winner!
The Pick: Portugal -1.5 | +115 at BetMGM Sportsbook
Best World Cup Bets Today: Wednesday, Nov. 23
Japan +1.5 (vs. Germany)
This is a bet on the two-way handicap, which is essentially like taking the spread. If Japan does not lose by two or more goals, then this bet cashes.
Germany has more talent on its side, and that's evident in the World Cup odds and rankings heading into this tournament. Let's compare these two sides:
FIFA Rank: Germany 11th, Japan 24th
Odds implied rank: Germany 9th, Japan 23rd
Still, Japan is a team to watch in this World Cup. As noticed in a Friendly against the United States a few months ago, Japan loves to press and create chances off turnovers. It has been a successful approach to this point, and Japan runs it very well as a team. That propelled Japan to beat World Cup sides United States (2-0), South Korea (3-0), Ghana (4-1), and Australia (2-0) this calendar year. A 0-1 loss to Brazil doesn't look too bad either.
We noticed what a team-based approach can do when Saudi Arabia beat Argentina on Tuesday. Japan will make Germany earn this one with a hard-fought battle. The draw is live at +375, but let's roll with Japan +1.5 for -160 odds at BetMGM.
The Pick: Japan +1.5 | -160 at BetMGM Sportsbook
Best World Cup Bets Today: Tuesday, Nov. 22
France to Win to Nil (-120)
In case you are new to soccer betting, this wager is selecting France to win and hold Australia to zero goals.
France won the 2018 World Cup, and they check in with the second-best odds to repeat in 2022. According to our World Cup Odds & Rankings article, France ranks fourth in the FIFA rankings and second in the cumulative value of its players. If it wasn't for injuries, France could have an even better team, but it still has some of the best talent in this competition.
If you recall, we have a futures bet on France and Denmark to move out of this group. Both squads should take a step towards that on Tuesday, but France is the heavier favorite with -375 odds on the three-way moneyline.
Australia doesn't score much. If we look at the last four World Cup Qualifiers, Australia only scored a goal in one of those matches. A few of those came against World Cup sides like Japan and Saudi Arabia. What's going to happen when Australia steps up in competition against France?
France should put Australia on its back foot this entire match, and it will be difficult for the Aussies to move anything forward.
Let's go ahead and take France to Win to Nil for -120 odds at BetMGM.
The Pick: France to Win to Nil | -120 at BetMGM Sportsbook
Best World Cup Bets Today: Monday, Nov. 21
USA or draw & Over 1.5 total goals (+105)
This will be an extremely tight matchup in Group B between the United States and Wales. In fact, this opening contest could go a long way in deciding who advances to the knockout stage.
Even though the United States did not look good in the friendlies leading up to this event, we still maintain that they have enough talent to beat Wales and advance to the next round. In fact, our best World Cup bet of the group stage involves USA — taking England to finish 1st and USMNT to place 2nd in Group B. That has +150 odds at BetMGM, which represents solid value.
There's some plus-money value on this USA-Wales match as well. The United States has a small edge here, so we will take them to win or draw on Monday. Pair that with over 1.5 total goals for nifty +105 odds. You can find this under "Double Chance and Total Goals" section after clicking this match on the BetMGM menu.
The Pick: USA or draw & Over 1.5 total goals | +105 at BetMGM Sportsbook