Admit it: Every year the Kentucky Derby odds come out and you make an obligatory bet, but you've thought about doing more. You've always been a little horse racing-curious. When you walk into the sportsbook and you see the old guys camped out in their cubbies clocking Keeneland at 11 a.m. on a Las Vegas Friday, you secretly think they've got it all figured out, don't you?
You're right. 
The Sport of Kings is what separates the degenerate men from the degenerate boys. It's the 18-year Islay Scotch of betting. The foie gras of wagers. Smoky. Mysterious. Maybe a little off-putting at first. The learning curve can be steep. The materials can be intimidating. But the ponies also provide dozens of chances a day to bring home a 30-1 long shot at a speed with which no 15-team parlay could ever hope to match.
So let's dive into 2022 Kentucky Derby odds, and maybe get you from a once-a-year horse bettor up to a couple-summer-days-at-a-nice-track-per-year horse bettor.
Kentucky Derby Odds and Post Positions
| | | | | |
| --- | --- | --- | --- | --- |
| Post | Horse | Jockey | Trainer | Odds |
| 1 | Mo Donegal | Irad Ortiz | Todd Pletcher | 10/1 |
| 2 | Happy Jack | Rafael Bejarano | Doug O'Neill | 30/1 |
| 3 | Epicenter | Joel Rosario | Steve Asmussen | 7/2 |
| 4 | Summer Is Tomorrow | Mickael Barzalona | Bhupat Seemar | 30/1 |
| 5 | Smile Happy | Corey Lanerie | Kenneth McPeek | 20/1 |
| 6 | Messier | John Velazquez | Tim Yakteen | 8/1 |
| 7 | Crown Pride | Christophe Lemaire | Koichi Shintani | 20/1 |
| 8 | Charge It | Luis Saez | Todd Pletcher | 20/1 |
| 9 | Tiz the Bomb | Brian Hernandez | Kenneth McPeek | 30/1 |
| 10 | Zandon | Flavian Prat | Chad Brown | 3/1 |
| 11 | Pioneer of Medina | Joe Bravo | Todd Pletcher | 30/1 |
| 12 | Taiba | Mike Smith | Tim Yakteen | 12/1 |
| 13 | Simplification | Jose Ortiz | Antonio Sano | 20/1 |
| 14 | Barber Road | Reylu Gutierrez | John Ortiz | 30/1 |
| 15 | White Abarrio | Tyler Gaffalione | Saffie Joseph | 10/1 |
| 16 | Cyberknife | Florent Geroux | Brad Cox | 20/1 |
| 17 | Classic Causeway | Julien Leparoux | Brian Lynch | 30/1 |
| 18 | Tawny Port | Ricardo Santana | Brad Cox | 30/1 |
| 19 | Zozos | Manuel Franco | Brad Cox | 20/1 |
| 20 | Ethereal Road | Luis Contreras | D. Wayne Lukas | 30/1 |
| | Rich Strike | Sonny Leon | Eric Reed | 30/1 |
| | Rattle N Roll | James Graham | Kenneth McPeek | 30/1 |
Assessing the Favorites
There are two true short prices in this year's field: the favorite, Zandon (3-1), the second choice Epicenter (7-2). Two other horses also are in the mix at the top of the Kentucky Derby odds board in Messier (8-1) and Taiba (12-1). 
Over the last 10 years, morning line favorites have finished first six times, second twice, third once and off the board once (and that once was in Maximum Security's 2019 disqualification). So if you're going to use one of the two favorites, it's a reasonable play. And if you're only choosing one, an obvious place to start would be Epicenter, who dusted Zandon once already in the Risen Star Stakes at Fair Grounds in February.
It was like watching Ja'Marr Chase getting loose past a middle school cornerback:
In fact, Epicenter torched four of Saturday's rivals in that race: Zandon, Pioneer of Medina, Smile Happy and Tawny Port.
"He's the most likely winner of the race," said Ed DeRosa, vice president of content and product development at Horse Racing Nation. "Whether you're looking at what races a horse has won, or if you're a speed figure handicapper, he checks both boxes."
Adding to Epicenter's Derby allure: He followed up his Risen Star Stakes triumph with a second straight win in last month's Louisiana Derby, where he beat Pioneer of Medina again and another Derby hopeful, Zozos.
"Epicenter, with those two big back-to-back wins, including beating Zandon head to head — I just think that kind of leads more in his direction of being the post-time favorite," DeRosa said.
If there's a knock on Epicenter, it's that he had it easy in those two races, never really challenged or in any trouble. You know, sort of like your older brother who could do no wrong, but now that he got a taste of real life, he's a twice-divorced ex-cop who got booted off the force because he couldn't pass the physical standards test anymore. Now who's mom's favorite, Chet? 
Zandon, on the other hand, came through a mile of traffic in the Blue Grass Stakes to rally from second-to-last to first-and-not-really close. Zandon has a chip on his shoulder. He just keeps coming, like a Terminator who in his downtime enjoys apples and sugar cubes.
Hot on the Heels
Messier, the California-based speedball, won the Robert B. Lewis by 15 lengths, a performance that'd make your eyes bug out of your head like a cartoon wolf looking at a pretty lady. But he came back in the Santa Anita Derby and lost to Taiba by 2.5 lengths. 
The latter has won all his races. The problem: There have only been two of them. The last time a horse won a Kentucky Derby while only having two starts under his belt, there were Civil War veterans still in their 30s. Then again, the year before Leonatus pulled off that feat, Apollo won the 1882 Derby without having ever raced as a 2-year-old. That wouldn't happen again until 2018 with Justify, so maybe we're just on a 140-year cycle with these things.
"You have to acknowledge that what [Taiba's] shown to date is as good as the talent of any other horse in the race, but [the Kentucky Derby] is not just a time trial," DeRosa said. "It's a race with 19 other 3-year-olds going a mile and a quarter. When it comes to training horses to compete at this level, in this race in particular, that preparation is absolutely a part of the equation as much as the raw talent. And for that reason, I think he'll be the fourth choice in this race. I think he's going to be overbet and I'm not willing to take the price." 
Updated @kentuckyderby fair odds line now in program order with morning line. The latter is my predicted chances of winning; the former is the track's prediction of how betting will go. Thank you to @ClimaxStallions for sponsoring this content! pic.twitter.com/Uy0f6r4Fb8

— Ed DeRosa (@EJXD2) May 2, 2022
The Baffert Factor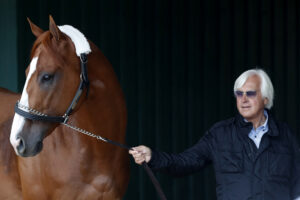 Bobby Baffert has been a bad boy. The supertrainer earned himself a two-year suspension from Churchill Downs after Medina Spirit — last year's nominal Kentucky Derby winner — tested positive for a banned substance.
In Baffert's absence, former assistant Tim Yakteen takes over training for two horses that were in Baffert's stable. Those two: Taiba and Messier. If your typical Derby play is to find the Baffert horses and blind-fire, Yakteen is your guy.
At least you're likely to get a slightly better price on those two horses, since most of the public bettors who blindly fire on Baffert horses come Derby Day likely aren't hip to the whole saga. If those bettors lay off when they don't see Bob's name in the program, that should help keep the odds honest on Taiba and Messier.
The Next Ones Up
In the Wood Memorial, Mo Donegal made up a huge amount of ground. He came from the back of the pack to settle into second. It looked like that was all he'd get, but somehow in the final sixteenth of a mile, he found a gear, closed the gap and stole the race. The knock here is Mo Donegal has drawn post 1, and being inside on the Kentucky Derby has the distinct disadvantage of putting you in the spot 19 other surly, psychotic horses want to be: on the rail. You better be quick, or you better be tough. Your third choice is you better enjoy a lovely view of a dozen majestic horse butts.
Mo Donegal lost to White Abarrio in the Holy Bull, who just hung tough the whole race, then ran down Charge It and Simplification in the Florida Derby. There are legit questions about whether White Abarrio can handle the longer distance of the Kentucky Derby. But if this horse is around his morning line of 10-1 on race day, well … he might not win, but he could make the exacta real interesting. 
The Bombs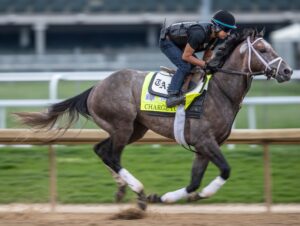 Two horses sitting at 20-1 on the Kentucky Derby odds morning line are lightly raced and have been improving: Smile Happy and Charge It. Of the two, the former has been in against tougher competition, finishing second to both Epicenter and Zandon. Will you get them at this fat price on Derby Day? Maybe not. But if they're in the neighborhood, it's a swing worth taking.
No horse is more than 30-1 on the morning line, but DeRosa likes a pair of ponies far down the Kentucky Derby odds board. 
"If you ran this race 100,000 times, Epicenter wins most of them. But if you're trying to push an edge, I think Pioneer of Medina and Tiz the Bomb are the ones that can outrun their odds," he said. "I'm playing it with the two long shots. If Zandon and Epicenter run well with one of my prices, hopefully I'm in good shape."
Kentucky Derby Predictions
Best Bet to Win: Epicenter
Best Price: White Abarrio
Most Intriguing Wild Card: Taiba
The Bomb: Smile Happy
The Play: $10 exacta, Epicenter and Zandon, with White Abarrio, Smile Happy and Charge It. $60 bet.