JockMKT
Ever wanted to combine a love of trading stocks or cryptocurrencies with daily fantasy sports? If so, Jock MKT should interest you because it's a combination of the stock market and DFS. You buy and sell shares of players based on their perceived value. Much like with stocks and crypto, you want to buy low and sell high as sporting events rage on.
We'll note right away that Jock MKT is more complex than traditional DFS apps. But learning Jock's trading system is worthwhile if you're tied of the same thing and seeking an innovative DFS platform.
Our Jock MKT review will explain more on how trading players works. It also discusses Jock Market's available contests, bonus, payment methods, available sports, and legal states. Regarding the latter, the Jock MKT mobile app is legally available in 34 states. Therefore, you have a solid chance of accessing and using the Jock MKT app in your area.
How Do Jock MKT Contests Work?
Jock MKT's founders launched this company in 2020 with a unique concept: blending daily fantasy sports with stock trading. The result is an interesting combination of live trading and contests. The featured games here involve buying and selling players while trying to lock in profits. You'll find that these stock exchange-style contests are unlike anything else in daily fantasy.
In addition to trading, Jock MKT offers more-traditional pick'em games and tournaments. You can see more on the different contests and how Jock MKT works in the sections below.
Jock MTK Market Contests
This daily fantasy sports site offers three main types of contests, including the following:
Market – Buy and sell players, with payouts coming after an event concludes.
Contest (aka, tournament) – Pay a fixed buy-in to compete against other users while trying to collect the most chips.
Pick-em – Select the over or under on player stats and win a prize with enough correct picks.
IPO games – Buy shares of players in an initial public offering with no further trading afterward.
The above descriptions provide a brief overview of what to expect from each game. However, you'll likely need more info from the following sections to fully understand these contests.
Markets
Markets are similar to the stock market because they require you to buy and sell shares of players. They cover games lasting within a single day or an entire week. You can jump in and out of markets at any point—similar to a poker cash game. Therefore, your potential winnings or losses are theoretically unlimited in these contests.
Player values are available before a market game begins and throughout the event as well. These profiles show a player's price, current fantasy points, game logs, and projected points. They also display a break-even rank for how a player must perform to match the current price. The two main parts of cash markets include:
IPO – The market opens before the games and offers an initial player offering. The IPO phase is where you bid for player shares and start trading. You'll successfully receive shares by offering the highest IPO prices.
Live trading – After the games kick off, you can start making player trades. In-game prices vary as athletes begin racking up stats in their respective contests. A player's price rises or falls based on how they're performing in the moment. Individual final player rankings and prices are based on end stats for their respective games.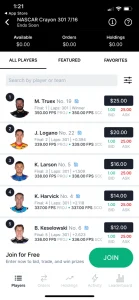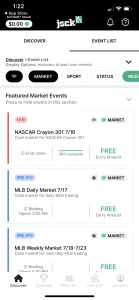 Pick'em
Jock MKT features pick'em games like plenty of other daily fantasy sites. Pick'em involves deciding whether players will go over or under a certain stat line. You're building lineups out of 2 or more players and trying to beat the house (rather than fellow market traders). You can win up to 15x your stake with pick'em.
IPO
Separate from IPO's in markets, this game type require you to pay a buy-in. You participate in an initial player offering without the live trading afterward. You'll use chips to bid on and acquire players while building your lineup. Once the IPO is finished, you sit back and watch the action with no further trading involved.
Jock MTK Tournaments (Contests)
A Jock MKT contest (aka, tournament) requires you to pay a buy-in. Much like a poker tournament, you and other entrants each start with the same number of chips. A contest awards cash prizes to the top finishers, with the first-place payout going to whoever has the most chips.
You use chips to buy and sell players like with other game types at Jock MKT. Therefore, tournaments and live trading have similarities in this regard. But a key difference with tourneys is that your potential losses are limited to the buy-in. Contrast this to live trading, where there's no cap on losses.
Jock MKT Promo Code
The Jock MKT bonus matches your first deposit by 100% up to $200. You can claim this offer by using code [CODE] and depositing $20 or more.
This welcome promotion carries 5x wagering requirements on the bonus amount. Here's an example on what you'd need to do before withdrawing bonus funds:
You deposit $60.
60 x 5 = $300
You must wager $300 before cashing out the remaining bonus.
No other Jock MKT bonuses are available at this time. But the Jock MKT promo code "PROPS" and $200 deposit match deal should get you off to a good start.
How To Claim The Jock MKT Bonus Offer
You can qualify the Jock MKT deposit bonus by following the steps below:
Select a "CLAIM OFFER" link on this page.
Download Jock MKT's app on an Android or Apple iOS device.
Sign up for a new account by entering your name, email, and password.
Scan your driver's license or enter the details manually (this step can be done later).
Visit the cashier section, select a banking option, and deposit.
Enter the code [CODE] when placing your first deposit ($20+).
Play in games and meet the 5x wagering requirements.
If you need any more info on downloading the Jock MKT app, check out the following steps:
Choose one of the "CLAIM OFFER" prompts in this Jock MKT review.
Use the App Store (iOS) or Google Play (Android) link on Jock MKT's homepage.
Download the app on an iPhone or Android.
Go through the steps above, beginning with step #3.
Jock MKT Sports
Jock MKT offers an average number of sports markets compared to other DFS apps. You can play in contests involving the following leagues here:
MLB
NBA
NFL
NHL
NASCAR
PGA Tour
Is Jock MKT Legit?
Jock Market has proven a legit DFS operator since launching in 2020. The following reasons explain why this is a reliable company that's worth consideration.
Focus on Legal Markets
Available in 34 states, Jock MKT only serves jurisdictions that allow daily fantasy sports. Meanwhile, it avoids states that have outlawed DFS, such as Hawaii, Idaho, and Washington. Therefore, you don't need to worry about having access to Jock MKT in an illegal jurisdiction.
Lots of Backing
This DFS app has secured backing from several notable capital providers, including Alumni Ventures Group, Left Lane, and Will Ventures. Given this backing, Jock MKT isn't in danger of running out of funds or stiffing players. Furthermore, these companies and others investors wouldn't have put money into Jock if they found it disreputable.
Smooth-Running Software
Having conducted this Jock MKT review, our team got a good feel for the software performance. We came away impressed with the app's software and how smoothly it runs. The live trading platform runs without a hitch, thus helping you quickly trade shares and get desired prices.
Secure App
Like any worthwhile DFS app, Jock MKT uses Secure Sockets Layer (SSL) tech to protect your data and banking info. It holds a certificate with Let's Encrypt to prove that its app is secure and protected.
Jock MKT States
DFS fans in 34 states can download the Jock MKT app and play for real money. As mentioned before, Jock Market only operates in states where daily fantasy sports are legal. Here's a list of where you can legally enjoy Jock MKT DFS:
Alabama
Alaska
Arkansas
California
Colorado
Florida
Georgia
Illinois
Kansas
Kentucky
Maine
Massachusetts
Minnesota
Mississippi
Missouri
Nebraska
New Hampshire
New Jersey
New Mexico
New York
North Carolina
North Dakota
Ohio
Oklahoma
Oregon
Pennsylvania
South Carolina
South Dakota
Texas
Utah
Vermont
Wisconsin
West Virginia
Wyoming
Free Jock MKT contests are available in all 50 states. Meanwhile, pick'em games are limited to the following jurisdictions:
Alaska
Arkansas
California
Florida
Georgia
Illinois
Kansas
Kentucky
Massachusetts
Minnesota
Nebraska
New Mexico
North Carolina
North Dakota
Oklahoma
Oregon
South Carolina
South Dakota
Texas
Utah
Wisconsin
How Do I Deposit Money At Jock MKT?
You start the Jock MKT deposit process by selecting the cash balance icon (upper-left corner) or the Account option (lower-right corner). Next, you choose one of the following banking methods and enter your deposit amount:
Although another 1-2 deposit methods would be nice, Jock MKT provides a standard number of options compared to other sites. Email customer support and Jock MKT FAQs are available if you need help depositing.
How Do I Withdraw Money At Jock MKT?
ACH (e-check) is the only option for withdrawing funds from your Jock MKT account. This site typically processes withdrawal requests within up to five days. Tacking on the general 1-3 day wait time on e-checks, you should get your money within 6-8 business days. You can contact the support team or read the FAQs for questions on cashouts.
Jock MKT Reviews
The Jock MKT app features the following ratings:
App Store – 4.4/5
Google Play – 3.6/5
Android and iPhone users mostly have good things to say, especially regarding the unique format and DFS experience. Complaints center on this operator only offering one withdrawal method and lag during trades. But the latter complaints stem from almost three years ago, when Jock MKT was in its early stages.
We agree with most users that Jock MKT is a quality DFS site. It offers a different experience thanks to the stock market trading aspect. This operator also provides a solid variety of games, including live trading, pick'em, contests, and IPOs. The e-check-only withdrawals aren't ideal, so this is the one area where Jock MKT could improve.
Overall, though, we recommend trying this site—especially if you're looking for something new. We conclude this Jock MKT DFS review with a 4.1/5 rating.
Jock MKT FAQ
Who owns Jock MKT?
Tyler Carlin co-founded Bid Ventures (Jock MKT) in 2020 in Boston, MA. His investors include Alumni Ventures Group, Left Lane Capital, Isaiah Kacyvenski (Will Ventures), Brandon Adams, Benjie Cherniak, Tim McSweeney, and Ryan Moore.
Carlin wanted a business that combines his passion for sports and the stock market. The result is Jock MKT, which Carlin describes as Robinhood for sports.
Is the Jock MKT app available in California?
Yes, Jock MKT is available in California. The Golden State hasn't regulated DFS, but it does tolerate daily fantasy. Therefore, you can legally download the Jock MKT app and try to win real money in California.
The only legal stipulation is that you be at least 18 years old. Provided you're 18 or older, you'll have no trouble playing at JockMKT or any other DFS sites in the US.
Is Jock MKT legal in Florida?
Florida is much like California because it hasn't legalized DFS but still tolerates it. That said, the Jock MKT app is available in the Sunshine State.
You must be 18 years of age or older to download Jock MKT and play for real money. You'll also want to keep your play within state boundaries. Florida's northern neighbor Alabama has a regulated DFS market and requires operators to obtain licensing. Jock MKT doesn't have an Alabama license and isn't legal in the Cotton State.
Is Jock MKT legal in Texas?
Texas is one of the toughest states on gambling, banning casinos, poker rooms, and sportsbooks. But it does tolerate daily fantasy sports just like Florida and California. Therefore, you can legally use the Jock MTK app in the Lone State State.
Regarding legalities, you must be at least 18 years old to play at Jock MKT and other DFS apps. You should also avoid crossing over east into Louisiana, which only licenses DraftKings and FanDuel for DFS.
Is there a Jock MKT promo code?
Yes, you use the Jock MKT promo code [CODE] to get a 100% match deposit bonus up to $200. You'll enter the Jock MKT bonus code while depositing—not during registration like with most DFS operators.
The minimum deposit is $20 to qualify for this welcome offer. Wagering requirements are 5x the bonus before you can withdraw the promo funds. If you receive $50 in bonus funds, for example, you'll need to wager $250 before cashing out.
Is Jock MKT a sports betting app?
No, Jock MKT is not an online sportsbook app. It's a daily fantasy sports app that's available on iOS (Apple Store) and Android devices (Google Play). But Jock Market differs from other DFS apps by featuring stock exchange-style play rather than a salary cap.
You trade players during games while hoping to get maximum player value. The goal is to buy low, sell high, and win money in the process. Jock MKT also offers pick'em games, tournaments, and free contests.
CLAIM OFFER
Click Here To Unlock A 100% Deposit Match Up To $200! Enter Promo Code: PROPS
State-By-State Analysis
CLAIM OFFER
Bonus Code
Available In
AL, AR, CA, CO, FL, GA, IL, KS, KY, MA, ME, MN, MS, NC, ND, NE, NH, NJ, NM, NY, OH, OK, OR, PA, RI, SC, SD, TX, UT, WI, WV, WY
Alabama:Legal
Arkansas:Legal
California:Legal
Colorado:Legal
Florida:Legal
Georgia:Legal
Illinois:Legal
Kansas:Legal
Kentucky:Legal
Maine:Legal
Massachusetts:Legal
Minnesota:Legal
Mississippi:Legal
Nebraska:Legal
New Hampshire:Legal
New Jersey:Legal
New Mexico:Legal
New York:Legal
North Carolina:Legal
North Dakota:Legal
Ohio:Legal
Oklahoma:Legal
Oregon:Legal
Pennsylvania:Legal
Rhode Island:Legal
South Carolina:Legal
South Dakota:Legal
Texas:Legal
Utah:Legal
West Virginia:Legal
Wisconsin:Legal
Wyoming:Legal
CLAIM OFFER
Click Here To Unlock A 100% Deposit Match Up To $200! Enter Promo Code: PROPS